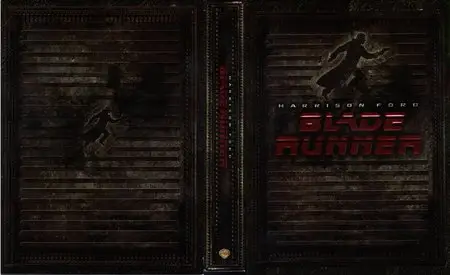 Blade Runner (1982) [2007]
5xDVD9 | ISO | PAL 16:9 | Covers + Sketchbook (PDF) | ~678 mins | 37,42 Gb
Audio: #1 English, #2 Deutsch, #3 Français, #4 Polski - AC3 5.1 @ 448 Kbps (each track)
Subs: English, Deutsch, Español, Hrvatski, Čeština, Dansk, Suomi, Ελληνικά, עברית, Norsk, Polski, Português, Slovenščina, Svenska, Türkçe
Genre: Sci-Fi, Thriller | The Final Cut 5-disc Collector's Edition
Director
: Ridley Scott
Writers
: Hampton Fancher (screenplay), David Webb Peoples (screenplay) (as David Peoples)
Stars
: Harrison Ford, Rutger Hauer, Sean Young
In a cyberpunk vision of the future, man has developed the technology to create replicants, human clones used to serve in the colonies outside Earth but with fixed lifespans. In Los Angeles, 2019, Deckard is a Blade Runner, a cop who specialises in terminating replicants. Originally in retirement, he is forced to re-enter the force when six replicants escape from an offworld colony to Earth.
Rutger Hauer, a Memorable Villain in 'Blade Runner,' Dies at 75.
The Final Cut is the product of a process that began in early 2000 and continued off and on through seven years of intense research and meticulous restoration, technical challenges, amazing discoveries and new possibilities. I can now wholeheartedly say that Blade Runner: The Final Cut is my definitive director's cut of the film.


Ridley Scott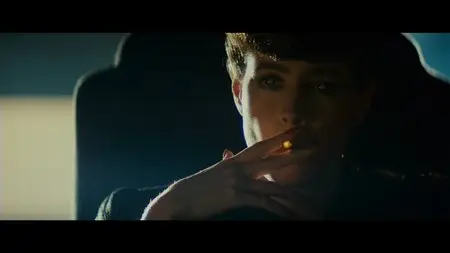 It is Los Angeles in 2019 and over the bright lights of the city, the flames that erupt from chimneys and the smog that blankets the buildings, a Spinner flies towards the Tyrell Corporation pyramid that dominates the skyline. In an office within the complex, Holden (Morgan Paull) is interviewing Leon (Brion James) as part of a sweep of all the Tyrell Corporation's employees following the flight of six Replicants from off-world colony. Created by Tyrell, it is expected that these Replicants, who have been created with an in-built four-year limit to their lifespan, will have escaped to Earth and that the Tyrell building, like a child returning home, will be amongst the places they visit.




It is Holden's job, with the aid of the Voight-Kampff test, to discover who amongst the hundreds of people employed by Tyrell is a Replicant. The interview with Leon does not last very long. Holden discovers that Leon is indeed a Replicant but the knowledge does him no good. Leon pulls a gun from beneath the desk and shoots Holden twice, the second time into his back.




Rick Deckard (Harrison Ford) is called out of retirement by his old boss Bryant (M Emmet Walsh) to take on Holden's case of the six Replicants, asking, in his slur on the Replicants, that Deckard retire, or eliminate, these 'skin-jobs'. Deckard's first steps on the case are the same as those taken by Holden. He visits the Tyrell building, listens to Holden's interview tapes and carries out his own Voight-Kampff test on Rachael (Sean Young), Eldon Tyrell's (Joe Turkel) young assistant. But Deckard learns that Tyrell is already planning the next generation of Replicant, about to make his products live up to his motto of More Human Than Human. In a world starved of humanity, perhaps this is what humanity fears the most.




Writing about the original release of Blade Runner in 1982, Roger Ebert said, "The movie's weakness…is that it allows the special effects technology to overwhelm its story." Ebert would later revise his opinion with the release of the Director's Cut in 1992 and has since added it to his list of great movies but his reaction is typical of the first release of the film. Pauline Kael made a similar point with, "If anybody comes around with a a test to detect humanoids, maybe Ridley Scott and his associates should hide." The criticism surrounding the 1982 release of the film drew attention to this perceived lack of humanity, that amongst the smoke, rain and darkness, Ridley Scott had crafted a film that was all surface and no feeling, a blaze of neon in which the characters were all but obscured.




There is humanity in Blade Runner but it shames us that it is the Nexus 6 Replicants who exhibit it most. "Sushi…cold fish…that's what my ex-wife used to call me", Deckard tells us. Although excised from later versions of the film, this line, which was written into the unpopular voiceover, best explains his character. In Philip K Dick's book, Deckard was married. In Blade Runner, he is divorced, lives alone and collects photographs. He relaxes by playing piano to no one in particular. He refuses to answer Rachael's question as to whether he has taken the Voight-Kampff test himself, although it is implied that he has not. Perhaps its test of human emotions would reveal something about himself that he would find alien. Deckard admits that to retire a human by mistake is an acceptable risk in his world. He does not appear to be upset by the possibility of murder.




Deckard and Gaff (Edward James Olmos) work together but do so in a purely professional manner, not talking, not making eye contact and barely acknowledging one another as they sit beside one another in a Spinner. As contrast, the Replicants are alive, stronger and more powerful than the humans who created them and learning, as a child does, their emotions in an unrefined and often exaggerated way. Like children, they also cling to one another. Roy and Leon remain together as friends. Pris (Daryl Hannah) and Roy Batty (Rutger Hauer) hold each other as lovers do and when one dies, the other carefully touches the gunshot wound and smears the blood over their face. The irony in the film is that it is the relationship between Roy and Pris that feels more human, the love between them evident and so much more so than that between Deckard and Rachael, who only commit to love on realising, the film implies, they are themselves Replicants.




"Gosh…you really got some nice toys here!" says Roy Batty scanning JF Sebastian's room, his eyes full of wonder and happiness at seeing all of the robots. Yet Sebastian shies away from him. His little Kaiser robot looks terrified. Batty is the biggest and toughest kid in the playground and Hauer's playing of him is the standout performance in Blade Runner, taunting Deckard with the language of the schoolyard. "I thought you were supposed to be good? Aren't you the…good man?" "You better get it up…or I'm gonna have to kill ya!" "You gotta shoot straight…straight doesn't seem to be good enough!" Only four years old, his struggle, as well as that to remain alive, is to marry his strength to his limited experience of the world and, somehow, to make sense of it all. He has, in his own words, "…seen things you people wouldn't believe" but his loss isn't only that, "…all those moments will be lost in time", more that he doesn't quite have the depth of emotion to comprehend them all. His quest in the film is for a longer life, not immortality but to exist long enough to make sense of the emotions that he and his fellow Replicants are learning, be they happiness, anger, sadness, fear, love or desire. All things the human cast appear not to recognise, least of all in themselves.




Few films present so complete a world as Blade Runner. It may not be very much more than a noir thriller in the very near future but each viewer has taken something more away from it, something that has left Blade Runner amongst the few films that are of such a sizeable cult that, occasionally, it threatens to tip over into the mainstream. Personally, my love of the film comes with the very things that Blade Runner was so criticised for, its funereal pace, its sacrificing of character for style and its sense of the Los Angeles of the near future being an alien place, not least in characters like JF Sebastian and Hannibal Chew essentially living alone in derelict buildings, one surrounded by his toys while the other freezes amongst synthetic body parts. There is a hustle and bustle on the streets outside, a place not so very different from where we know today, but there's a somnolence about the interior of the buildings. The Los Angeles of 2019, though now destined never to pass with any accuracy, is bleak, unsettling and inhuman. It takes the passion exhibited by the Replicants to bring it to life.




More than anything, Blade Runner dazzles with its vision of the future. Nothing appears to exist outside of its world. There is no reference to the past nor to the future and yet so very much appears to have been borrowed to fit its vision. The city has grown over the ruins of what has gone before with the air conditioning and electrical conduits now fastened in a rather makeshift manner onto the sides of buildings. Neon flashes over neon and around the familiar architecture of the Bradbury Hotel, the spotlights of Blade Runner flash while the smoke swirls around it. The Los Angelean culture is a mish-mash of different languages and races, half-Esperanto and half-slang, a kind of Nadsat for the future that its writers named Cityspeak. But it is with the visual language of film that Blade Runner excels. Scott fills each frame with details, traffic signs, parking meters and police badges, all of which are barely seen but which make for a very complete world, all told through the camera.




More than most, Blade Runner reserves its right to tell its story visually rather than through dialogue. The lights, neon and smoke is only part of it. The picture is suffused with images of eyes, suggesting something of Replicants in their eyes, as well as the little stick figures and origami that Gaff leaves throughout the set, first asking Deckard if he's man enough for the job before reminding him that Gaff knows him more than he thinks. That little figure of a unicorn that Deckard sees after watching Rachael step over it meant nothing in the original version of the film, only to say that Gaff was at Deckard's apartment and let Rachael live, but turned the entire story with the release of the Director's Cut in 1992.




It is no surprise or coincidence that a key visual motif in Blade Runner is the photograph. The Replicants, perhaps Deckard included, collect them, hiding them in drawers and scattering them about their apartments. Rachael defends herself by pointing at a handful of photographs that she had kept of herself, only realising the extent of the treachery when Deckard explains they, and the memories they bring to mind, are the possessions of Tyrell's niece. In a moment inspired by La Jetée, one of Rachael's photographs appears to move. And, in the end, Blade Runner itself is like a series of photographs, beautifully framed but dreamy and slow-moving. Not everyone will like it but, to these eyes, it is nearly the perfect film. The story, what there is of it, and the characters are sometimes no more dressings on a visual feast of a film. But what a feast. Those original criticisms of Blade Runner are the very things that this viewer takes from the film, from the beautiful clutter of the Los Angelean skyline through the chaos of Sebastian's apartment and over the crumbling buildings on which Deckard and Batty fight, Blade Runner is a remarkable-looking film. With this DVD release, it finally has a set that begins to do the film justice.


Home Cinema @ The Digital Fix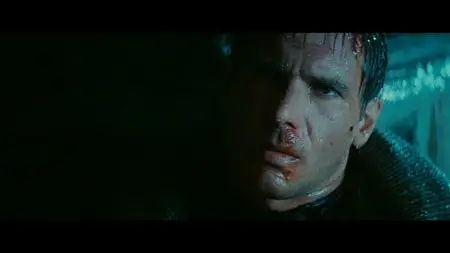 • In the opening shot, the flames shooting up have been digitally altered to look more realistic;
• In the second shot of the staring eye, you see the pupil react to the setting of 2019 L.A.;
• A couple of sequences are shortened (such as the intro shot of Deckard reading the paper);
• Spinner wires have been removed and matte lines erased;
• Captain Bryant now says "two" replicants were fried in the electrical field;
• A new voiceover from Captain Bryant was inserted, describing Leon's job;
• New Cityspeak comes over on the police scanner in Gaff's spinner rides both to the police station and the Tyrell building;
• The original shot of Batty in the VidPhon booth recycled from the later confrontation in the Bradbury Building has been digitally altered so the hand does look like Batty was in the booth;
• The hotel manager mutters "Kowalski" as he opens the door to Leon's room for Deckard and Gaff;
• Harrison Ford's son Ben Ford was used as a stand-in during the silhouetted bathroom scene;
• It includes the unicorn dream footage which suggests Deckard may be a Replicant;
• When Deckard is drinking on his balcony, you can see a lighted billboard reflection on one side of his face;
• New footage of the L.A. streets before Animoid Row and Taffey Lewis's club, including hockey-masked geisha dancers, is taken from the work print;
• The serial number on the snake scale now matches the Animoid Row lady's dialogue;
• The lip flap between Deckard and Abdul Ben Hassan has been corrected again using Ben Ford and CGI wizardry;
• Zhora's snake tattoo on her face from the photograph has been digitally added for continuity;
• In Zhora's death scene, you can tell it is her the entire time. While previously it was obvious her stunt double was in the shot, Joanna Cassidy's face was digitally superimposed over her double. There is still a continuity goof with the "heels"; however, it is more subtle and harder to spot;
• The 15 seconds of "extra violence" footage from the International Version is inserted, stretching out the confrontation with Pris and Roy Batty;
• During Batty's confrontation with Tyrell, he says, "I want more life, father," in addition to saying "Come Sebastian, come" when Sebastian is trying to escape after Batty murders Tyrell;
• When Batty releases the dove, it now flies up into a background that matches 2019 L.A.
Disc one:
Restored and remastered with added & extended scenes, added lines, new and cleaner special effects and all new 5.1 Dolby Digital Audio. Also includes:
- Commentary by Ridley Scott
- Commentary by Executive Producer/ Co-Screenwriter Hampton Fancher and Co-Screenwriter David Peoples; Producer Michael Deely and production executive Katherine Haber
- Commentaries by visual futurist Syd Mead; production designer Lawrence G. Paull, art director David L. Snyder and special photographic effects supervisors Douglas Trumbull, Richard Yuricich and David Dryer.
–––––––––-
Disc two:
DOCUMENTARY - DANGEROUS DAYS: MAKING BLADE RUNNER
A feature-length authoritative documentary revealing all the elements that shaped this hugely influential cinema landmark. Cast, crew, critics and colleagues give a behind-the-scenes, in-depth look at the film - from its literary roots and inception through casting, production, visuals and special effects to its controversial legacy and place in Hollywood history.

The making of documentary on this disc only comes with an English DD2.0 language track but offers subtitles in English, French, German, Italian, Spanish, Dutch, Danish, Finnish, Greek, Norwegian, Polish, Portuguese and Swedish.

–––––––––-
Disc Three:
- 1982 THEATRICAL VERSION
This is the version that introduced U.S. movie-going audiences to a revolutionary film with a new and excitingly provocative vision of the near-future. It contains Deckard/Harrison Ford's character narration and has Deckard and Rachel's (Sean Young) "happy ending" escape scene.

- 1982 INTERNATIONAL VERSION
Also used on U.S. home video, laserdisc and cable releases up to 1992. This version is not rated, and contains some extended action scenes in contrast to the Theatrical Version.

- 1992 DIRECTOR'S CUT
The Director's Cut omits Deckard's voiceover narration and removes the "happy ending" finale. It adds the famously-controversial "unicorn" sequence, a vision that Deckard has which suggests that he, too, may be a replicant.

Offers English DD5.1, English DD2.0 Surround and Polish DD2.0 language tracks and English and Polish subtitles only.

–––––––––-
Disc Four:
BONUS DISC - "Enhancement Archive": 90 minutes of deleted footage and rare or never-before-seen items in featurettes and galleries that cover the film's amazing history, production teams, special effects, impact on society, promotional trailers, TV spots, and much more:
- Featurette The Electric Dreamer: Remembering Philip K. Dick
- Featurette Sacrificial Sheep: The Novel vs. The Film
- Philip K. Dick: The Blade Runner Interviews (Audio)
- Do Androids Dream of Electric Sheep Cover Gallery (Images)
- The Art of Blade Runner (Image Galleries)
- Featurette Signs of the Times: Graphic Design
- Featurette Fashion Forward: Wardrobe & Styling
- Screen Tests: Rachel & Pris
- Featurette The Light That Burns: Remembering Jordan Cronenweth
- Unit Photography Gallery
- Deleted & Alternate Scenes
- 1982 Promotional Featurettes
- Trailers & TV Spots
- Featurette Promoting Dystopia: Rendering the Poster Art
- Marketing & Merchandise Gallery (Images)
- Featurette Deck-A-Rep: The True Nature of Rick Deckard
- Featurette Nexus Generation: Fans & Filmmakers

These offer an English DD2.0 language track only but includes subtitles in English, French, German, Italian, Spanish, Dutch, Danish, Finnish, Norwegian, Polish and Swedish.

–––––––––-
Disc Five:
WORKPRINT VERSION
This rare version of the film is considered by some to be the most radically different of all the Blade Runner cuts. It includes an altered opening scene, no Deckard narration until the final scenes, no "unicorn" sequence, no Deckard/Rachel "happy ending," altered lines between Batty (Rutger Hauer) and his creator Tyrell (Joe Turkell), alternate music and much more.

Also includes:
- Commentary by Paul M. Sammon, author of Future Noir: The Making of Blade Runner
- Featurette All Our Variant Futures: From Workprint to Final Cut

The workprint offers an English DD5.1 language track and an English-language commentary from Paul Sammon. Again, the commentary is not subtitled but the film is, coming with English/English HOH, French, German/German HOH, Italian/Italian HOH, Spanish, Dutch, Danish, Finnish, Norwegian, Polish and Swedish. These are slightly different from those of the Final Cut. The special features are the same.
Many Thanks to Original uploader.
–––––––––––––––––––––––––––––––––––––––