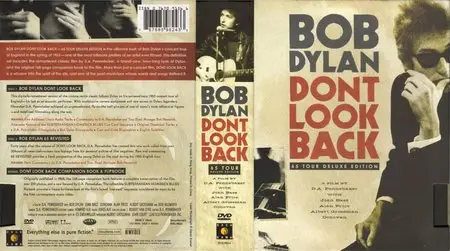 (3580x2000)
Bob Dylan: Dont Look Back (1967) [65 Tour Deluxe Edition]
2xDVD5 | ISO | NTSC 4:3 (720x480) | 152 mins (film + extras) | 4,50 Gb + 3,12 Gb
Audio: English AC3 2.0 @ 192 Kbps + Commentary track | Subs: English
Genre: Documentary, Music | USA
In 1965, Bob Dylan goes from one English city to another playing his last acoustic tour, with a small but colorful entourage in tow: Albert Grossman, his manager, Bob Neuwirth, a friend from the states, performers Joan Baez and the new-to-the scene Donovan, and recently-estranged Animals drummer Alan Price. They practice, party, fend off reporters with elliptical questions, and deal with irate hotel personnel and drunken Northerners (sorry, Mr. Broughton). We see very candid settings where Grossman and another showbiz booker play telephone games to knock up the price on Dylan's appearances. Many snatches of music are heard in between Dylan's frequent hectoring outbursts at journalists.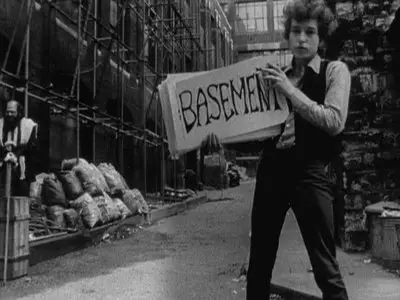 D.A. Pennebaker's ("Jane"/"Monterey Pop"/"The War Room") captures with handheld cameras the spirited 24-year-old Bob Dylan's moody persona on his memorable month long 1965 tour of Great Britain that climaxes with him singing "The Times They Are a-Changin'" at the London's Royal Albert Hall. It marks a time the singer transforms himself from a folk singer to a rock idol, and is riding on a crest of a new popularity. It offers a lot of Dylan interacting with sparring matches with the uncool Brit press and an equally uncool but sophisticated Time magazine reporter, his cagey no-nonsense bulldog of a manager (Albert Grossman) scheming to get the BBC to give him more money, plus his eager fans meeting him backstage while thunderstruck in awe and badgering him for some contact, some snippy hangers-on upsetting him by throwing a bottle out of the hotel window, and with the Man himself laughing it up with fellow musicians such as Joan Baez, Alan Price and Donovan. When not putting on his guests with snappy retorts, Dylan sings such tunes as "It's All Over Now, Baby Blue," "It's all Right Ma (I'm Only Bleeding)" and "The Gates of Eden."




It works as a beautiful b/w time capsule cinema verité doc (though Dylan is always aware that camera is on) that gives us a spellbinding Dylan gliding through an England that wasn't swinging yet, as the cool leather-clad performer feels his oats and gives off in private with a cynical, testy and mean-spirited rap. He also comes off as a smart-ass oracle when refusing to answer the clueless reporters vague questions with straight answers. But Dylan's star shines as everyone wants to be near the bright lights emanating from his presence.




It's a classic doc worth savoring for its brilliant bitchiness and its keen observations of a young Dylan trying to be both outgoing to the public and at the same keeping the image of a hipster reclusive rocker, and in the end turning out to be just as elusive in private as he is in public.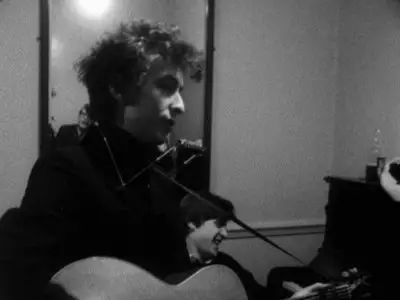 D.A. Pennebaker's newly reissued 1967 documentary Don't Look Back captures a freakishly young, healthy, vibrant Bob Dylan as he tours Great Britain during a formative period in his career. Dylan is clearly at a turning point in both his private and professional life, but Don't Look Back does him justice by not dwelling on his growing discontent, instead showing it through a series of gestures and off-hand remarks.




One shot of Dylan gazing longingly into the window of a shop specializing in ridiculously expensive electric guitars conveys pretty much everything there is to be said about the singer's growing attraction to ragged, plugged-in rock 'n' roll. Instead, Pennebaker's film focuses on what could be considered Dylan's private life, which seems almost as self-conscious and mannered as his public persona. Like Muhammad Ali in When We Were Kings, Don't Look Back portrays Dylan as an extremely gifted bullshit artist, a man who talks first and thinks later, and lets his words flow in long, lyrical tangents. But like Ali in Kings, Dylan is such a gifted, nimble speaker that even when he's talking out of his ass or abusing dippy journalists and weak-willed hangers-on, he's still mesmerizing to watch, even if his demeanor betrays an essential naiveté lurking behind his mask of jaded, existential cynicism.




Dylan is given a fascinating supporting cast, particularly in the form of his clueless musical peer/would-be competitor Donovan and his bespectacled bulldog of a manager, Albert Grossman. The film's only real weakness is its surprising lack of music: Only a handful of Dylan songs are heard in the film, and none of them are heard in their entirety. But it hardly matters, since everything else here is so strong. Don't Look Back is a spellbinding portrayal of a gifted artist at the peak of his creative brilliance.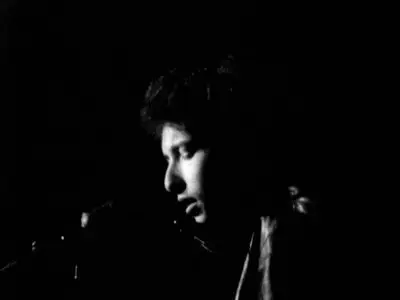 Caught on the brink of his transformation from folk singer to rock idol, the 24-year-old Bob Dylan glides through D.A. Pennebaker's classic documentary, the pale, slightly chilly calm at the center of a media whirlwind. Shot during Dylan's 1965 English tour, the film offers glimpses of fellow musicians Joan Baez, Alan Price and Donovan, but it's Dylan's show all the way, whether pitching a fit at the rowdy hangers-on who fill his hotel suite or delivering performances of "It's All Over Now, Baby Blue," "The Times They Are a-Changin'" and "It's all Right Ma (I'm Only Bleeding)" so direct and unaffected that they sends chills down the spine. Pennebaker's most striking achievement is having captured the contrast between Dylan's easy, sweetly intimate stage persona and his tightly wound, closed-off backstage self. Dylan is by no means a monster offstage, but he's tart-tongued, antagonistic and startlingly defensive. Sure, it's funny to see him deflate a string of rather pompous British journalists, but there's a hectoring quality to Dylan's refusal to answer questions that leaves a sour aftertaste: They're clueless, but he's mean. The film's greatest incidental pleasures are images of a time when outlaw musicians wore suit jackets and the craggy Dylan was a delicate, unconventionally handsome young man.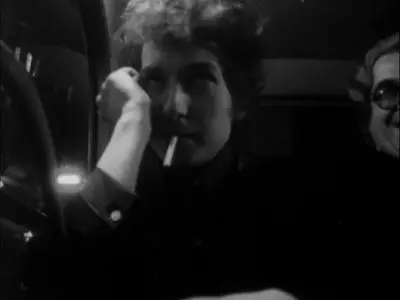 DVD Features:
- Audio Commentary with director D.A. Pennebaker and tour road manager Bob Neuwirth
- Alternate take of "Subterranean Homesick Blues"
- Profiles: D.A. Pennebaker (with Filmography), Bob Dylan (with illustrated Discography), Cast & Crew, The Photographer: Daniel Kramer
- Five uncut audio tracks: "To Ramona", "The Lonesome Death of Hattie Carroll", "Love Minus Zero/No Limit", "It Ain't Me, Babe", "It's All Over Now, Baby Blue"
- DVD Credits
- Trailer
All Credits goes to Original uploader.
No More Mirrors, Please.

9D92D1A2DF5412E6D8AF53B1BEA8C3E7 *DLookBak.D1.avaxhome.ru.part01.rar
4072B3EB365FE2BCE2B395C3768D3A07 *DLookBak.D1.avaxhome.ru.part02.rar
DA378964751F9A8059B575AFB18A378F *DLookBak.D1.avaxhome.ru.part03.rar
BEA82EDEBE15530D1A0869C3B69055CF *DLookBak.D1.avaxhome.ru.part04.rar
C865E218C19C7FC5304AB1C3BAD643C0 *DLookBak.D1.avaxhome.ru.part05.rar
7A569E4F6BDB2B38195E6CF678F08C50 *DLookBak.D1.avaxhome.ru.part06.rar
B249E6088D01B54BEE369BFE0F5EBD9B *DLookBak.D1.avaxhome.ru.part07.rar
A90C3C2B37D6840E1A33D2FA7A125253 *DLookBak.D1.avaxhome.ru.part08.rar
8872A4443BC9AEFFF1AA769543F060E7 *DLookBak.D1.avaxhome.ru.part09.rar

62252FE332A613D2088C045CEDA6ECB9 *DLookBak.D2.part1.rar
49A21E62C8E897AF8B23206B993F55A1 *DLookBak.D2.part2.rar
D4D065B1565AF57AEE4475E31EEAA0CF *DLookBak.D2.part3.rar
06DDEA9EB9BD6D5F8F709245BE2344C4 *DLookBak.D2.part4.rar
BD6066374F9C0D2927A82F3AC18E6B44 *DLookBak.D2.part5.rar
6BC14D10883055590C944DF6BA2983CA *DLookBak.D2.part6.rar
8DDCD8D24E6EA673A85EE000B47063EC *DLookBak.D2.part7.rar
1C87FD3BD2B9B9566AC431F51B00A99C *DLookBak.D2.part8.rar