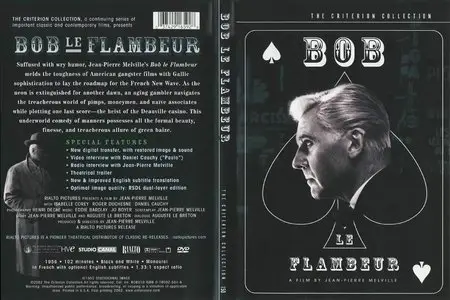 Bob le flambeur (1956
DVD9 | ISO+MDS | NTSC 4:3 | Covers+Booklet| 01:42:52 | 8,05 Gb
Audio: French AC3 2.0 @ 192 Kbps | Subtitles: English | Black & White
Genre: Crime, Drama, Film-Noir | The Criterion Collection #150
Director:
Jean-Pierre Melville
Stars:
Roger Duchesne, Isabelle Corey, Daniel Cauchy
Suffused with wry humor, Jean-Pierre Melville's Bob le flambeur melds the toughness of American gangster films with Gallic sophistication to lay the road map for the French New Wave. As the neon is extinguished for another dawn, an aging gambler navigates the treacherous world of pimps, moneymen, and naive associates while plotting one last score—the heist of the Deauville casino. This underworld comedy of manners possesses all the formal beauty, finesse, and treacherous allure of green baize.
Both a tribute to classic American gangster films and the source of inspiration for French New Wave filmmakers, Bob le Flambeur is the first in a series of stylish noirs that Jean-Pierre Melville started in the mid-'50s. Co-scripted by the popular crime writer Auguste Le Breton (Rififi), this is a story of ex-bank robber and compulsive gambler Bob (Roger Duchesne), who plans a heist at the Deauville casino. As in many films of that genre, he assembles a team of old friends and new acquaintances to do the job and is determined to perform it despite all the odds that continue to pile up before him. The overall tone is admirably lighthearted, however, and despite many stylistic and thematic references to American caper movies, the whole enterprise remains genuinely French. "This is a kind of film that we want to make!" exclaimed the young and rebellious François Truffaut back in 1955. Jean-Luc Godard, in his turn, acknowledged Melville's influence, giving him an extended cameo in Breathless.


Yuri German, Rovi
The first of Jean-Pierre Melville's astonishing and unique cycle of gangster films, which have been variously called 'ironic', 'structuralist', 'post-modernist', 'doconstructionist', 'existential', 'Lacanian', 'oneiric', 'philosophical' etc. Their influence on modern cinema has been incalculable - Melville's creative indepedence, location shooting and low-budgets inspiring the nouvelle vague; his filming of violent men in action everyone from Scorcese and Coppola to Tarantino and Woo; his deconstruction of genre encouraging Bava and Leone.




Yet in many ways, 'Bob' is the least typical of Melville's thrillers. Where, say, 'Le Samourai' exists in a sparse, abstract, geometric, dreamlike Paris, the Montmartre of 'Bob' in vibrantly alive, with its nightclubs, bars, stray GIs, petty hoods, casual sex, late-night gambling. Where in 'Samourai', the hero's character is pared down to psychological abstraction, Bob is a recognisable human being, stern, but sweet, honourable, a Chandlerian knight, with back-history and motivation. Other characters are plausible, if elusive, also. Where 'Samourai' is a masterpiece of tone, in which direction, acting, cinematography, narrative, sound, colour, decor all cohere into a perfect whole, 'Bob' is a riot of clashing modes, more reminiscent of the gleeful iconoclasm of the nouvelle vague - parody and action, humour and seriousness, dream and realism, co-exist in fertile, thrilling tension.




The hero is what the title suggests, a man who can't stop gambling, moving from one late-night backroom poker-game to another, betting most of his money on horse-races, leaving his diet to a throw of the dice; he even has a fruit machine in his well-appointed flat, where his art collection seems to consist of framed carpet. Yet, ironically, he is a methodical man, keeping to the same routine, the same hours, one night losing a fortune, another making one. Gambling is his only vice now; formerly a con, he did time 20 years previously for a failed bank job - he now considers himself too old for the criminal grind.

After one particularly unprofitable spree, and a chance conversation with a pimp-turned-croupier, Bob and an old friend decide to rob the casino safe at Deauville, and begin rounding up the usual experts and investors, minutely orchestrating the heist. Almost immediately the plans fall through - the dissatisfied wife of the inside man informs the police, as does a thug Bob once refused to help. The casino boss is informed, the police lie in waiting. And yet Bob goes ahead…




For a man who took his pseudonym from one of the great novelists; who adapted most of his films (including 'Bob') from books; and who wrote his own screenplays, Melville has little patience with words, and the story of Bob is brilliantly encapsulated in a series of establishing images. The opening narration eulogises Montmartre with shots defining milieu in realistic terms. yet, when we first see Bob, he is in a setting of extreme artifice, with symbolic chess walls (a recurring pattern) and pictures of, rather than actual, locations. He puts on his trenchcoat and fedora, his signs of movie criminality; whereas Jimmy Cagney and Humphrey Bogart's characters WERE gangsters by their deeds, Bob plays the role of a gangster just as Ledru plays the role of a cop, and Anne plays the role of vamp or femme fatale - they are recognisably human behind their 'types', but, in this world made of movies, they cannot do the sensible, plausible thing, but are locked into their roles, despite Ledru's humanistic insistence otherwise. Sense would tell Bob to give up the heist; his pre-ordained role means that he cannot.




As he walks in the early dawn at the beginning, he looks into a tarnished mirror, a further visualisation of the difference between one's self and one's role, identity etc. In an extraordinary long shot, the road-sprayer that circles Bob is echoed in the circular shapes of a nearby park, echoing the circles of the film, the vicious circle Bob gets trapped in, the circles of the casino, the cycles of life. He watches as Anne is picked up by an American motorcyclist - Bob as helpless observer; the movie will dramatise the various ill-fated ways in which he will try to move from passive to active, to stop being a pawn of fate; the frequent, unmotivated-angle shots undermine this. Like all Melville's films, this is not the story of a gangster, but a dismantling of all the concealed codes, ideologies, assumptions, of the gangster, of masculinity, of Hollywood cinema.




One of the ways 'Bob' breaks with traditional cinema is in its anti-Oedipal bias. ; A conventional film often uses an Oedipal trajectory, usually showing an immature hero's moral progress, often defeating an older figure, taking his place and power, and winning the girl. This is a necessary process of continuity for the social order. And this seems to be fulfilled here, as Paolo, who hero-worships Bob, obeying him like a father, takes his place, takes his girl, takes his apartment to have the sex Bob can't have anymore, even using Bob's gestures. Bob is a shadow of himself, de trop in his own home. As it should be. The subsequent narrative could be seen as an attempt of Bob's to regain his identity and power, and to emasculate Paolo.

This sublime film is full of little twists of the norm like this. Isabelle Corey is unprecedented among all film heroines, her amoral, seemingly indifferent sexuality far more suggestive and powerful than her contemporary, Bardot's - her fulfilling her femme fatale role does not result in tragedy any more than Bob's fulfilling his gangster role does.




The use of the narrator is interesting too; voiced by Melville, creator of the film, he is also a kind of God-creator, talking about heaven and hell, taking us on a journey from one to the other; talking from the darkness, about how lives cross, but destinies don't meet, than creating a work where crossed destinies are crucial; intruding at bizarre moments, with prior knowledge of the characters' fates before the action has actually determined them. This, of course, dissipates tension, as does the clownish music, mocking and undermining as much as it propels the action, and the characters' theatricality, their awareness of their roles (eg the rehearsals for the heist like a play).

The filming of this goes way beyond Melville's heist models, 'The Asphalt Jungle' (his favourite movie) and 'Rififi' - after all the plot elements have been put in place - the plan, the preparations, the tip-off, the suspense - Melville moves to a completely different register, and what had been a crime film involving many interested parties becomes a solitary, private rite, Bob's gambling in the casino is a heightened, hallucinatory dream, not quite a rite of death, but a rite of middle-age, of letting go the trappings of youth, also paving the way for the great climax of 'The Good, The Bad and The Ugly': the shoot-out is pure, beautiful, dream abstraction.




For many, great cinema is defined in rarefied terms of high art, snobbily above the detritus of popular culture. For some of us, though, great cinema means a transformative enriching and expanding of popular genres, a cinema that can speak to everybody, not above them, but making the familiar strange. Keaton. Hitchcock. Hawks. Whale. Ophuls. Sirk. Leone. Melville.


IMDB Reviewer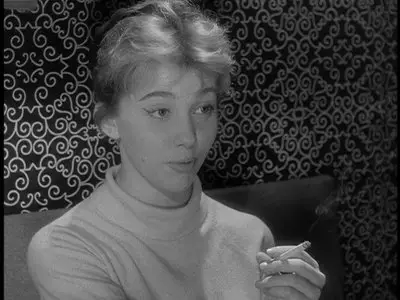 Special Features:
- New digital transfer
- Video interview with Daniel Cauchy ("Paulo")
- Radio interview with Jean-Pierre Melville
- Theatrical trailer
- New and improved English subtitle translation
- Optimal image quality: RSDL dual-layer edition
All Credits goes to Original uploader.
No More Mirrors, Please.
62BBE9FEE5DFE67C972431A885446777 *Crit150.part01.rar
2EB2492D60D9A1BC3523BBFB4618DA81 *Crit150.part02.rar
D92C62B8FD2FBA93C7BCAA05679D1E34 *Crit150.part03.rar
61E3EA1C3F33F67A7E1EA6553489BDD8 *Crit150.part04.rar
050F65B2E7530537F729DAD002D00B1D *Crit150.part05.rar
6739AC004F6E2D186138C570A9F32963 *Crit150.part06.rar
974D988F3C607526A290D310D75F16B6 *Crit150.part07.rar
D993C90E2E4D09F5FECC2212A1960609 *Crit150.part08.rar
4127995BE5A1C860B081F1867089ED82 *Crit150.part09.rar
0F0AF3340630FBFEB4AD0F0C55AF8B9E *Crit150.part10.rar
02468254096103D163122285A9615799 *Crit150.part11.rar
398337C2966453F3151243C9EC88FFBD *Crit150.part12.rar
9398E25EC754AB060837874DF2D22FBD *Crit150.part13.rar
1C04F6C935A8058AEDC1C337C9B5EB4F *Crit150.part14.rar
B94C8073AF1F78C942BF6DCB256D19EB *Crit150.part15.rar
0B2600D199097A66CF491BFD6078CC3A *Crit150.part16.rar