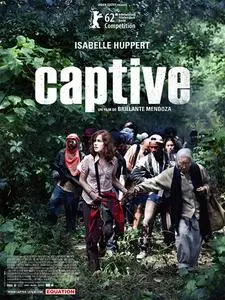 Captive (2012)
WEB-Dl 1080p | MKV | 1920x1038 | x264 @ 5361 Kbps | 122 min | 4,64 Gb
Audio: Tagalog AAC 2.0 @ 64 Kbps | Subs: English hardcoded
Genre: Thriller, Drama
Director:
Brillante Mendoza (as Brillante Ma. Mendoza)
Writers:
Brillante Mendoza, Patrick Bancarel
Stars:
Isabelle Huppert, Katherine Mulville, Marc Zanetta
'Captive' is about a group of tourists abducted by al-Qaeda-linked Abu Sayyaf from a resort on Palawan in 2001. They were shipped to Basilan in the far south, and then herded through the jungle for over a year. Some paid ransom money calculated on their profession and country of origin, and were subsequently released, some died from strain or disease, some were killed by Abu Sayyaf, some by the army in repeated rescue operations, of which the last (and bloodiest) succeeded.
The film drew a lot of fire from the press, first of all because it was rejected by both Cannes and Venice, which created a somewhat toxic whiff - after all, Cannes built Mendoza's reputation with his win for 'Kinatay', so how bad could his first decently budgeted film be? As it turns out, it's not half as bad as could be expected. Mendoza avoids two mistakes he could have easily made: first of all, the camera isn't glued to Isabelle Huppert's face, even though she's the first star he's working with; he allows her character to gradually emerge from the group of hostages, which becomes decimated by disease, ransom payments, forced marriages as a shoddy excuse for rape, and deliberate execution. And second, he does not sweeten his barren naturalistic photography one bit because of the scale of the production; 'Captive' is every bit as Cinema Verité as his earlier films. If anything, the money allows for some disjointed wildlife intersections, which however fulfill a dramatic purpose when, for instance, a lizard is seen hacked in two by a machete, instead of the head of a hostage being chopped off.

This kind of film language won't convince those who have their established ideas about what a Filipino film looks like - and to illustrate how fixated these ideas have already become, another section of the Berlin Festival screened the film industry parody 'The Woman in the Septic Tank'. In that context, I would count myself among those who appreciate that Mendoza, who established these conventions, tries to move onwards stylistically.

However, the story structure certainly puts the viewer's patience to test. There's zero background information about Abu Sayyaf and the domestic conflict in the Muslim populated islands in the south of the country. In one scene, villagers feed hostages and captors alike and receive some money for their troubles, making it seem that they are somewhat regarded as freedom fighters, whereas in reality they also raided and killed Muslim locals. In the film, Islam is used as an 'excuse' for criminal actions, which is probably not so far from the disturbed mindset of these people, but leaves room for controversy.

The photography's realism makes the differences between truth and fiction appear a bit questionable: Why, for instance, was the American hostage who was later beheaded cast with a Caucasian actor instead of a Hispanic one, as it was the case? Also, the Abu Sayyaf were far more ruthless in their dealings with hostages, negotiators and villagers alike - while their brutality comes across, most of them seem strangely boyish. That Huppert's character is fictitious may be explained by the logistics of the production, but since much of the story follows real-life survivor Gracia Burnham's book 'In the Presence of my Enemies', it feels a bit unfair that her character is sidelined in the movie.
(click to enlarge)

More in My Blog