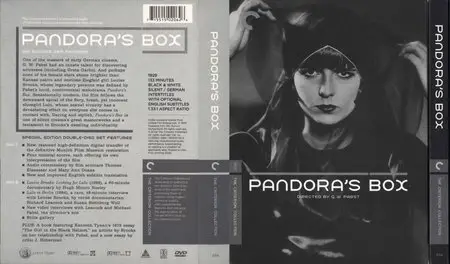 Pandora's Box (1929)
2xDVD9 | VIDEO_TS | NTSC 4:3 | Deutsch Intertitles | Scans | 02:11:03 | 7,26 Gb + 6,52 Gb
Disc 1 - Audio: Five Music tracks (Details see below) + English Commentary | Subs: English
Disc 2 - Audio: Deutsch (Dolby AC3 1.0); English (Dolby AC3 2.0/1.0 ch) | Subs: English
Genre: Crime, Drama, Romance | The Criterion Collection #358
Director
: Georg Wilhelm Pabst
Writers
: Frank Wedekind (plays), Ladislaus Vajda (scenario)
Stars
: Louise Brooks, Fritz Kortner, Francis Lederer
One of the masters of early German cinema, G. W. Pabst had an innate talent for discovering actresses (including Greta Garbo). And perhaps none of his female stars shone brighter than Kansas native and onetime Ziegfeld girl Louise Brooks, whose legendary persona was defined by Pabst's lurid, controversial melodrama Pandora's Box. Sensationally modern, the film follows the downward spiral of the fiery, brash, yet innocent showgirl Lulu, whose sexual vivacity has a devastating effect on everyone she comes in contact with. Daring and stylish, Pandora's Box is one of silent cinema's great masterworks and a testament to Brooks's dazzling individuality.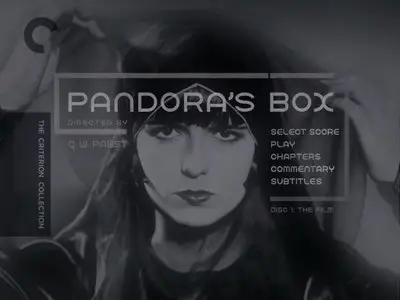 G.W. Pabst's most famous film featured his first, star-making collaboration with American actress Louise Brooks in a complex exploration of sexual psychology and Weimar Germany's social decadence. Working from Frank Wedekind's play in Pabst's trademark realist style, Pabst and Brooks transformed the character of Lulu from an evil temptress into a hedonistic innocent at ease with her sexuality. Pursued by men and women alike, Lulu is prey as much to social repression as to her own insatiable desires, as she winds up blamed for the troubles that others have brought on themselves through their own sexual hypocrisy.




The appearance of Jack the Ripper at the conclusion is a sign less of sensationalist melodrama than of Lulu's internalized victimization. Brooks's subtle, nuanced performance and Pabst's fluid editing style infuse Pandora's Box with a sensuality that remains undiminished to this day. Critically panned on its release, Pandora's Box has since come to be seen as a hypnotic masterwork, remarkable for its frank treatment of sexuality and the sympathetic, inscrutable, fascinating presence of Brooks, who became a Jazz Age flapper icon.


Lucia Bozzola, Rovi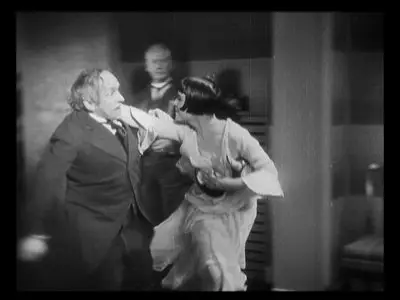 I had heard "Pandora's Box" called a German Expressionist film, the class to which such great and outlandish films as Wiene's "The Cabinet of Dr. Caligari", and Lang's "Metropolis" and the sadly dated but very interesting "Nosferatu" by Walter Murnau, I expected it to have the same elements– extremely stylized acting and direction, bizarre artificial sets, and a general atmosphere of utter surreality. So I was very surprised at and fascinated with the naturalism of G. W. Pabst's "Pandora's Box", particularly with Louise Brook's celebrated performance as the cheerful, childlike, tragic femme fatale Lulu. Pabst's direction is essentially modern, even without the use of sound.




While sometimes the direction and acting in even "Caligari" and "Metropolis" provoke laughter from the bemused audience,"Pandora's Box" holds the viewer spellbound, and its not infrequent humor is intentional. Like other German Expressionist silent films, "Pandora's Box" has a dark message. From the beginning, however, it is far less stylized, and the settings look like they might actually have existed in the 1920's, instead of only in someone's dream world. Nevertheless the film makes excellent use of Expressionistic lighting and chiaroscuro, which highlights the visions of fruitless and immoral frivolity, desperate gambling and unhealthy sexuality.


IMDB Reviewer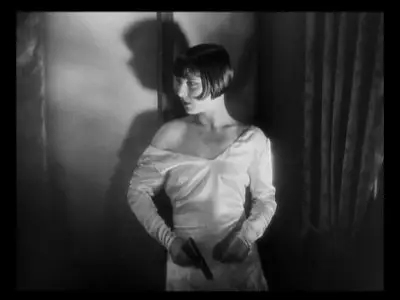 G.W. Pabst's ("Don Quixote "/"Diary of a Lost Girl") old-fashioned (even for back then) silent German overwrought melodrama stars the self-destructive American actress Louise Brooks. Brooks eventually received cult goddess status for this legendary role even though many of the early reviews dumped on her and the film was soon forgotten after its release only to be rediscovered and reappraised in the 1950s (film historians and the critic Kenneth Tynan writing in the New Yorker declared her performance brilliant–reinventing acting) and the film was now called by some a masterpiece through the efforts of her ardent new supporters. Pabst saw her in Howard Hawks' "A Girl in Every Port" and arranged to get her to play the femme fatale Lulu in a film that compressed two of Frank Wedekind's plays, "Erdgeist" and "The Box of Pandora."




The intelligent seductive beauty with the distinctive black cropped "helmet" hairstyle met with hostile criticism from the Germans who objected to an American playing their very own German tragic heroine, it was also not received well in America because of the heroine's whorish libertine sexual lifestyle and the film suffered from being severely cut upon release–in the New York released version the death scene with Jack the Ripper is altered to have no Ripper and Brooks instead joins the Salvation Army. Brooks, rightly or wrongly, has become identified with her part of Lulu (she has even owned up to having a tramp nature similar to Lulu's). In her later years, while living in Rochester and resurrected from obscurity by George Eastman House curator James Card, Brooks wrote her memoirs "Lulu in Hollywood." What impressed me was that Brooks offers a brilliantly guileless performance, while under Pabst's skillful direction the adaptation sparkles in a masterful way with atmosphere winning out over content.




Lulu (Louise Brooks) has been dancing in the sordid nightclubs of Berlin ever since she was a child, and has led a sexually active life. One of her admirers is the elderly sleaze Schigolch (Carl Goetz), her former pimp whom she now looks upon as a father figure. Lulu has since attracted the romantic interest of the the middle-aged bourgeois newspaper publisher Dr. Peter Schön (Fritz Kortner), who sports a monocle and is her sugar daddy. When she asks him to marry her, he refuses. The ambitious cad is engaged to the respectable daughter of the minister of the interior. But Lulu cunningly vies for his son Alwa's (Franz Lederer) attention. With daddy's approval that comes with a warning not to trust her, Alwa puts Lulu in as a star dancer in one of his vaudeville revue shows he produces.




On opening night she seduces old man Schön backstage and they are discovered making it on the wardrobe floor by Alwa and the old man's fiancée. Lulu reacts with one of filmdom's great nasty looks of triumph, as they can only gawk. This humiliation causes Schön to be in a spot where he has to marry Lulu, which results in a wedding like no other on film. The bride gayly dances with her female lover Countess Geschwitz (Alice Roberts) and is receptive to her new stepson's sexual advances. On the other hand, the bridegroom is in a foul mood and greets her back in the apartment by pressing a revolver in her hand and demanding she commit suicide. Instead, in the ensuing struggle, she kills him. At the trial, her stepson testifies in her behalf, but the prosecutor refers to her as the evil Pandora and she's found guilty of manslaughter and sentenced to a five year prison term.




The soap opera tale continues with more fervor as Lulu is a fugitive escaping from the courtroom with a lovesick Alwa, who loses all his and her money gambling while they are hiding out on a gambling boat owned by a shady nobleman (Michael von Newlinsky). Lulu's other admirer Rodrigo Quast (Carl Raschig) wants back the money he advanced her and wants her to be in a trapeze act with him, or else he threatens to turn her over to the German police for the reward. In a bogus attempt to help Lulu by the opportunistic nobleman, she narrowly avoids being sold by him as a prostitute to the owner of an Egyptian brothel, boasting of only the best foreign clientele, and finally ends up in London. On Christmas Eve she walks the foggy streets as a prostitute to support her garret companions Schigolch and Alwa, and passes by the parading Salvation Army to come upon her handsome trick–none other than Jack the Ripper–and he becomes her Thanatos.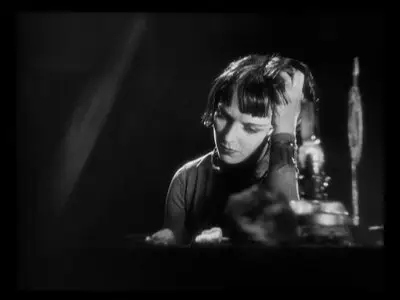 Audio tracks on Disc 1:
Audio 1: Orchestral Score - Dolby AC3 2.0 @ 192 Kbps
Audio 2: Orchestral Score - Dolby AC3 5.1 @ 448 Kbps
Audio 3: Cabaret Score - Dolby AC3 2.0 @ 192 Kbps
Audio 4: Modern Orchestral Score - Dolby AC3 2.0 @ 192 Kbps
Audio 5: Piano Improvisation - Dolby AC3 2.0 @ 192 Kbps
Audio 6: English Commentary - Dolby AC3 2.0 @ 192 Kbps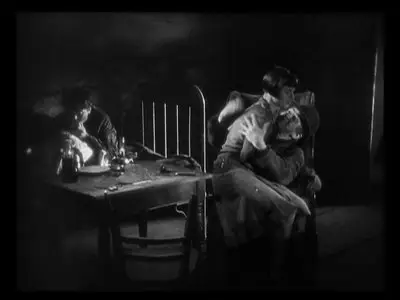 Special Features:
Disc 1:
• Four musical scores, each offering its own interpretation of the film
• Audio commentary by film scholars Thomas Elsaesser and Mary Ann Doane

Disc 2:
• Louise Brooks: Looking for Lulu (1998), a 60-minute documentary by Hugh Munro Neeley
• Lulu in Berlin (1971), a rare, 48-minute interview with Louise Brooks by documentarian Richard Leacock and Susan Steinberg Woll
• Interviews with Leacock, about Brooks, and Michael Pabst the director's son
• Stills gallery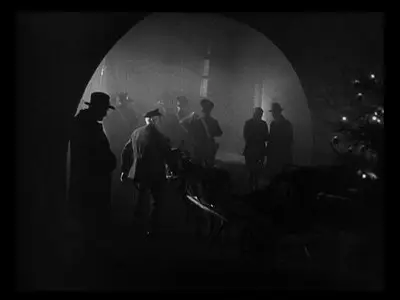 All Credits goes to Original uploader.