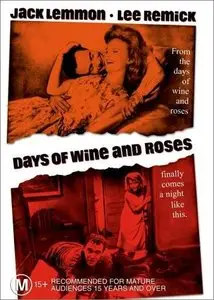 Days of Wine and Roses (1962)
DVD9 | VIDEO_TS | NTSC 16:9 | 02:00:54 | 5,45 Gb
Audio: #1 English, #2 Español - AC3 1.0 @ 192 Kbps (each track)
Subs: English, Español, Português, 日本語, 中文, ภาษาไทย, 한국어, Bahasa Indonesia
Genre: Drama, Romance
Director:
Blake Edwards
Writer:
J.P. Miller (as JP Miller)
Stars:
Jack Lemmon, Lee Remick, Charles Bickford
In this addiction melodrama, Joe Clay (Jack Lemmon), a promising adman, meet his future wife Kirsten (Lee Remick) at a party. Once married, the pressures of his business lead Joe to seek solace in liquor. Kirsten joins him in his nocturnal drinking sessions, and before long both are confirmed alcoholics. After several frightening episodes, Joe is able to shake the habit thanks to AA, but Kirsten finds it impossible to get through the day without liquor. The two split up, although Joe clings to the hope that someday he and Kirsten will be reunited, if for no reason other than the sake of their young daughter.
J.P. Miller adapted the screenplay from his own 1958 Playhouse 90 television script. Though nominated in several categories, Days of Wine and Roses won only the Best Song Oscar for Henry Mancini's title tune.
Days of Wine and Roses is among director Blake Edwards's best films, likely his best non-comedy. Where many films about alcoholism may indulge a smug, moral superiority, the tone here is more of examination than of judgment. The performances from Jack Lemmon and Lee Remick are first-rate, as is the supporting performance of Charles Bickford. It is among the screen's most realistic and believable depictions of its subject matter, remarkable as a commercial success in an era that supposedly didn't want films of personal realism. While The Days of Wine and Roses is seldom studied in film schools, it is still often shown in college courses in the social sciences, for its continuing relevance to alcohol and other substance abuse problems. The film was nominated for six Oscars but won only for Henry Mancini's title song, which is now one of its few aspects that seems dated.


Richard Gilliam, Rovi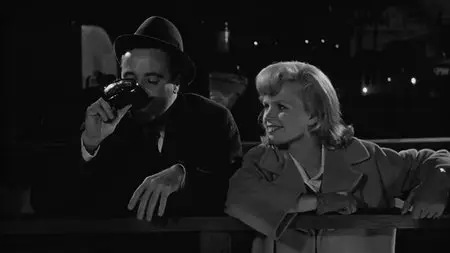 This movie was first a television play performed live and then went on to Hollywood for a slightly glossier production. This is NOT a bad pedigree, as shortly before this the TV movie "Marty" was also brought to Hollywood and became one of the best movies of the 1950s. Both the TV and Hollywood versions are excellent–see either or both if you get the chance.




To me this movie is the antithesis of "The Lost Weekend". "The Lost Weekend" was not a very realistic portrayal of alcoholism in many ways–particularly the ending where the lead suddenly just kicks his addiction and everything is hunky-dory. Get real! ""Days of Wine and Roses instead does not pull punches. It refuses to give in to sentimentality and take the typical Hollywood approach to films. There is no happy ending, there were surprises and heartbreak–much like dealing with alcoholism in real life.




Because it would spoil it to give too much information, I will only briefly discuss the plot. Jack Lemmon is a business man who slowly goes from the "two martini lunch" to alcoholism. His acting was very convincing and gut-wrenching. Equally compelling is his wife, Lee Remick, who puts on the performance of her life as the long-suffering wife who slowly goes from co-dependent to alcoholism herself. I've worked in a chemical dependency program and I've got to tell you, all the excuses and bargains and excesses in the movie were exactly what my clients had said and done as well. It is obvious the writers were doing their homework, as the movie delivers on every level.


IMDB Reviewer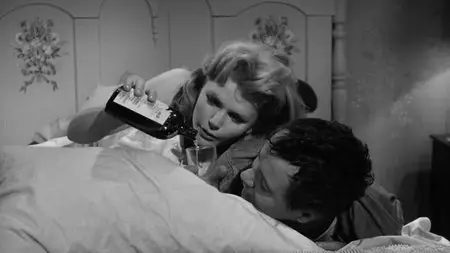 Blake Edwards's powerful adaptation of J.P. Miller's PLAYHOUSE 90 story, starring Jack Lemmon and Lee Remick in career performances, remains a variation in his body of work largely devoted to comedy. Clay (Lemmon), a San Francisco public relations man who is a constant social drinker, meets secretary Kirsten Arnesen (Lee Remick), who doesn't drink, and after a short time later they wed. A few months pass and Kirsten is capable of downing as much booze as her hubby. The years drift by and Joe loses one job after another and his wife neglects their child until he begins to come to grips with the fact that both of them are alcoholics.




They move into her father's (Charles Bickford) nursery to dry out, but following a couple of weeks of sobriety, they go on a binge. Joe nearly destroys a greenhouse in a fanatical search for a bottle and ends up in hospital ward. Former alcoholic Jim Hungerford (Jack Klugman) tries to persuade Joe to join an organization to help deal with his problem, but Kirsten coaxes him back to the bottle. Lemmon is at his best and ditto for Remick in this harrowing tale of people consumed by their mutual addiction. This turns to an honest and heartbreaking portrayal of alcoholism as deftly done as any film I can remember.


Gary W. Tooze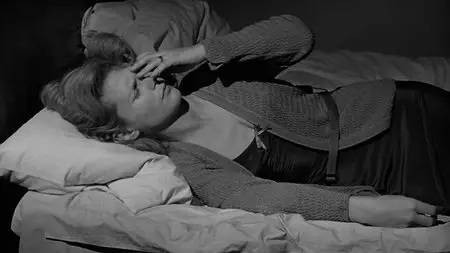 Special Features:
- Commentary by Blake Edwards
- Jack Lemmon Interview (05:06)
- Theatrical Trailer
All Credits goes to Original uploader.
–––––––––––––––––––––––––––––––––––––––