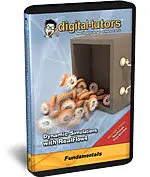 Digital Tutors - Dynamic Simulations with RealFlow4
1.18 GB | eng | rar | Mac / PC | Run Time: 3 hrs. 40 min., 3 discs
Extend your capabilities of RealFlow4. Learn alternative uses for RealFlow4 and time-saving techniques for creating realistic rigid body simulations and interactions. Contains over 3 hours of project-based training. Perfect for intermediate artists.
Popular highlights include:
* Overview of Real Impact System
* Dynamic Motion
* Simulation Scale
* Understanding Mass, Density, Volume
* Collision Primitives
* Pairs and Stacking Solver
* Initial States
* Initial Velocity and Rotation
* Adaptive and Fixed Steps
* Importing Dynamics
* Animation Driven Simulation
* RF Python Scripting
* Liquid Simulation
* Floating Rigid Bodies
* Overview of All Constraints
* Breakable at Force
* Vehicle Setup with Constraints
* Create Array
* Measure Tool
* Edit/Delete Message
Lesson Outline:
1. Introduction and project overview 1:33
2. Rigid body basics (part 1): box of poker chips 6:56
3. Rigid body basics (part 2): collision primitivess 7:09
4. Rigid body basics (part 3): Initial Motion and Initial States 6:28
5. Rigid body basics (part 4): tossing the box 4:47
6. Rigid body basics (part 5): importing the dynamics 6:28
7. Rolling barrels (part 1): understanding scale 5:41
8. Rolling barrels (part 2): mass cloning 7:09
9. Rolling barrels (part 3): pairs and stacking Solvers 7:07
10. Rolling barrels (part 4): quicker simulationss 8:43
11. Rolling barrels (part 5): importing the barrels 5:55
12. Exploring other rigid body parameters 10:40
13. On the rocks (part 1): setting up the liquid 6:59
14. On the rocks (part 2): dropping the ice 7:31
15. On the rocks (part 3): calculating rigid body masses 6:26
16. On the rocks (part 4): floating ice 5:45
17. Animation driven simulation 10:01
18. Pinning objects with the Fixed Constraint 9:11
19. Breakable force (part 1): setting the simulation 5:08
20. Breakable force (part 2): writing a RealFlow batch script 7:13
21. Breakable force (part 3): completing the script 11:16
22. Breakable force (part 4): breaking the wall 5:26
23. Using the Ball and Socket Constraint 6:57
24. Rigging a swing with the Rope Constraint 8:01
25. Making a ski-lift with Path Follow Constraints 5:05
26. Using the Slider Constraint to rig a weighing scale 5:42
27. Setting up doors with Hinge Constraints 5:34
28. Car wheel constraints for vehicle rigging (part 1) 8:00
29. Car wheel constraints for vehicle rigging (part 2) 8:24
30. Restricting rigid bodies with Limb Constraints 6:19
31. Conclusion 1:07
Total Run Time:
3:39:56
Download
http://rapidshare.com/files/210534013/Digital_Tutors_-_Dynamic_Simulations_with_RealFlow_4.part13.rar
http://rapidshare.com/files/210524403/Digital_Tutors_-_Dynamic_Simulations_with_RealFlow_4.part12.rar
http://rapidshare.com/files/210506539/Digital_Tutors_-_Dynamic_Simulations_with_RealFlow_4.part11.rar
http://rapidshare.com/files/210491300/Digital_Tutors_-_Dynamic_Simulations_with_RealFlow_4.part10.rar
http://rapidshare.com/files/210154818/Digital_Tutors_-_Dynamic_Simulations_with_RealFlow_4.part09.rar
http://rapidshare.com/files/209752046/Digital_Tutors_-_Dynamic_Simulations_with_RealFlow_4.part08.rar
http://rapidshare.com/files/209743700/Digital_Tutors_-_Dynamic_Simulations_with_RealFlow_4.part07.rar
http://rapidshare.com/files/209735495/Digital_Tutors_-_Dynamic_Simulations_with_RealFlow_4.part06.rar
http://rapidshare.com/files/209727012/Digital_Tutors_-_Dynamic_Simulations_with_RealFlow_4.part05.rar
http://rapidshare.com/files/209718794/Digital_Tutors_-_Dynamic_Simulations_with_RealFlow_4.part04.rar
http://rapidshare.com/files/209709863/Digital_Tutors_-_Dynamic_Simulations_with_RealFlow_4.part03.rar
http://rapidshare.com/files/209699572/Digital_Tutors_-_Dynamic_Simulations_with_RealFlow_4.part02.rar
http://rapidshare.com/files/209688239/Digital_Tutors_-_Dynamic_Simulations_with_RealFlow_4.part01.rar
Downoad RealFlow 4