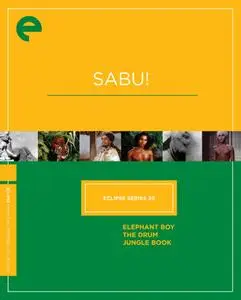 Eclipse Series 30: Sabu! (1937-1942) [Criterion Collection]
DVD Video, 3 x DVD5 | 3 x ~ 1hr 30mn | NTSC 4:3 | 720x480 | 3 x ~ 4.1 Gb
English: Dolby AC3, 1 ch | Subtitles: English
Genre: Adventure, Drama, Family, War, Action

In the thirties and forties, the young Indian actor known as Sabu (born Selar Shaik) captured the hearts of moviegoers in Britain and the United States as a completely new kind of big-screen icon. Sabu was a maharaja's elephant driver when he was cast in Elephant Boy, a Rudyard Kipling adaptation directed by documentary trailblazer Robert Flaherty and Zoltán Korda that would prove to be enormously popular. Sabu went on to headline a series of fantasies and adventures for the British film titans the Korda brothers, transcending the exoticism projected onto him by commanding the screen with effortless grace and humor. This series collects three of those lavish productions (which also included the classic The Thief of Bagdad): Elephant Boy, the colonialist adventure The Drum, and the timeless Jungle Book.
Eclipse Series 30: Sabu! (1937-1942):Elephant Boy (1937)
https://www.imdb.com/title/tt0028827/
Robert Flaherty and Zoltán Korda shared best director honors at the Venice Film Festival for this charming translation of Rudyard Kipling's Jungle Book story "Toomai of the Elephants." A harmonious mix of its two filmmakers' styles—Flaherty's adeptness at ethnographic documentary meeting Korda's taste for grand adventure—Elephant Boy also served as the breakthrough showcase for the thirteen-year-old Sabu, whose beaming performance as a young mahout leading the British on an expedition made him a major international star.
The Drum (1938)
https://www.imdb.com/title/tt0030082/
Zoltán Korda's charged adaptation of a novel by The Four Feathers author A. E. W. Mason features Sabu in his second film role, as the teenage Prince Azim, forced into hiding when his father, the ruler of a peaceful kingdom in northwest India, is assassinated by his own ruthless brother. Protected by a friendly British officer (Roger Livesey) and his wife (Valerie Hobson), and befriended by the regiment's drummer boy, Prince Azim ends up fighting with the colonialists against his dastardly uncle. This rousing adventure includes an exuberant performance by Sabu and spectacular Technicolor cinematography by Georges Périnal and Osmond Borradaile.
Jungle Book (1942)
https://www.imdb.com/title/tt0034928/
This Korda brothers film is the definitive version of Rudyard Kipling's classic collection of fables. Sabu stars as Mowgli, a boy raised by wolves, who can communicate with all the beasts of the jungle, friend or foe, and who gradually reacclimates to civilization with the help of his long lost mother and a beautiful village girl. Deftly integrating real animals into its fanciful narrative, Jungle Book is a shimmering Technicolor feast, and was nominated for four Oscars, including best cinematography, art direction, special effects, and music.
All thanks to the original uploader



If you like this release please visit my blog
In it you will find ALL the latest Criterion Collection or Eclipse Series releases