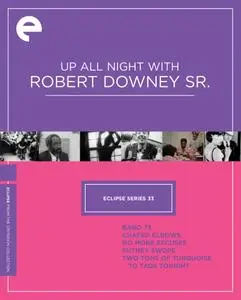 Up All Night with Robert Downey Sr. (1964-1975) [The Criterion Collection, Eclipse Series 33]
DVDRip | MKV | AVC 720x480, ~ 1.7 Mbps | 5 x ~ 1hr 00mn | ~ 4,36 GB
English: Dolby AC3, 1 ch, 384 kbps | Subtitles: English
Genre: Comedy | Director: Robert Downey Sr.
Rarely do landmark works of cinema seem so … wrong. Robert Downey Sr. emerged as one of the most irreverent filmmakers of the New York underground of the sixties, taking no prisoners in his rough-and-tumble treatises on politics, race, and consumer culture. In his midnight-movie mainstay Putney Swope, an advertising agency is turned on its head when a militant black man takes over. like Swope, Downey held nothing sacred. Presented here are five of his most raucous and outlandish films, dating from 1964 to 1975, each a unique mix of the hilariously crude and the fiercely experimental.