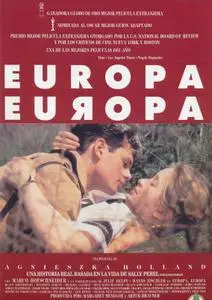 Europa Europa (1990)
DVDRip | MP4 | 720x540 | x264 @ 2067 Kbps | 113 min | 1,75 Gb
Audio: Deutsch AAC 2.0 @ 128 Kbps | Subtitles: English (srt)
Genre: Drama, War
Director:
Agnieszka Holland
Writers:
Agnieszka Holland, Solomon Perel (memoir: Ich war Hitlerjunge Salomon)
Stars:
Solomon Perel, Marco Hofschneider, René Hofschneider
Jewish teenager Salek (Marco Hofschneider) is separated from his family when they flee their home in Germany after Kristallnacht. He ends up in a Russian orphanage for two years, but when Nazi troops reach Russia he convinces them he is a German Aryan, and becomes an invaluable interpreter and then an unwitting war hero. His deception becomes increasingly difficult to maintain after he joins the Hitler Youth and finds love with beautiful Leni (Julie Delpy), a fervent anti-Semite.
IMDB
- 8 wins + Nominated for 1 Oscar
Europa, Europa by Agnieszka Holland is a very interesting film. It addresses how far people would go to stay alive. Caught in the hostile warfare, a Jewish boy Solomon Perel realizes that the only way he can survive is by pretending to be one of the Nazis. I was very surprised when I found out that this was a true story. For someone to go through such an horrible experience for so many years and stay normal, its just something I found very fascinating. This movie made me realize that one can never say "I would never do this or that". When you are put in a situation where the only two options you have are survival or death, there is no doubt that most of us would do anything to survive. Even that what Solomon did himself. As I watched this film I thought about the war I have experienced. There were so many people that would have done anything to survive. Actually, there were many instances where people surrendered and joined the other side, just to stay alive or save their family. I know of a girl that got married with a guy (her enemy basically) just to stay alive. What sets this movie apart is that this a true story and the person that is depicted in this film is still alive.

Great movie. Must See.
(click to enlarge)

More in My Blog