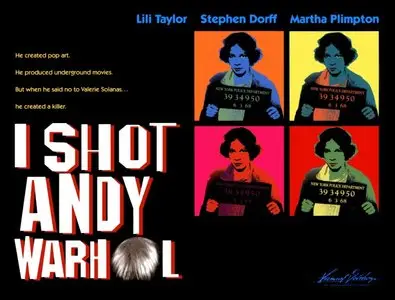 I Shot Andy Warhol (1996)
DVD5 | VIDEO_TS | NTSC 16:9 | 01:43:16 | 3,60 Gb
Audio: #1 English, #2 Español - each AC3 2.0 @ 192 Kbps | Subs: Français, Español
Genre: Drama
Director:
Mary Harron
Writers:
Jeremiah Newton (book), Diane Tucker (research)
Stars:
Lili Taylor, Jared Harris, Martha Plimpton
Based on the true story of Valerie Solanas who was a 60s radical preaching hatred toward men in her "Scum" manifesto. She wrote a screenplay for a film that she wanted Andy Warhol to produce, but he continued to ignore her. So she shot him. This is Valerie's story.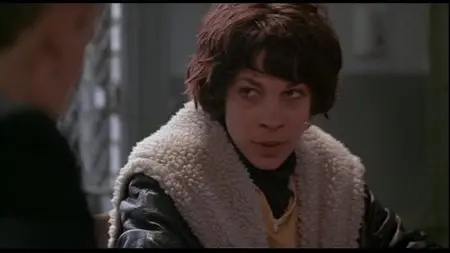 This is the best film I've seen, not only about the shooting of Andy Warhol by Valerie Solanis, but about the whole factory scene full stop.

The film doesn't try to get a message across, it paints a picture of what actually happened. It shows that Valerie Solanis, although intelligent and mistreated, was above all a psychopath and it shows that probably Andy Warhol and definitely the rest of the factory did not really care about Valerie or for that matter, feminism at all.

This film does sort of come off for some reason as being pro-feminism, which is a good thing, but it doesn't try to hide the wrong doings of Valerie Solanis.

Highly recommended.


IMDB Reviewer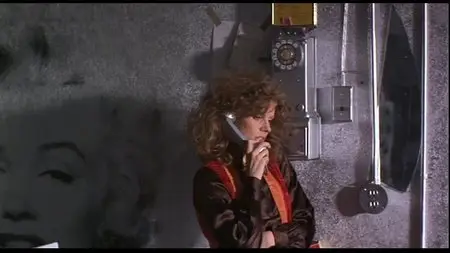 I Shot Andy Warhol is as riveting as its title. Every so often, a filmmaker declares herself simply through her choice of subject matter, and that appears to be the case with director Mary Harron. In her startling debut feature, she has had the inspired audacity to tell the true story of Valerie Solanas, the furious, man-hating — and, in all likelihood, schizophrenic — lesbian feminist who wrote the viciously impassioned SCUM (Society for Cutting Up Men) Manifesto, wormed her way into the outer fringes of the Andy Warhol Factory, and then, on June 3, 1968, convinced that Warhol had ''stolen'' her male-bashing play, Up Your Ass, walked into his office and pumped three bullets into his chest. (He survived, but never fully recovered.)




The movie opens with the shooting, and then we see Valerie (Lili Taylor), in custody, surrounded by reporters outside a Manhattan police station, a short, frowning woman in a scrungy synthetic-fur-lined coat, with chopped hair that makes her look like an angry squirrel. Even for a celebrity stalker, she seems ratty and degraded — a bag lady in excelsis. Yet the moment she starts to talk, exhorting everyone within earshot to read her manifesto and shrugging off a reporter's question — ''Do you have a boyfriend?'' — with a devious, are-you-kidding-me stare, she's so fearless, so consumed by the authority of her rage, that you can't take your eyes off her.




I Shot Andy Warhol charts the unlikely collision of two worlds: the gay-glam underground of Warhol and his followers, and the world of feminist loathing within Valerie Solanas' brain. After a brief tour of her life — abused child, rebel psych major, prostitute — the film picks her up in 1966, as she befriends Candy Darling (Stephen Dorff), the ruby-lipped drag queen who became one of Warhol's most celebrated ''superstars.'' Dorff gives a performance of extraordinary delicacy: His Candy, a sleepy-seductive Southern belle, seems to view life as a Maybelline commercial scripted by Tennessee Williams. Candy and Valerie visit Warhol's fabled studio, the Factory, on a lazy weekday afternoon, and the moment we're inside, with the camera sweeping impishly over such downtown scene makers as the moonstruck Viva (Tahnee Welch) and the whiny, hectoring ''Pope'' Ondine (Michael Imperioli), you can feel Harron's anthropological glee — she glides through this silver-walled sanctuary, with its menagerie of passive exhibitionists, junkie partyers, and faux celebrities, as if it were a playroom for spoiled children, with Warhol (Jared Harris) as its cooing, wallflower Oz.




The SCUM Manifesto, which Valerie reads excerpts from throughout the film, is a fascinating document. It's charged with homicidal paranoia, yet woven into Solanas' rant is a savagely witty attack on some of the more threadbare hypocrisies of American male culture. A fearless lunatic, outrageously lucid in her hostility, Valerie Solanas was half brilliant and half crazy, and that's just how Lili Taylor plays her — as a woman in weirdly rational thrall to her own demons; she's like a feminist Raskolnikov crossed with one of the Dead End Kids. Taylor has pushed past the quizzical precocity she had in movies like Short Cuts and Dogfight to attain a new theatrical power. Valerie may be nuts — a spiteful, beady-eyed scavenger — but she's as focused as a laser beam. Her bluntness is a tonic, and you may find yourself laughing at the sheer hell-bent ferocity with which she flogs her beliefs. I Shot Andy Warhol never allows us to identify with Valerie, but it understands that in the very extremity of her ''philosophy,'' her desire to eliminate men, she drank from the roiling waters of feminine rage in a way that few women of the time had dared.




Harron works in a deadpan tabloid style that some viewers may find too objective for comfort. Valerie is courted by a hip Eurotrash publisher (Lothaire Bluteau), who signs her to a book contract. At the same time, she thinks that Warhol, the visionary of postmodern fame, is the one to make her the star of her own revolution. As I Shot Andy Warhol goes on, her pathology finds a home within the increasing paranoia of the counterculture. Appearing on a New York TV talk show to represent lesbians, Valerie is treated with such contempt that in a hilarious moment she ends up chasing the smug (and terrified) host right off the set. By the time she hooks up with a hippie guerrilla gun freak, her rage has turned into apocalyptic nihilism. Warhol, her ''betrayer,'' becomes her all-consuming scapegoat.




What makes I Shot Andy Warhol more than just a footnote to pop history is the mysterious force of Solanas' connection to Warhol. Yes, she wanted her 15 minutes of fame (she got it, too). More than that, though, what the two shared was the gender madness of the '60s. The Valerie we see is as obsessed with men as she is repelled by them; Warhol and his cult, with their bitch/drag/Marilyn fixation on Femininity as Image, fetishize women and, on some level, despise them. Both view sex with an inhuman chill. Warhol himself is only a supporting character, but the young actor Jared Harris creates a funny, sad, lived-in portrait of Andy the Cool. Pale and bewigged, with fish lips that seem too melancholy to form complete thoughts, his Warhol is an ethereal jokester-wraith who plays voyeur to the packaged spectacle of his own life. It's no wonder that when Valerie points that gun at him and fires, she annihilates her cause in the very act of fulfilling it. She shoots a ghost of a man, and, in doing so, she finally makes him flesh.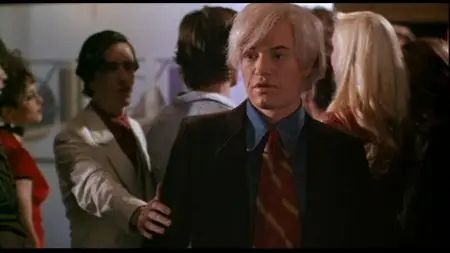 Special Features: Theatrical trailer
All Credits goes to Original uploader.
–––––––––––––––––––––––––––––––––––––––––––