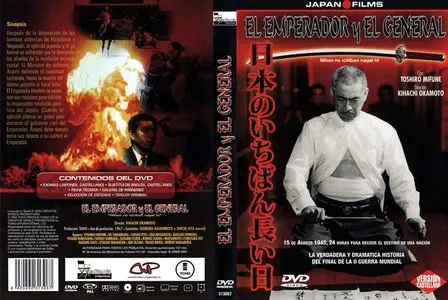 Japan's Longest Day (1967)
DVD9 | ISO | PAL 16:9 | Cover | 02:35:12 | 7,87 Gb
Audio: #1 Español, #2 日本語- AC3 5.1 @ 448 Kbps (each)
Subtitles: English, Español
Genre: Drama, War
Director:
Kihachi Okamoto
Writers:
Shinobu Hashimoto (screenplay), Soichi Oya (book)
Stars:
Seiji Miyaguchi, Rokko Toura, Chishû Ryû
Following the detonation of the atomic bombs on Hiroshima and Nagasaki, the Japanese military and the government clash over the demand from the Allies for unconditional surrender. Minister of the Army Anami leads the military officers who propose to fight on, even to the death of every Japanese citizen. Emperor Hirohito, however, joins with his ministers in asking the unthinkable, the peaceful surrender of Japan. When the military plots a coup to overthrow the Emperor's civilian government, Anami must face the choice between his desires and loyalty to his Emperor.
"Japan's Longest Day" is a cross between political thrillers like "Seven Days in May" and "Thirteen Days" and spot-the-stars WWII epics like "The Longest Day" and "Tora Tora Tora." It was designed to celebrate Toho Studio's 35th anniversary, and just about every major male star who worked at Toho in the 1960s makes an appearance. Most notable are Kurosawa-regulars Toshiro Mifune as war minister, Takashi Shimura as information minister, and Tatsuya Nakadai as narrator, as well as Ozu-favorite Chishu Ryu as prime minister. Most of the actors are excellent, and anyone who thinks Mifune was a ham should see his subdued but intense performance here.




For western audiences unfamiliar with the events, the movie can be a little confusing. It helps to see recognizable faces in the major roles, and director Kihachi Okamoto (who was an heir to Kurosawa at Toho) keeps a fast pace by filming in a documentary style. His approach isn't as kinetic as Kurosawa's, but he injects some stylishness here and there – like the exaggerated spurts of blood that samurai movies use. Although I think Okamoto could have cut a few unnecessary characters (like two air force commanders who don't do much) and used more music to increase the tension, the movie is good at revealing the characters' motivations, especially how they rationalized their actions when caught in a paradox: receiving an imperial order that went against their sense of military honor.




If you're a WWII history buff, an afficionado of Japanese cinema, or a fan of real-life political thrillers, then "Japan's Longest Day" is well worth your time. It's an absorbing recreation of an event that too few western audiences know anything about. And it's a movie that virtually every Japanese person has seen at least once.


Customer Review, amazon.com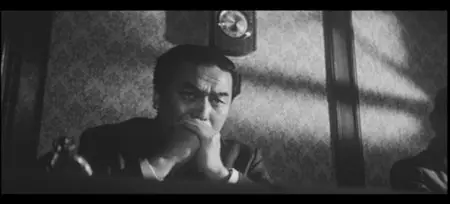 Director Kihachi Okamoto is best known in the west for his jidai-geki and chanbara, violent swordplay dramas like The Sword of Doom (1966) and Kill! (1968). But except for Samurai (aka Samurai Assassin, 1965), Okamoto's period films are actually among his weakest. After Akira Kurosawa left Toho Studios in 1965 for what he thought would be greener pastures in America, the company tried to mold Okamoto as his successor.

But while Okamoto's penchant for black humor would seem like a good match for Yojimbo-like chanbara, his sensibilities were better suited to crime films like The Age of Assassins (1967) and war movies such as Desperado Outpost (1959) and Human Bullet (1968), which are among his best works. Japan's Longest Day (Nippon no ichiban nagai hi, 1967), first released abroad under the basically meaningless title The Emperor and a General, was another prestigious project Toho dumped on Okamoto; it was to be the studio's big 35th Anniversary production.




But this time Okamoto fared better than he had with Toho's samurai dramas. Though it generally lacks the director's trademark black humor, Japan's Longest Day, about the 24 hours leading up to the Emperor's radio broadcast announcing Japan's surrender, is dripping with the kind of tragic irony in which he excelled. Though perhaps a little too densely intricate in its historical details for foreign tastes, this is probably Okamoto's best film.

The picture begins with a whirlwind prologue putting the 24 hours to be dramatized into context and introducing most of the key players. In the wake of the atomic bombs dropped on Hiroshima and Nagasaki, Japan's leaders mull over the Potsdam Declaration, and after much deliberation turn to Emperor Hirohito (Koshiro Matsumoto) to make a final decision. He declares his desire to avoid an Allied land invasion and spare his subjects any further suffering. Though War Minister Korechika Anami (Toshiro Mifune) opposes surrender, loyalty to his emperor supersedes everything else.




However, a group of militant zealots (Toshio Kurosawa, Tadao Nakamaru, Makoto Sato, and Akira Kubo, later joined by Etsushi Takahashi), part of the emperor's own Imperial Guard, regard Japan's leaders as cowards who have taken advantage of the emperor at "a weak moment" and plan a coup d'etat to isolate Him while at the same time hoping their cause will quickly spread among the armed forces.** Key to their plan is preventing the broadcast of the emperor's pre-recorded message to the Japanese people, scheduled for 12:00 noon on August 15, 1945.




Japan's Longest Day is a terrific film. Needless to say, we already know how the story ends, but Okamoto and screenwriter Shinobu (Seven Samurai, Harakiri) Hashimoto, adapting Soichi Oya and Kazutoshi Hando's "non-fiction novel" about a lesser-known but real historical incident, builds palpable tension through deliberately-paced, believable character development and the general bureaucratic and military chaos amidst Japan's fall. When the situation finally turns violent a little more than halfway through the film it's very powerful because the foundation for its unleashing has been so carefully built. (Hashimoto's screenplay rightly won the Kinema Jumpo prize that year.)




Almost 40 years later, the film's graphic but dramatically justified violence is still surprising (and, for those interested in such things, it offers what is probably screendom's best hara-kiri/seppuku ever).

Though top-billed, Toshiro Mifune's War Minister is just one facet in a collage of dramatic incidents, his character initially, stubbornly at odds with Navy Minister Mitsumasa Yonai (So Yamamura) about furthering the war effort. Mostly Mifune's character functions as a kind of modern-day samurai, a man true to bushido until the very end yet wise enough to ultimately put his emperor's wishes and Japan's interests ahead of all else, and hopeful about his country's future.




The film was a prestigious production for Toho and features virtually every actor under contract, as well as respected stage actors like Kabuki star Koshiro Matsumoto as Emperor Hirohito. This was the first film ever to depict in dramatic terms a sitting Japanese emperor, and just how to photograph the man once regarded as a god was resolved by obscuring his face, resulting in some initially awkward camera angles that eventually work in the film's favor. For one thing, the round-face Matsumoto looked nothing like the thin, mousy Hirohito, but more importantly to imagine his appearance, much as the Japanese population did as they stood in unison to listen to his message, ultimately is a plus.




The best performances come from Chishu Ryu, the aging father of many an Ozu film, as Japanese Prime Minister Kantaro Suzuki. Ryu's Prime Minister appears outwardly ineffectual but over the course of the film it becomes apparent that he's much shrewder than he first appears and capable of asserting himself when the need arises. Susumu Fujita (Sanshiro Sugata) and Kenjiro Ishiyama (Bos'n in High and Low) have good moments as middle-rank officers outraged by the uprising, while perennial Toho genre villain Tadao Nakamaru has probably the best role of his career as the most methodical of the rebels. Though by western standards Toshio Kurosawa's wild-eyed militarist may seem over-the-top, to everyone's credit all five of the coup's leaders have distinctive, complex personalities.

The impressive cast also includes heavyweights Takashi Shimura, Yunosuke Ito, Daisuke Kato, Jun Tazaki, Nobuo Nakamura, Michiyo Aratama (as the film's lone female character), Hisashi Igawa, Takeshi Kato, Yuzo Kayama, Keiju Kobayashi, and Koji Mitsui. (Tatsuya Nakadai narrates.) Skeletal Hideyo "Eisei" Amamoto, a longtime favorite of the director, has a very Okamoto-esque part as the crazed leader of a misbegotten Yokohama contingent intent on killing the Prime Minister - only they can't seem to find him.




The picture is crammed with fascinating vignettes, from the various government ministers weeping en masse at the emperor's declaration that Japan should surrender, to those highlighting little details throughout. Especially good are the revealing cabinet meetings where decisions about if and how to surrender get bogged down in minutiae about the terms of surrender and very typical Japanese deliberation, steeped in such ceremony and mass-indecision that the entire country is put at risk. This comes to a head when the official calligrapher (Yutaka Sada, the chauffer in High and Low) tries to rush through a draft of the surrender in artful kanji only to be told repeatedly of last-minute changes. No computers or copy machines back then.

The film was a big hit, the second-highest grossing domestic film that year and fifth overall, and placed third on Kinema Jumpo's "Best Ten" list.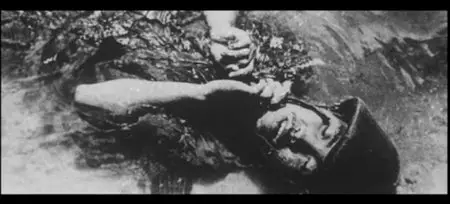 Special Features: Photogallery
All Credits goes to Original uploader.