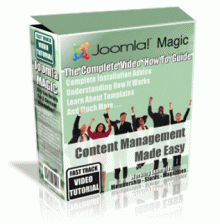 Joomla Magic - Joomla Video Tutorials for beginners | 280 MB
Installs Made Easy, Understanding How It Works, Learn How To Use Templates And Much More . . .
Here's just a little of what's included in this awesome video guide:
Why Content Management Systems
Beyond WordPress - The Time To Move Is Now! (And the dangers you face if you don't)
The varieties of CMS (And why Joomla?)
The Technical Side Covered in-depth and made easy (no fear here):
Downloading Joomla For Free
3 Different Ways To Create Your Database
Uploading Joomla To Your Site
Installing And Configuring Joomla
A Walk Around The Front-End
It's All About Content Baby!
The Back End - Administrator Help
- Creating Sections
- Creating Categories
- Creating Content Items
Linking To Menus
Installing New Templates
Importantly this isn't just a 'technical guide' - because it's video based you get to see real world examples of how people are already using this incredible system to run their businesses. The video also focuses on areas we know you need to know more about. . .
Download
http://hotfile.com/dl/21901842/3a5667f/JM.Joomla.Video.Tutorials.Beginners.part1.rar.html
http://hotfile.com/dl/21901928/3b248db/JM.Joomla.Video.Tutorials.Beginners.part2.rar.html
http://hotfile.com/dl/21901960/11cda1c/JM.Joomla.Video.Tutorials.Beginners.part3.rar.html
http://www.filefactory.com/file/a142agc/n/JM.Joomla.Video.Tutorials.Beginners.part1.rar
http://www.filefactory.com/file/a142ae4/n/JM.Joomla.Video.Tutorials.Beginners.part2.rar
http://www.filefactory.com/file/a142afg/n/JM.Joomla.Video.Tutorials.Beginners.part3.rar