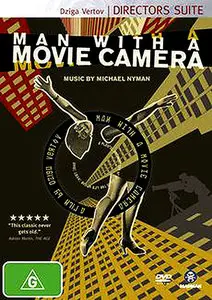 Man with a Movie Camera (1929)
A Film by Dziga Vertov
DVD9 | VIDEO_TS | PAL 4:3 | 01:07:08 | 7,24 Gb
Silent or Michael Nyman's Score AC3 2.0 @ 192 Kbps with Русский intertitles and English subs
Genre: Documentary, Avant-garde
A playful documentary of a day in the life of the Soviet Union.
Man With a Movie Camera is an extraordinary piece of filmmaking. An exuberant montage of urban Russia, it represents the people of the city at work and at play, and the machines that keep the city going with energetic lyricism. A member of the Soviet avant-garde, Vertov used a variety of pioneering cinematic techniques to document the full spectrum of 1929 Soviet life - dissolves, split screen, slow motion and freeze frames - and produced a radical experiment that is exhilarating and intellectually brilliant.
This release is features a new soundtrack composed by the renowned Michael Nyman, and performed by the Michael Nyman Band.
For a demonstration of how a silent movie score can affect its subject consider electro-pop maestro Giorgio Moroder's treatment of Fritz Lang's Metropolis. Admittedly, he reduced the film's length and tinkered with the intertitles, but it was his synth score and the use of pop songs (by Adam Ant, Freddie Mercury, et al) that distorted the science-fiction classic into a camp comic strip adventure. Whilst never making such an overt impact on their features, the BFI's silent movies releases to date have often taken the route of providing brand new scores (James Bernard for Nosferatu, Simon Fisher Turner for Un Chant d'amour), and this second BFI edition of Man With a Movie Camera sees the company providing viewers with their third aural option; In the Nursery and the Alloy Orchestra were present on the first (still available) release, Michael Nyman has scored this one. Having already discussed the film itself in my review of that earlier disc, this piece will focus solely on the relationship between Man With a Movie Camera and its new Michael Nyman score.




Given that this work is closer in its nature to Nyman's cinematic commissions than to his other works as a composer, comparisons to his film scores are perhaps more apt. The major reference points are to the experimental, rhythm driven pieces he provided for Peter Greenaway's A Zed and Two Noughts or his more recent collaboration with Damon Albarn on Antonia Bird's Ravenous, rather than the more melodic compositions typified by The Piano. Of course, as Man With a Movie Camera is one of the classics of experimental cinema this approach seems entirely appropriate. Moreover, Dziga Vertov's work shares more than a passing connection to Peter Greenaway's insofar as they both share a rigid attention to structure and so Nyman seems doubly at home.




It is important to note, however, than despite the disc being given a title of Michael Nyman's Man With a Movie Camera, the composer never once overshadows his subject. Listening to a silent movie score can often be a case of discovering what reaction or interpretation a composer has to a given work (there is rarely a director to consult or seek approval from, after all), and in this case Nyman succeeds very well. The driving force behind Man With a Movie Camera is, of course, its eponymous cameraman and so it is entirely fitting that he should retain control of the picture and not Nyman.




That said Nyman does not conform to Vertov's original wishes for musical accompaniment (though this can be found on the other BFI disc with the Alloy Orchestra score). As such there are no sound effects or explicit references to what is occurring on-screen but rather a reaction to the more general shifts in mood. Whereas Vertov utilised a multitude of techniques throughout his picture, Nyman appears to be responsive only to the subtler devices. The visual punning, therefore, is largely ignored, but the use of juxtaposition is adopted throughout: a woman gives birth to an intense, repetitious birth; whole passages are driven by a melancholic vocal lament (which prompts the question as to what exactly is Nyman lamenting? A golden age of avant-garde filmmaking perhaps?). Of course, any score must return back to the images, especially when they are from an iconic work of this stature. And Man With a Movie Camera is such a rich work that any number of approaches would be equally valid.


The Digital Fix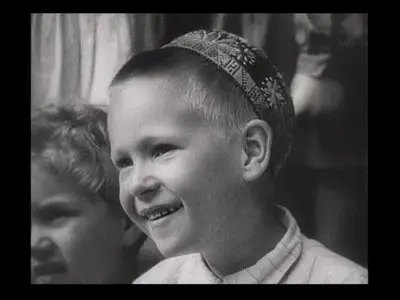 A miniature man climbs on top of a massive movie camera and sets up his trusty tripod. Morphing into a giant, he straddles the horizon and pans his lens across the city below. Life size again, he rides through the streets on the back of a jalopy, furiously winding the handle on his primitive camera and capturing every detail through his lens; the pedestrians, the horse drawn carriages, the electric trams. Up smoke stacks he goes and into the bowels of a blast furnace, all in pursuit of a new language of cinema – an experimental documentary language in which scripts, sets and actors are all banished.




Instead, he brings us real people, Soviet workers in a composite city that could be Moscow, Kiev, Odessa, or all three. As the workers oil the wheels of industry, a film editor works diligently compiling their collective efforts into a visual poem or song. It's a tribute to Lenin's Soviet Union made by one of his biggest fans. Denis Kaufman started his career making newsreels but later changed his name to Dziga Vertov (or 'Spinning Top') and helped found a group of like minded filmmakers known as Kino-glaz or Cine-eye. Through their lenses, the world was deciphered in a brand new way. "I am mechanical eye" Vertov famously declared and in his masterpiece Man With a Movie Camera, that concept is given its head.




Vertov cast his brother, Mikhail Kaufman, as the eponymous Man and his wife, Elizaveta Svilova, as the editor, a job she also executed in real life, painstakingly splicing together all the disparate black and white shots (as Professor Arthur Cantrill points out in his DVD commentary, the film might just as well have been called The Woman with the Editing Shears). Techniques which were totally radical in the late 20s, like superimposition, split screens, dissolves, animation, slow motion and freeze frames, were all used to liberate cinema from its role as a recording device for the performing arts and literature. But as with many revolutionary experiments, the finished product was deemed too obscure for general release and suppressed by the cultural bureaucracy. Now, with a new soundtrack by Michael Nyman that echoes the work of Philip Glass on more modern films like Koyaanisqatsi and Baraka, this classic is open for reappraisal.


Nellevision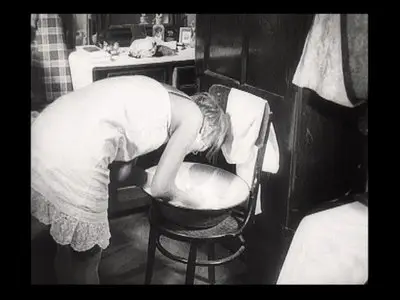 Special Features:
- Three Songs about Lenin: a 1930s proaganda film by DzigaVertov
- Original Theatrical Posters
- Michael Nyman Score
- Audio commentary by experimental filmmaker, Associate Professor (emeritus) Arthur Cantrill, co-editor of Cantrills Filmnotes
Many Thanks to Original uploader.
–––––––––––––––––––––––––––––––––––––––