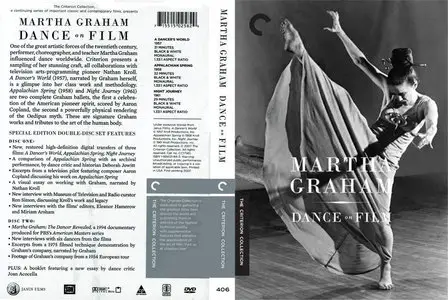 Martha Graham: Dance on Film (1957-1961)
A Dancer's World (1957) / Appalachian Spring (1958) / Night Journey (1960)
2xDVD9 | ISO+MDS | NTSC 16:9/4:3 | Cover + Booklet | 92 mins | 7,73 Gb + 6,27 Gb
Audio: English AC3 1.0 @ 192 Kbps | Subtitles: English SDH
Genre: Documentary, Music | The Criterion Collection #406
One of the great artistic forces of the twentieth century, performer, choreographer, and teacher Martha Graham influenced dance worldwide. Criterion presents a sampling of her stunning craft, all collaborations with television arts-programming pioneer Nathan Kroll. A Dancer's World (1957), narrated by Graham herself, is a glimpse into her class work and methodology. Appalachian Spring (1958) and Night Journey (1961) are two complete Graham ballets, the first a celebration of the American pioneer spirit, scored by Aaron Copland, the second a powerfully physical rendering of the Oedipus myth. These are signature Graham works and tributes to the art of the human body.
From the depression era until her death in 1991, Martha Graham fashioned a school of dance that was uniquely American and uniquely her own. She revolutionized dance with modern, free form movement as precise as classical ballet but with endless variations. Some of her work is still often performed, but amazingly very little of it has been captured on film, especially with Martha herself dancing the leads in pieces she crafted for herself and her company. This new Criterion release has collected three astonishing pieces of her work as produced by legendary arts documentarian Nathan Kroll along with a mountainous array of other features all extolling the genius of one of America's true dance originals.




The three dance films are A Dancer's World, Appalachian Spring (undoubtedly her most famous work), and Night Journey. My undoubted favorite is the first piece in which Martha introduces the eleven members of her company, narrates her views of dance as the company performs some short dance pieces tied to a particular emotion or reaction. Because it's set in Graham's dance studio and the dancers are not in costume but the ladies in leotards and the gentlemen in polo shirts and tights, the simplicity of the setting and attire allows the dancers' incredible grace, control, balance, and extension to be shown in full flower. Graham's watchwords were always simplicity and spontaneity, and this first film in particular shows those attributes with startling frankness.




Appalachian Spring is Graham's renowned ode to the rebirth of vitality that spring heralds. The mesmerizing music by Aaron Copland is a bubbling, rapturous explosion of emotions from joy to concern to love, and the dancers are all in their primes, that is, except Graham herself who was 65 at the time of the filming and yet still dancing the role of the young bride. She looks amazing but certainly not youthful, and the lack of zest in her step and some less than high kicks and stiff extensions of her legs keep this from being the definitive film of the dance it might have been. (In fact, in some of the bonus features, it's lamented by more than one member of the company that it was a shame the filming hadn't happened five to ten years earlier.)




Night Journey is the Oedipus story (son who ends up killing his father and marrying his mother without knowing what he's done; on learning of his ghastly mistakes, the mother Jocasta hangs herself and Oedipus blinds himself) told from the point of view of Jocasta. Once again, Graham dances the leading female role, but here her age (68) makes more sense, and her less than nubile movements seem appropriate to emphasize the age difference between mother and son/husband. She still dances superbly, and the very modern, stylized accompaniment serves as a vivid counterpoint to the ancient tale.




How lucky we are that these three short films (each about a half hour in length) have been preserved for future generations to see a dance movement from the person who created it and knew its tenants best!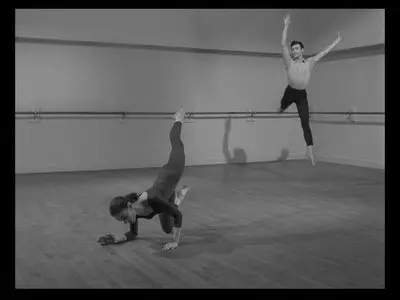 SPECIAL EDITION DOUBLE-DISC SET:
- New, restored high-definition digital transfers of three films: A Dancer's World, Appalachian Spring, Night Journey

DISC ONE offers quite a number of bonus features. First up is a video comparison of the 1958 performance of Appalachian Spring with a 1944 stage performance which was filmed for Graham's study purposes. Dance critic Deborah Jowitt compared three sequences in the dance moving skillfully back and forth between the side-by-side mock-ups of the two filmed pieces. Of course, the 1944 performance was shot from a light booth with a single camera angle and is in soft, grainy shape, but it is remarkable comparing the two interpretations and seeing the alterations Graham made in the piece during the intervening years. This featurette runs 13 minutes.

Composer Aaron Copland discusses his work on writing the music for Appalachian Spring in excerpts taken from a television show with interviewer Paul Jenkins. The featurette is presented in 4:3 and runs about 6 minutes.

Kroll: In His Own Words offers a look at the Emmy and Peabody winning-producer Nathan Kroll in a 6½-minute audio discussion about producing these three landmark films illustrated with stills and video clips from the films.

Ron Simon on Nathan Kroll is a 12-minute tribute to the films' producer by the curator of the Museum of Television and Radio. This featurette is presented in anamorphic video.

The Editors is a 13-minute anamorphic interview with film editors Eleanor Hamerow and Miriam Arsham on the difficulties they encountered editing these three dance films. Hamerow's interview in particular is remarkable as she describes the sync problems she ran into while editing Appalachian Spring, something noted by several of the dancers in a later interview on disc two.

DISC TWO begins with Martha Graham: The Dancer Revealed, a 54-minute episode from the American Masters PBS series. Divided into 10 chapters and presented in full frame, the documentary shows more rare footage of Graham dancing her own work as well as other dancers interpreting roles she had made her own.

The Dancers is a 30½-minute anamorphic interview session with six longtime members of the Graham dance company: Yuriko Kikuchi, Stuart Hodes, Ethel Winter, Mimi Cole, Mary Hinkson, and Linda Hodes. They talk about the low pay, the joyousness of their work, and their memories of Martha Graham in very candid discussions.

The Martha Graham Technique, 1975 is excerpts taken from filmed dance class exercises with Graham providing running commentaries as to the moves and positions of the dancers in the series of exercises. This full frame feature runs 15 minutes.

The Company on Tour, 1954 offers 11 minutes of 16mm silent home movies taken on the company's European tour in 1954. Captions have been added to the film to identify the various participants.

The enclosed 18-page booklet offers complete credits for the three filmed pieces as well as stills of the various dancers and a lengthy discussion of Martha Graham's life by dance critic Joan Acocella particularly focusing on filming these three landmark dance pieces.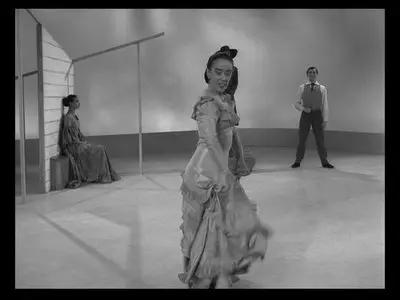 All Credits goes to Original uploader.
No More Mirrors, Please.

6B1B9B06821A7AE388AA999220203421 *Crit406.D1.avaxhome.ru.part01.rar
0D08C7CD09989D1173F0B2C96CE4DCD2 *Crit406.D1.avaxhome.ru.part02.rar
EAB51C75057E6C3F519253965A5D4174 *Crit406.D1.avaxhome.ru.part03.rar
B2C24FFEBE82CED5962A6A87AE9D1EF6 *Crit406.D1.avaxhome.ru.part04.rar
F19764D9887E3D664C35E402F22EB010 *Crit406.D1.avaxhome.ru.part05.rar
929647EF0773029DBC7BDFB71826EF34 *Crit406.D1.avaxhome.ru.part06.rar
D8A5219FC776B1F934BDB47E3F7EDB72 *Crit406.D1.avaxhome.ru.part07.rar
F39027B2ECA2A91063A7388F9FBE699C *Crit406.D1.avaxhome.ru.part08.rar
998C3A4E407188E853D1C1B50E6717B5 *Crit406.D1.avaxhome.ru.part09.rar
FFF6CC56EA3C5CA5C099FE36A3379AA4 *Crit406.D1.avaxhome.ru.part10.rar
E564B58E9EA39983FFE7F3CE6FE93E0C *Crit406.D1.avaxhome.ru.part11.rar
D643CAC1ECE109656BBFE9C00AF2D599 *Crit406.D1.avaxhome.ru.part12.rar
14220051C74045EBF1A8B6B23EBA2AD0 *Crit406.D1.avaxhome.ru.part13.rar
C9E33560551B60DE4C3DD3F242803A42 *Crit406.D1.avaxhome.ru.part14.rar

711DAC8AF1768C5DCEE495DED0BEA218 *Crit406.D2.avaxhome.ru.part01.rar
604B67A35CB01DA7D76B846058845332 *Crit406.D2.avaxhome.ru.part02.rar
22C8E184D7BF74C5CF8706BE3E482042 *Crit406.D2.avaxhome.ru.part03.rar
DD8CE950BF8C95179E42183DB7C53EB2 *Crit406.D2.avaxhome.ru.part04.rar
8632A66DE6C7ADB6BF984725E8BCA6C0 *Crit406.D2.avaxhome.ru.part05.rar
28D7ADDB8A24BB75635FDFFB4B063F09 *Crit406.D2.avaxhome.ru.part06.rar
F7CF6B99CE6F19AE9DA0486CD3016528 *Crit406.D2.avaxhome.ru.part07.rar
B030F021232F6C9F1E346305F0983C3C *Crit406.D2.avaxhome.ru.part08.rar
B644214E6366457456676AAF0076FD75 *Crit406.D2.avaxhome.ru.part09.rar
24A1A88CB85AB92200ECB1DA790BEE51 *Crit406.D2.avaxhome.ru.part10.rar
4B34B9A1D34372EC53D69105DF7733D7 *Crit406.D2.avaxhome.ru.part11.rar
DD2C3E516D522C78E88584DFB6779496 *Crit406.D2.avaxhome.ru.part12.rar