Scattered Clouds (1967)
DVD9 Custom | VIDEO_TS | NTSC 16:9 | 01:47:53 | 7,11 Gb
Audio: Japanese AC3 1.0 @ 192 Kbps | Subs: English (added), Japanese
Genre: Art-house, Drama, Romance
Director:
Mikio Naruse
Writer:
Nobuo Yamada
Stars:
Yûzô Kayama, Yôko Tsukasa, Mitsuko Kusabue
In this Japanese romance, the trouble begins after a fellow is involved in a fatal car accident. Though he was deemed blameless in the crash, his company still transfers him from Tokyo to a remote branch in a small town. Just before he leaves, the fellow, who is now overcome with guilt, offers the dead man's widow a large sum of money. She refuses it at first, but then listens to her persistent in-laws and takes the cash. She then decides to return to her hometown to recover. Naturally it is the town where the young man has been assigned. The two frequently meet in the street. He tries to be friends, but she continually rebuffs him. Eventually, the discouraged company man asks to be transferred to Pakistan, and as they meet for the last time before he leaves he discloses his love for her. They do not see each other again, until, much to his surprise, on the very day of his departure the widow appears and tells him that she has fallen in love with him and claims she wants to be with him. En route to the airport, however, they see a traffic accident and realize that they can never be together.
AKA:
Two in the Shadow (1967)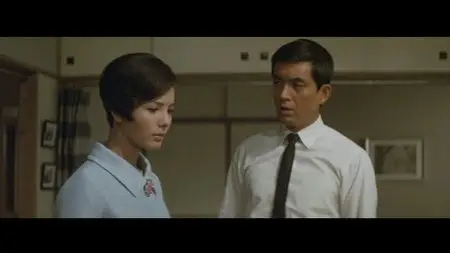 Scattered Clouds, director Mikio Naruse's final film, plays like the melancholy last dance (to a somber tango accompaniment) of an extended evening of revelry now teetering on the fine line separating drunkenness and sobriety. It's the cinematic equivalent of a hangover, though the heady haze the film conveys is part of its charm and very much in tune with its deeply saturated color photography, which constantly threatens (especially during an extended rainstorm sequence) to spill over its borders and run together in a kind of chaotic emotional release.




These are the fragile aesthetic threads that parallel the tenuous boundaries separating widow Yumiko Eda (Yôko Tsukasa) from her potential beau Mishima (Yuzo Kayama). Theirs is the opposite of a meet-cute: Mishima accidentally kills Yumiko's husband Hiroshi (Yoshio Tsuchiya) with his car, shattering the couple's plans to move to America. The first half of Scattered Clouds compares and contrasts Yumiko's hostile grief with Mishima's sense of indebtedness (a trait particularly important to and inherent in Japanese culture).




At first the widow understandably rejects Mishima's attempts at atonement, but she slowly comes around and accepts a monthly monetary remuneration. Eventually, Hiroshi's family legally revokes Yumiko's married name and inheritance, so she retreats to a country hotel run by her sister Ayako (Mitsuko Kusabue). Coincidentally, Mishima's employers have transferred him to the same town and so the duo begin a tentative courtship, though one that – befitting Naruse's psychology-obsessed cinema – is infringed upon by a variety of external stressors.




This reaches an apotheosis late in the film when Yumiko and Mishima become spectators to an accident eerily similar to the one that killed Hiroshi. It's as if they step outside of themselves and gain an intellectual distance from a situation they have only observed through an up close and personal emotional prism. It's the final obstruction that effectively stunts the duo's peculiarly burgeoning love and it turns Scattered Clouds's threatened explosion of feeling in on itself, resulting in a no less overwhelming, if deceptively calm implosion.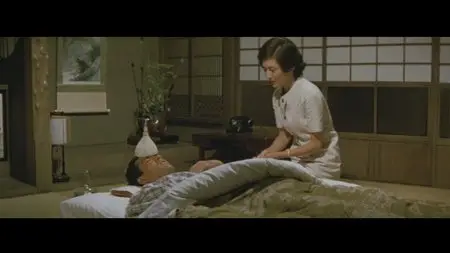 Special Features: Trailer
All Credits goes to Original uploader.