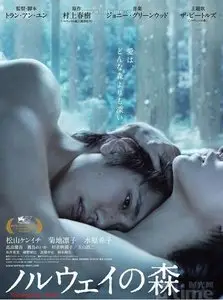 Norwegian Wood / Noruwei no mori (2010)
DVDRip | Lang: Japanese | Subs: English (srt) | MKV | 720 x 304 | x264 @ 1181 Kbps | AC3 5.1 @ 448 Kbps | 128 mins | 1,51 Gb
Genre: Drama, Romance | Japan
Adapting Haruki Murakami's breakthrough novel with the romantic melancholy of the Beatles song that gave it its name, Norwegian Wood is a passionate story of nostalgia, loss and awakening sexuality.
Upon hearing the song "Norwegian Wood," Toru (Matsuyama) remembers back to his life in the 1960s, when his friend Kizuki killed himself and he grew close to Naoko, Kizuki's girlfriend. As the two try, in very different ways, to contend with their grief, Toru forms a bond with another woman, Midori.
Childhood friends Watanabe (Kenichi Matsuyama) and Naoko (Rinko Kikuchi) are reunited in Tokyo in 1969 when they find themselves enrolled at the same college. Their friendship is rekindled, but they are both haunted by a shared tragedy that they would prefer remain shrouded in distant memory. As their affections for each other begin to grow, so too does the spectre of the past. The more their love blossoms, the more the shared history that unites them threatens to tear them apart. Meanwhile, Tokyo is awash with the spirit of political protest. Watanabe is both intrigued by the changing social mores and a bit skeptical. Following the lead of bon vivant Nagasawa (Tetsuji Tamayama), he is lured into a new world of sexual freedom. Taken on a seductive journey through after-hours Tokyo – replete with sex, debauchery and rock and roll – Watanabe meets the beguiling Midori (Kiko Mizuhara), an outspoken and mysterious young woman. Captivated by all she represents, Watanabe's growing interest in Midori begins to threaten his future with Naoko, forcing him to choose between his passion and his principles.
Letting his camera linger on the uncertainties of subtext and innuendo, Tran distills the idiosyncrasies of different personalities and the intimacies that can flourish between two people. As the two lovers caught up in the intoxicating richness of the era, Matsuyama and Kikuchi deliver arresting performances, striking exactly the right chord between vulnerability and conviction and creating characters that are flawed, stubborn, guileless and, ultimately, powerful. A bittersweet tale full of beauty and pathos, Norwegian Wood illuminates the uncertain passage from innocence to maturity.
IMDB
When I was a university student, one of my close friends told me that novels by Haruki Murakami were good, and recommended me to read them. I was 19 years old then, and it was the first time for me to read "Norwegian Wood." The novel captured my interest, and I have read it again and again since then, and I still read it even now. "Norwegian Wood" is one of my favorite books.

The novel "Norwegian Wood" depicts the university days of the main character, Watanabe Tohru. In the novel, he lives in Tokyo, and goes to university. He likes reading American modern literature. He did not have any friends except for one best friend during his high school days, but the friend killed himself at the age of seventeen. Watanabe has several relationships with women between the age of 18 and 21. Some characters in the novel, other than Watanabe's best friend, have also killed themselves. The novel consists of sex, death, literature, and intelligence.

I went to university, and had some close female friends. In addition, I liked reading classic literature. Furthermore, I did not belong to a sport clubs at university, so the scope of my friendship was limited. In essence, I felt a sense of intimacy with Watanabe while reading the novel. (In fact, I learnt "The Catcher in the Rye" by J. D. Salinger and "The Great Gatsby" by F. Scott Fitzgerald from Norwegian Wood, and both books were the first English novels which I completed reading in their original language.) Norwegian Wood is an important book for me, so I was glad to hear, 2 to 3 years ago, that the movie version of this novel would be screened. The movie was released about one week ago, and I went to see it today.

Locations shot in the movie were beautiful, and the music sounds good. In particular, I was moved by one scene in which Reiko sang "Norwegian Wood" by the Beatles with a guitar, and Naoko lost her mental stability during Reiko's performance. In addition, the cast members in the movie were also good, especially Mizuhara Kiko, who played Midori, was very cute and vivid.

Since I have read the novel over and over, and remember the whole story in detail, I can go so far as to say that I do not need any explanation for the story in the movie. Because I know the story, I was purely interested in how the film director, Tran Anh Hung, had expressed the novel through the media of a movie.

The movie version of "Norwegian Wood" was not solely a converted version of the novel, but represented its originality and creativity with the help of movie techniques, such as music, voice (cry, laugh, or angry), facial expression, and scenery.

However, it is certain that those who have never read the novel will not enjoy the movie.


IMDB Reviewer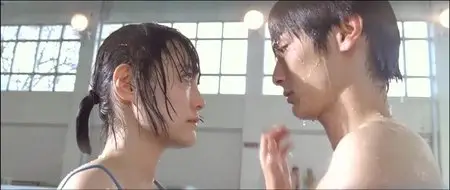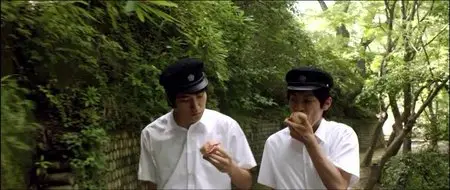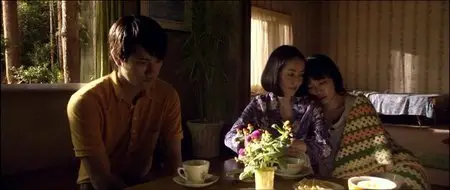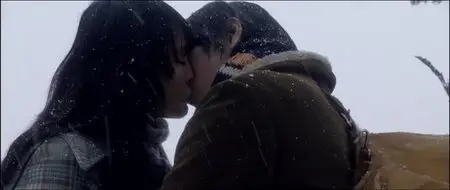 Download:
http://www.filesonic.com/file/172710341/NorWoo.2010.AH.part1.rar
http://www.filesonic.com/file/172710011/NorWoo.2010.AH.part2.rar
http://www.filesonic.com/file/172710551/NorWoo.2010.AH.part3.rar
http://www.filesonic.com/file/172709811/NorWoo.2010.AH.part4.rar

http://bitshare.com/files/vv7him8o/NorWoo.2010.AH.part1.rar.html
http://bitshare.com/files/rn75j7if/NorWoo.2010.AH.part2.rar.html
http://bitshare.com/files/g6prmqi3/NorWoo.2010.AH.part3.rar.html
http://bitshare.com/files/jf5huym6/NorWoo.2010.AH.part4.rar.html

http://www.fileserve.com/file/r9YGhY7/NorWoo.2010.AH.part1.rar
http://www.fileserve.com/file/97Fjgy4/NorWoo.2010.AH.part2.rar
http://www.fileserve.com/file/hDpJ6s7/NorWoo.2010.AH.part3.rar
http://www.fileserve.com/file/JSJ7Gfn/NorWoo.2010.AH.part4.rar

Interchangable links.
No More Mirrors.