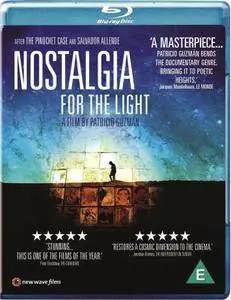 Nostalgia for the Light (2010)
BDRip 1080p | MKV | 1920x1080 | x264 @ 8903 Kbps | 90 min | 6,54 Gb
Audio: Español DTS 5.1 @ 1509 Kbps | Subs: English (embedded in MKV)
Genre: Documentary
Director:
Patricio Guzmán
Writer:
Patricio Guzmán
Stars:
Gaspar Galaz, Lautaro Núñez, Luís Henríquez
In this film, director Patricio Guzmán travels 10,000 feet above sea level to the driest place on earth, the Atacama Desert, where on top of the mountains astronomers from all over the world gather to observe the stars through the desert's unpolluted atmosphere. The Atacama is also a place where the harsh heat of the sun keeps human remains intact: those of Pre-Columbian mummies; 19th century explorers and miners; and above all the remains of political prisoners, "disappeared" by the Chilean army after the military coup of September, 1973. Surviving relatives of the disappeared are still looking for the body parts of their loved ones, still trying to reclaim their family histories. Nostalgia For The Light is a beautiful, moving portrayal of the celestial quest of the astronomers alongside the earthly search of the women.
Winner of a raft of documentary film awards, including Best Feature from the International Documentary Association in 2011, and Best European Documentary at the European Film Awards in 2010.
A painting that unites astronomy, the present, the past and the collective memory of a people. A story you through from end to end and leaves you vibrating in a note holding and is resonating very hard in the chest. How to join two things as seemingly dissimilar as astronomy and the search for a past that still bleeds and want silent but still present. The astronomers point their telescopes to the huge big sky of Atacama to find new galaxies, stars lost or the same origin of the universe, and the telescope is pointing Guzman inward consciousness of a people and of horror to keep the memory alive.

Thanks Patrick for this film as needed.
(click to enlarge)

More in My Blog