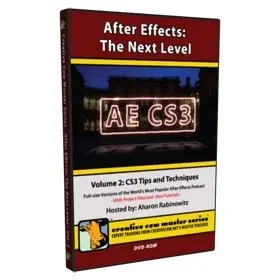 Creative COW Master Series After Effects: The Next Level vol.2
Video | Elearning | English | 2.4 GB
35 full-res tutorials and tutorials from the Creative Cow After Effects Podcast. Over 5 hours of tutorials from the world's most popular AE podcast are full of techniques for workflow management, troubleshooting techniques, expressions, effects and text. Even if you've seen some of these, you'll be amazed by what you've missed.
10 new tutorials for After Effects CS3. In 78 minutes of never-before-seen lessons, Aharon covers new AE features such as the Puppet Tool and Shape Layers. You'll also find updates to older lessons specifically to cover changes for CS3.
Other topics covered in "After Effects: The Next Level, vol. 2" include Brainstorm, per character 3D text, Photoshop layer styles in AE, particle effects, null objects, auto-tracing, and working with audio.
Aharon Rabinowitz knows how to make cool effects with After Effects. As the Creative Director of All Bets Are Off Productions in New York City, he also knows what you need to know to make the most of this very powerful program, to help you get the job done. Whether you're a working professional, or hope to become one, these 45 tutorials are for you.
Download
http://rapidshare.com/files/207984089/COWNextLevelvol2_TDK.part01.rar
http://rapidshare.com/files/207986243/COWNextLevelvol2_TDK.part02.rar
http://rapidshare.com/files/207984084/COWNextLevelvol2_TDK.part03.rar
http://rapidshare.com/files/207984334/COWNextLevelvol2_TDK.part04.rar
http://rapidshare.com/files/207986940/COWNextLevelvol2_TDK.part05.rar
http://rapidshare.com/files/207984350/COWNextLevelvol2_TDK.part06.rar
http://rapidshare.com/files/207986168/COWNextLevelvol2_TDK.part07.rar
http://rapidshare.com/files/207986416/COWNextLevelvol2_TDK.part08.rar
http://rapidshare.com/files/207986424/COWNextLevelvol2_TDK.part09.rar
http://rapidshare.com/files/207986326/COWNextLevelvol2_TDK.part10.rar
http://rapidshare.com/files/207984055/COWNextLevelvol2_TDK.part11.rar
http://rapidshare.com/files/207984313/COWNextLevelvol2_TDK.part12.rar
http://rapidshare.com/files/207986130/COWNextLevelvol2_TDK.part13.rar
http://rapidshare.com/files/207986245/COWNextLevelvol2_TDK.part14.rar
http://rapidshare.com/files/207985766/COWNextLevelvol2_TDK.part15.rar
http://rapidshare.com/files/207983416/COWNextLevelvol2_TDK.part16.rar
http://rapidshare.com/files/207986136/COWNextLevelvol2_TDK.part17.rar
http://rapidshare.com/files/207985851/COWNextLevelvol2_TDK.part18.rar
http://rapidshare.com/files/207983439/COWNextLevelvol2_TDK.part19.rar
http://rapidshare.com/files/207983561/COWNextLevelvol2_TDK.part20.rar
http://rapidshare.com/files/207983087/COWNextLevelvol2_TDK.part21.rar
http://rapidshare.com/files/207983298/COWNextLevelvol2_TDK.part22.rar
http://rapidshare.com/files/207985931/COWNextLevelvol2_TDK.part23.rar
http://rapidshare.com/files/207982540/COWNextLevelvol2_TDK.part24.rar
http://rapidshare.com/files/207982527/COWNextLevelvol2_TDK.part25.rar
http://rapidshare.com/files/207984929/COWNextLevelvol2_TDK.part26.rar