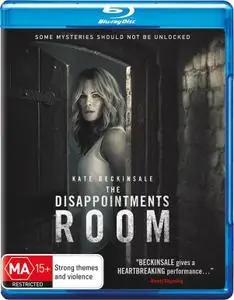 The Disappointments Room (2016)
BDRip 1080p | MKV | 1920x1080 | x264 @ 5760 Kbps | 91 min | 3,98 Gb
Audio: English AC3 5.1 @ 448 Kbps | Subtitles: English (embedded in MKV)
Genre: Horror, Thriller
Director:
D.J. Caruso
Writers:
Wentworth Miller, D.J. Caruso
Stars:
Kate Beckinsale, Mel Raido, Duncan Joiner
The architect Dana, her husband David and their son Lucas move to an isolated manor in the countryside seeking a restart of their lives after the death of their baby daughter in a tragic accident. Dana overhears noises in the attic and finds a hidden locked room. Soon she finds the keys and is haunted by the evil spirit of an old man. She researches and learns that old rural houses had disappointments rooms where disabled children were locked to avoid embarrassment to the traditional families. Further, the spirits of the original owner of the house, Judge Blacker, and his daughter are still trapped in the house. However, only Dana is capable to see and contact them and David believes she is delusional. When Judge Blacker threatens the life of Lucas, Dana tries to protect him but she is not sure of what is reality or daydream.
(click to enlarge)

More in My Blog