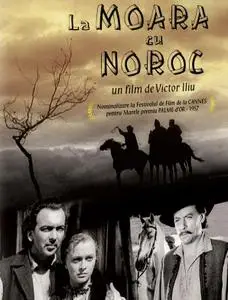 The Mill of Good Luck (1957)
DVDRip | MKV | 720x576 | x264 @ 1966 Kbps | 105 min | 1,60 Gb
Audio: Română AC3 2.0 @ 192 Kbps | Subs: English, Deutsch, Français, Română
Genre: Crime, Drama
Director:
Victor Iliu
Writers:
Titus Popovici (screenplay) (as T. Popovici), Ioan Slavici (novel)
Stars:
Constantin Codrescu, Geo Barton, Ioana Bulca
Ghiţă is a former shoemaker who wants to become an innkeeper, so he settles at the"The Mill of Good Luck" Inn, together with his wife, beautiful Ana, and with his mother. Among the crossroads' inn's guests is Lică Sămădăul accompanied by his acolytes – a band of wrongdoers acting in the area. Lică proposes Ghiţă to become party to their evil doings, and the latter, greedy but also scared, accepts. Lică does not stop at corrupting the innkeeper, but he also wants to seduce Ana, who is obviously impressed with his aggressive virility. But hot on the tracks of the swine herders is Pintea, a ranger who will contribute to the tragic end of the main characters.
A story,and with it Slavici proved his true genius.It is a love story,which follows the inner transformation of a man who tried to fight his demon, the love for money, and lost.This movie shows what becomes of a man when he looses the fight with himself,and at the same time looses contact with his love.This fight is hidden at the beginning behind the conflict between Ghita and Lica Samadaul,and one would think that is the classic bad vs good fight.It is more a fight between pure evil and a simple, probably too ambitious, man.I think it is a perspective that all of us should take into consideration.The free fall without any hope of turning back,gives you thrills.

Watch the movie!
(click to enlarge)

More in My Blog