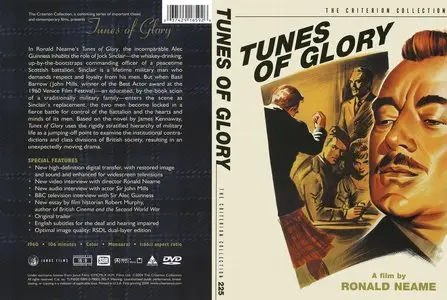 Tunes of Glory (1960)
A Film by Ronald Neame
DVD9 | ISO+MDS | NTSC 16:9 | Cover | 01:47:04 | 7,88 Gb
Audio: English AC3 1.0 @ 192 Kbps | Subtitles: English SDH
Genre: Drama, Romance | The Criterion Collection #225
Director:
Ronald Neame
Stars:
Alec Guinness, John Mills, Susannah York
In Ronald Neame's Tunes of Glory, the incomparable Alec Guinness inhabits the role of Jock Sinclair—a whiskey-drinking, up-by-the-bootstraps commanding officer of a peacetime Scottish battalion. Sinclair is a lifetime military man, who expects respect and loyalty from his men. But when Basil Barrow (John Mills, winner of the Best Actor award at the 1960 Venice Film Festival)—an educated, by-the-book scion of a traditionally military family—enters the scene as Sinclair's replacement, the two men become locked in a fierce battle for control of the battalion and the hearts and minds of its men. Based on the novel by James Kennaway and featuring flawless performances by Guinness and Mills, Tunes of Glory uses the rigidly stratified hierarchy of military life as a jumping-off point to examine the institutional contradictions and class divisions of English society, resulting in an unexpectedly moving drama.
A powerful and highly effective tale of military life during peacetime, TUNES OF GLORY follows two very different officers in a Scottish Highland regiment. Director Ronald Neame and the producers cast against type in giving the suave Alec Guinness the role of crude, up-from-the-ranks Lt. Col. Jock Sinclair, who had bravely led his troops to victory at El Alamein, while John Mills must convince the audience that he is Lt. Col. Basil Barrow, an Oxbridge type who is all spit, polish, and protocol. Sinclair is the interim commander of the 200-year-old unit, a man of war with little interest in commanding a peacetime unit, which suffers from a lack of discipline in the ranks. Rules are easily bent; dress rehearsals are not taken seriously. Enter military man Barrow, sent to replace Sinclair. Devoted to restoring the faded glory of the regiment, he demands respect from everyone and ruffles many feathers. However, some who served under Sinclair, appreciating his personal bravery and abilities but hating his boorish ways, flock to Barrow in the hope that he will bring back their former days of glory.




Mills and Guinness are the center of the movie and it's a tossup as to which is better, though Mills won the Best Actor Award at the 1960 Venice Film Festival. The film is all acting and character, nicely accented by the Scottish bagpipe music of Malcolm Arnold.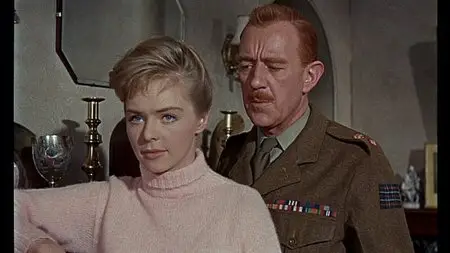 The film is set at an unnamed Highland regiment, where its gregarious, popular acting commander, Major Jock Sinclair (Alec Guinness) is replaced with a martinet, a humorless teetotaler, Lt. Colonel Barrow (John Mills). The Oxford-educated Barrow, who places discipline ahead of tradition, clashes with his officers almost at once. Sinclair, lacking a formal education, earned his commission the hard way, and the men of the battalion see him as one of their own.




The film is like two pendulums part of the same mechanism, but swinging in opposite directions. Audiences are initially sympathetic to Sinclair, taking an instant dislike to Barrow. As the battalion's officers begin taking sides and Sinclair unpleasantly and openly defies Barrow to the point of nervous collapse, the two pendulums swing and by the end of the picture their roles are almost reversed. James Kennaway's screenplay (from his semi-autobiographical novel) does a superb job of shading each character, adding a remarkable verisimilitude to regiment life down to the most minor of characters. Though filmed mostly at Shepperton Studios, Wilfred Shingleton's production design likewise feels authentic, with roaring fireplaces, comfortable leather chairs, and heavy wood paneling.




Much has been made of the fact that Guinness and Mills play characters that the other actor would seem better suited. Guinness, quiet and famously introvert off-camera would seem better cast in the Barrow part, while Mills, known for playing working class heroes and foot soldiers, would seem ideal as Sinclair. One contemporary reviewer even suggested Guinness and Mills alternate the roles onstage – a wonderful, sadly unrealized concept. In any case, both are excellent. Guinness, with the flashier part, is larger-than-life because that's what the character calls for, though his best scenes are quiet little moments of manipulation, dissing his commander within his earshot. (Spoiler) Guinness's best scene has him quietly compelling a young soldier (Peter McEnery) to look at a bloody corpse straight on, an unexpected moment in which Sinclair's leadership instinctively kicks into gear.

But Mills is at least the equal of the more actorly Guinness. His eyes are amazingly expressive, quietly sizing up his men in early scenes, fruitlessly searching for someone to toss him a lifeline later on. His gradual, tragic meltdown is especially unnerving to watch.




Both actors are so good it's easy to forget Tunes of Glory's supporting cast. They give one of the finest ensemble performances in British cinema (perhaps equaled only by the cast of the Lean-Neame Great Expectations). Nineteen-year-old Susannah York (making her screen debut) and John Fraser are fine as Sinclair's daughter and bagpiper boyfriend, but the real treat is seeing Scotsmen like Gordon Jackson, Duncan Macrae, and Angus Lennie in unusually substantial roles. (Andrew Kier is in there somewhere, too.) Kennaway's script carefully avoids turning the regiment into an anti-Barrow mob – each officer has his own reasons for siding with one or the other. Some, like Jackson's adjutant, are quietly appalled by the cruelty of Sinclair's behavior. Allan Cuthbertson's Simpson is sympathetic to Barrow, but unwilling to sacrifice his relationship with the others, while Percy Herbert's RSM Riddick is driven by pure emotion. Third-billed Dennis Price plays the kind of oily character he seemed to specialize, but even his character has an admirable ambiguity about it.




Low-key but absolutely riveting, Tunes of Glory is a sublimely subtle tale of two men who survived the horrors of war only to become unglued by peacetime vanity. For its superb cast and excellent direction, this is a title not to be missed.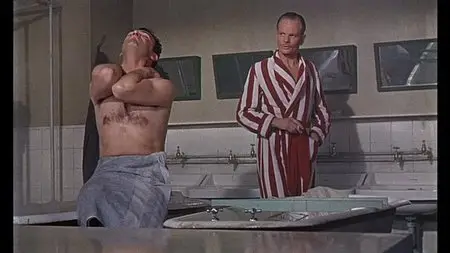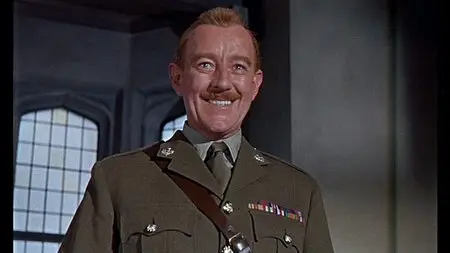 Special Features:
- New high-definition digital transfer, with restored image and sound and enhanced for widescreen televisions
- New video interview with director Ronald Neame (23:09)
- Exclusive new audio interview with actor Sir John Mills
- Video interview with Sir Alec Guinness (15:21)
- Original theatrical trailer (3:01)
Huge Thanks to violator99.
No More Mirrors, Please.

E9699B8E18AAE81BE958B98E7DF7F876 *TCC225.AH.SE.part01.rar
9DE70C51C9D22A87B4E31623D122EDDE *TCC225.AH.SE.part02.rar
B7B6E504B17593694B2E480E56074591 *TCC225.AH.SE.part03.rar
7B825DBDE744B5CFCC75935ADE1DF38D *TCC225.AH.SE.part04.rar
E9A6C2E7C88EA18116DF4CB9CE1EB54F *TCC225.AH.SE.part05.rar
100B636670107F90EB462CC3FE41E9CC *TCC225.AH.SE.part06.rar
115E14DE73D2208A3A965D35A624957A *TCC225.AH.SE.part07.rar
1B000CC124E78C65042677D39DFD029A *TCC225.AH.SE.part08.rar
FAFEB924F2B81B0060C728F8485B13BA *TCC225.AH.SE.part09.rar
FBFAC51D3C63A2A713B1366807D2491B *TCC225.AH.SE.part10.rar
B931482FE149211CC39EE1D14F850DB7 *TCC225.AH.SE.part11.rar
9A66D056F2FA52AF6E024EA3B67A197D *TCC225.AH.SE.part12.rar
D91FD107A0DCCD868C7B10587C08D25F *TCC225.AH.SE.part13.rar
53470AF1A1A6AA478CC1039A26CC3061 *TCC225.AH.SE.part14.rar
281AF8BFCC7A506A6C5EEA28F099DFF3 *TCC225.AH.SE.part15.rar
1F8D3130960ABE27BAEF125820433CD7 *TCC225.AH.SE.part16.rar
1373D21E17AEBC5677D233134845D3F1 *TCC225.AH.SE.part17.rar