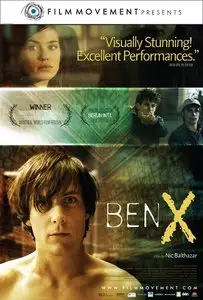 Ben X (2007)
DVD5 | VIDEO_TS | NTSC 16:9 | 01:33:10 | 4,28 Gb
Audio: Vlaams AC3 2.0 @ 192 Kbps | Subtitles: English
Genre: Drama, Thriller
Director:
Nic Balthazar
Writers:
Nic Balthazar (novel), Rik D'Hiet (advisor on screenplay)
Stars:
Marijke Pinoy, Greg Timmermans, Cesar De Sutter
Ben is different. His life is a universe all to itself, where he avidly plays his favorite on-line computer game in an attempt to train for and block out the reality of his daily experiences. Ben has Asperger's Syndrome, a mild form of autism that prevents normal communication and makes him ideal fodder for all the school bullies. As the bullies' relentless attacks push him over the edge and out of control, his on-line dream girl, Scarlite, appears to him and helps him devise a perfect plan to confront the bullies and make them pay for their torment. Director Nic Balthazar's dazzling debut blends fantasy and harsh social realism, based on a true story, to bring us an utterly original and important film.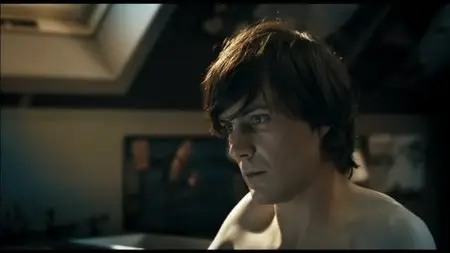 Want to play a game? Ever fancied being the strapping hero in a far off realm? Fighting for justice, saving the day and getting the girl… The opportunities are many if you sign up for games like Archlord but alas not always so easy in the real world – especially if you have Asperger syndrome - an autism spectrum disorder (ASD), and people with it therefore show significant difficulties in social interaction, along with stereotypes and other restricted and repetitive patterns of behaviour and interests…




Welcome to the world of Ben X, a debut feature developed by Nic Balthazar from his own novel. The titular 'Ben' (newcomer Greg Timmermans) is a young guy with problems – not only does he suffer from autism which makes him pretty much unable to function socially, Ben is also on the receiving end of some vicious bullying and feeling helpless to know what to do.




What he does is to become Ben X, a level 80 warrior in the online realm of Archlord which he plays every day – and through which he has developed his only 'friend' another player, a female healer babe character, who goes by the name of Scarlite (Laura Verlinden). In a surprising and fairly unbelievable plot twist, Scarlite in the real world isn't a pervy 40 something year old nonce seeking jailbait on the web – no she's a teenager who might just hold the path to salvation for tragic Ben. Ben X plays out well even whipping in some Sigur Ros soundtrack at the end.




This film also rips real emotion from the viewer with its clever interspersed interview footage of Ben's parents, teachers and doctors. Plus superb game footage from Archlord which turns this into a pseudo fantasy film and amps up the watchability considerably for game fans. As someone who was bullied myself at school, I related to the real heartfelt authenticity at work in this film – and can only hope the muted American remake keeps this throughout.




So the plot builds to a palpable sense of dread, you just know that something bad is going to happen. And I'm not gonna spoil it for you as if you're looking for an engaging and curious slice of teen angst from a different perspective… step up for Ben X.




Not convinced? check out this mini review of the film over at Screenjabber:

"Ben X is an audacious debut from writer/director Balthazar. Said to be based on a true story, it began life as a book, then a play and now it's being remade (again by Balthazar) for Hollywood. More an examination of bullying in school than of autism, it's an emotional rollercoaster ride that leaves the viewer quite drained."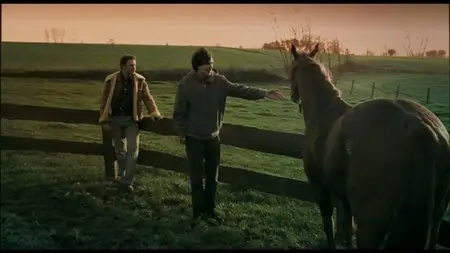 Special Features:
- Short Film: My Name is Lisa (Directed by Ben Shelton, IMDB, 6:47)
- Cast and crew biographies
- "Film Movement" notes
- Theatrical trailer (1:40)
- Bonus trailers for "Day & Clouds" (1:45), "Grocer's Son" (1:35), "Film Movement" spot (0:30)
- "Stella Artois Presents 'Devil's Island'" commercial (1:31)
All Credits goes to Original uploader.