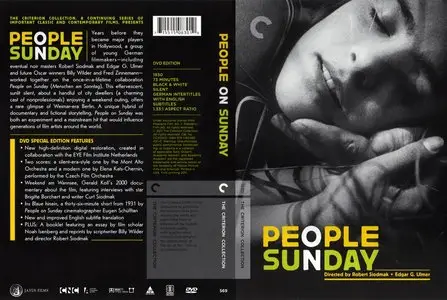 People on Sunday (1930)
DVD9 | VIDEO_TS | NTSC 4:3 | Artwork | 01:13:56 | 7,46 Gb
Two scores AC3 2.0 @ 384 Kbps with Deutsch intertitles and English subtitles
Genre: Comedy, Drama, Romance | The Criterion Collection #569
Directors:
Curt Siodmak (as Kurt Siodmak), Robert Siodmak, Edgar G. Ulmer, Fred Zinnemann, Rochus Gliese
Stars:
Erwin Splettstößer, Brigitte Borchert, Wolfgang von Waltershausen
Years before they became major players in Hollywood, a group of young German filmmakers—including eventual noir masters Robert Siodmak and Edgar G. Ulmer and future Oscar winners Billy Wilder and Fred Zinnemann - worked together on the once-in-a-lifetime collaboration People on Sunday (Menschen am Sonntag). This effervescent, sunlit silent, about a handful of city dwellers (a charming cast of nonprofessionals) enjoying a weekend outing, offers a rare glimpse of Weimar-era Berlin. A unique hybrid of documentary and fictional storytelling, People on Sunday was both an experiment and a mainstream hit that would influence generations of film artists around the world.
AKA:
Menschen am Sonntag (1930) (original title)
In 1929, a loose collective of young German filmmakers working their way up the ladder of the German studio system took the reigns of a low budget production about a group of attractive young Berliners who meet up for a Sunday outing to lakes. They shot on the streets of Berlin and the parks and beaches of Wannsee on a minimal budget with non-actors (all playing variations of their real selves, right down to their names and occupations) and whatever equipment they could scrounge together, from rough script from which they improvised freely on location. People on Sunday is, in its own words, "a film without actors." More than that, it was a film without a studio, a production without studio backing or distribution in place, shot on weekends with volunteer cast and crew: the very definition of independent filmmaking. But if the actors were all amateurs, the filmmakers were, to greater or lesser extent, professionals toiling at the lower levels of the film industry. This film was their chance to show the industry, and themselves, just what they could do.




Released in 1930, People on Sunday–one of the final expressions of the silent era in an industry giving over to sound cinema–became a surprise hit, a highly influential film and, over the years, something of a legend, as it was almost impossible to see in the United States for decades. And reputation aside, the collective that made it include some pretty significant names: Robert Siodmak and Edgar G. Ulmer shared director credit, Billy (listed here as Billie) Wilder is credited with the script, "from a reportage by" Robert Siomak's brother Curt (credited here as Kurt) Siodmak, with the legendary cinematographer Eugen Schüfftan behind the camera and Fred Zinneman assisting. That line-up alone (which includes more than one future Oscar winner) made the film a kind of grail for fans of classic movies and film history. The inventive filmmaking, breezy pace, light touch, luscious images and gentle, appreciative spirit of the film makes it a classic.




The premise is simplicity itself: a handsome young wine salesman (Wolfgang von Waltershausen) flirts with a pretty young movie extra (Christl Ehlers) at an outdoor café as she waits for a date to show ("I don't get stood up," she assures the forward young Wolfgang). They agree to meet up the next day for a picnic in the country and each arrives with a friend in tow: Wolfgang with his taxi driver buddy Erwin (Erwin Splettstösser) and Christl accompanied by Brigitte (Brigitte Borchert), a pretty blond record salesgirl. A fifth (Annie Schreyer) never shows, sleeping through her alarm clock and through the day, but this quartet doesn't care. They swim, picnic, nap, canoodle, stroll through the woods and listen to records on a portable Victrola.




The film has been described as a "city symphony" film, a tradition exemplified by Walter Ruttmann's Berlin: Symphony of a Great City (1927) and Dziga Vertov's Man With a Movie Camera (1929), both masterpieces of non-narrative filmmaking. And it is constructed in movements with variations on the themes carried on through interludes: the camera leaves our quartet to survey the crowds of like-minded folks also enjoying their Sunday. The jaunty montages of children and adults at rest and play are a mix of spirited comedy, romantic travelogue and documentary portrait. Yet People on Sunday, while it offers a cross-section of Berlin youth in its attractive leads and a jazzy tour of the bustle of the city and the more relaxed pace of play in the Wannsee playgrounds, is neither visual poem nor abstract or avant-garde documentary. Under the bubbly surface of innocent flirtations and breezy fun is the story of budding romance and a portrait of life at the end of Weimar era. There is no political subtext to the film, no message beyond trying to capture the buzzing energy and cultural richness of Berlin in 1929 (before the depression brought the economy crashing down again), but knowing that the hope and freedom and artistic culture we see on screen would be gone in just a few years with the rise of Hitler and the Nazi party adds a dimension of poignancy to the idealism.




Though this the debut of co-directors Robert Siodmak (who was currently toiling as an assistant director) and Edgar G. Ulmer (a rising you art director and set designer), they show both a command of their skills and a delicacy of expression, and the lightfingered confidence and breezy elegance of the storytelling is matched by witty asides (a montage of statues is a young cinephile's witty tribute to Eisenstein) and the gorgeous photography of Eugen Schüfftan. The mix of naturalism, visual poetry, youthful energy and frisky sexuality is irresistible, and the hints of harmless (yet still painful) anxiety and jealousy around a budding romantic triangle gives it a human dimension beyond the free-spirited fun of youth at play. This is a film that exceeds its reputation.




Criterion releases of the American home video debut of the film on DVD and Blu-ray, mastered from a 1997 reconstruction and restoration, the most complete version in the world (though still a few hundred feet short of its original release, according film restorer Martin Koerber). It's a fine-looking presentation that captures just what a lovely, lyrical film it was upon its original release and it features a beautiful recreation of the original hand-written German intertitles (with English subtitles beneath), which adds to the distinctive, idiosyncratic personality of the film. The disc offers a choice of two original scores, a bouncy, swinging silent-era-style score compiled and performed by the Mont Alto Orchestra and a modern composition composed by Elena Kats-Chernin and performed by the Czech Film Orchestra.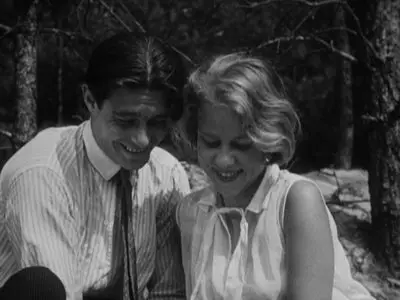 Robert Siodmak and Edgar G. Ulmer co-direct this brilliant, youthful and seemingly carefree avant-garde silent that was one of the last silents produced in Germany. It's based on a story by Robert's younger brother Curt. Billy Wilder is credited as a co-writer with Robert and Curt, while Fred Zinnemann is credited as the camera assistant to Eugen Schüfftan. Eugen's the thirtysomething experienced cinematographer, who had a few years on all the other twentysomething greenhorn filmmakers and was the only one with actual film experience. The landmark experimental film, shot in the style of both a documentary and a fictional feature film, paints an engaging snapshot of Berlin in 1929 (showing both the bustle of city life and the leisurely life in the Berlin countryside). It was shot with five young Berlin workers who were not actors. The five leads actually held the jobs they claimed they had in the film: taxi driver, record shop clerk, wine salesman, film extra and model. The cast worked on their regular jobs for six days and during the summer of 1929 spent a few Sundays, their only day off, filming this plotless story of working-class Berliners taking a picnic at park located at the Berlin countryside. This is a film in which "nothing actually happens," except for some flirtations and youthful spurts of energy, nevertheless behind the cheerful romantic day in the park there's a hidden sadness indicating that the five workers are trapped in an everyday grind that they can't escape from.




"People" was a well-received and influential experimental film among international filmmakers at the time of its theater release, and the young filmmakers responsible for the film were soon to land in Hollywood. Interestingly, they all had noteworthy careers as more or less famous and acclaimed filmmakers in LaLa land. What's also amazing, is that this film is grounded in realism yet when viewed in the next century does not appear to be outdated as most films of that ilk would be.

The liner notes mention that the original negative of the film was lost and no complete copy exists. Nevertheless this beautifully restored version, reconstructed by the Netherlands Film Museum, looks grand.




The sporty dressed wine seller Wolfgang picks up the pert film extra Christl at a busy Berlin trolley stop on Saturday and makes a date to meet her at Nikolassee beach on Sunday. Meanwhile taxi driver Erwin has a minor domestic spat with his live-in girlfriend model Annie, and she stays home in bed in their cramped apartment rather than accompany Erwin and Wolf to the park on Sunday. Christl brings along her cute blonde girlfriend Brigitte, a shopworker, someone Wolf soon makes known that he's more attracted to than his date after Christl refuses to kiss him. There's a lot of flirtation and playfulness among the foursome, as they swim, frolic, picnic, and the one couple that just switched partners sneak in some kissing in the bushes. The foursome also go boat-paddling on the lake, and soon find themselves heading home for another long work week–whereby you can almost see them thinking how short is their only day-off (and for that matter, deeper thinkers than these superficial characters might think how fast their life is flying by).




I really enjoyed this unpretentious pic, a seemingly lighthearted film that gave no indication of the soon to come dark days in Germany. I consider it essential viewing, if one wants to see Germany at play in the days before the Third Reich came to power. Flaherty and Vertov tried similar styles of cinema verite documentary and fictional filmmaking, and their great films were better known but not necessarily greater achievements. This film unfortunately suffered in popularity after being put out of circulation for one reason or another for far too long, but this excellently packaged DVD put out by the British Film Institute gives a new generation a chance to now discover this lost film gem.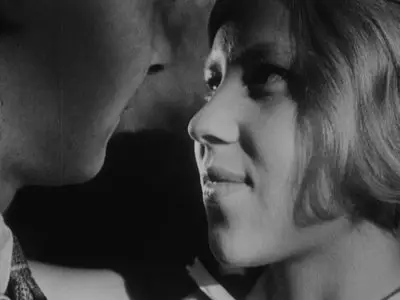 Special Features:
• New high-definition digital restoration, created in collaboration with the EYE Film Institute Netherlands
• New and improved English subtitle translation
• Two scores: a silent-era-style score by the Mont Alto Orches­tra and a modern one by Elena Kats-Chernin, performed by the Czech Film Orchestra
• Weekend am Wannsee, Gerald Koll's 2000 documentary about the film, featuring interviews with star Brigitte Borchert and writer Curt Siodmak (31:15)
• Ins Blaue hinein, a thirty-six-minute short from 1931 by People on Sunday cinematographer Eugen Schüfftan (35:30)
• Liner notes booklet featuring an essay by film scholar Noah Isenberg and reprints by scriptwriter Billy Wilder and director Robert Siodmak
All Credits goes to Original uploader.