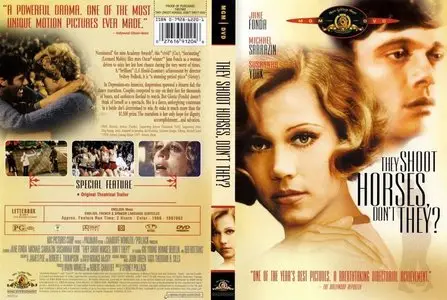 They Shoot Horses, Don't They? (1969)
DVD9 | ISO | NTSC 4:3 | 01:59:39 | 5,38 Gb
Audio: English AC3 2.0 @ 192 Kbps | Subs: English, Français, Español
Genre: Drama
Director:
Sydney Pollack
Writers:
Horace McCoy (novel), James Poe (screenplay)
Stars:
Jane Fonda, Michael Sarrazin, Susannah York
Gloria is a young woman of the Depression. She has aged beyond her years and feels her life is hopeless, having been cheated and betrayed many times in her past. While recovering from a suicide attempt, she gets the idea from a movie magazine to head for Hollywood to make it as an actress. Robert is a desperate Hollywood citizen trying to become a director, never doubting that he'll make it. Robert and Gloria meet and decide to enter a dance marathon, one of the crazes of the thirties. The grueling dancing takes its toll on Gloria's already weakened spirit, and she tells Robert that she'd be better off dead, that her life is hopeless - all the while acting cruelly and bitterly, alienating those around her, trying to convince him to shoot her and put her out of her misery. After all, they shoot horses, don't they?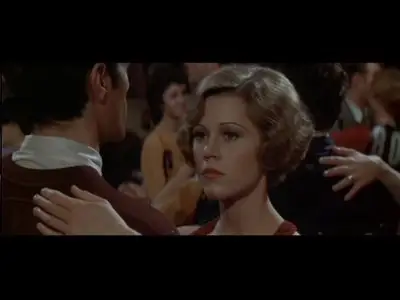 … THEY SHOOT HORSES, DON'T THEY? comes with a heavy dose of nihilism that would be the tone set throughout the Seventies and in many ways, it can be said that Seventies cinema began in 1969 with this and with MIDNIGHT COWBOY, both films about the underbelly of society. Every performance in the movie is on-target including that of Michael Sarrazin who is looks like a non-entity but is more the chewed-up remains of the dream machine. Sydney Pollack uses a number of flashy techniques appropriate of the time – flashcuts, stylized sequences that seem out of a narrative structure – and in doing so has created his own masterpiece. Timeless, the story of human exploitation is even more relevant today with the advent of reality game shows like Fear Factor and its self-degrading contestants. It's an ugly portrayal of us as a society, willing to partake in the spectacle of seeing people worse than we are acting little more than animals destined for carnage.


IMDB Reviewer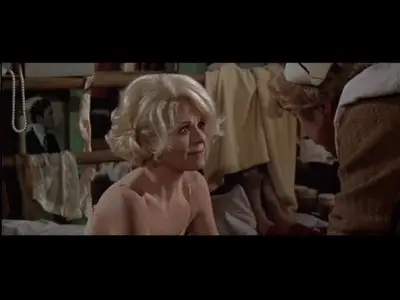 In the dark days of the Great Depression desperate souls would drive themselves to the limits of human endurance in dance marathons.

Some contestants hoped against hope that they would be spotted by a Hollywood talent scout. Others just focussed on the cash prize that would be theirs if they were the last left standing.

All the while, contestants were driven on by ruthless MCs and the cries of the crowd, many briefly escaping from their own misery by enjoying the contestants' even greater despair.




Adapted from Horace McCoy's novel - said to be an influence on Albert Camus's L'Etranger - They Shoot Horses, Don't They? tells the story of one of these contests through four couples.




Gloria (Jane Fonda) and Robert (Michael Sarrazin) have only just met, Robert stepping in when Gloria's partner was barred from the marathon due to illness. Gloria is hard-edged and bitter, Robert aimless and idealistic.

Alice (Susannah York) and Joel (Robert Fields) look like movie stars - Jean Harlow and Ramon Navarro respectively - and hope to use the contest as their ticket to the big time.

James (Bruce Dern) and Ruby (Bonnie Bedelia) are expecting a baby and need the prize money.

Sailor (Red Buttons) and his partner are older than the rest, but hope their greater experience will see them through.

Goaded by the cynical, venal Rocky (Gig Young), the contestants are driven to breaking point, with tragic consequences…




They Shoot Horses, Don't They? is the sort of film you can't imagine being made in Hollywood nowadays. Existential angst, a story arc that's clearly heading downwards and a caustic view of our voyeuristic, even sadistic, impulses, don't make for feel-good eye candy.

Yet, in spite of this and other deliberate unpleasantness - such as the harsh dancehall lighting that makes anyone in the spotlight into a sickly grey apparition, or the limited, almost expressionistic colour palette, with greens and blues almost entirely absent from the dancehall scenes that make up the bulk of the picture - They Shoot Horses, Don't They is a compelling film.




The performances are uniformly excellent, the actors - desperate, hungry, fraught, close to breakdown - live their roles.

Director Pollack's pacing is deliberate. Just when you've had enough of the dance hall sequences, he throws in a disarming flash-forward, chronicling a death foretold, or pulls out all the stops for a bravura "derby" dance-sprint, as exhausting for the viewer as it must have been for the participants.

Not a happy film but a good one, worthy of its nine Oscar nominations.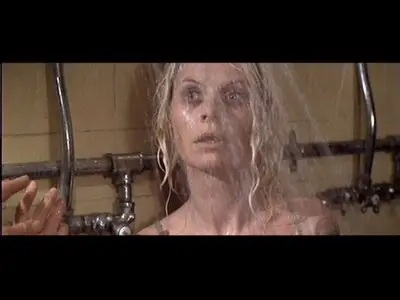 Special Features: Theatrical trailer
All Credits goes to Original uploader.