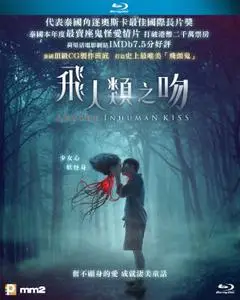 Krasue: Inhuman Kiss (2019)
BDRip 1080p | MKV | 1920x858 | x264 @ 12,9 Mbps | 121 min | 11,49 Gb
Audio: ภาษาไทย AC3 5.1 @ 640 Kbps | Subs: English, T/S 中文, Magyar, Polski
Genre: Horror, Drama, Romance
Directed by Sitisiri Mongkolsiri (Last Summer), the Thai horror romance Krasue: Inhuman Kiss offers a blockbuster take on the gruesome folklore of the krasue, a nocturnal female spirit that manifests as a floating head. In a Thai village during the WWII era, there is a girl named Sai (Phantira Pipityakorn) who is cursed with the power of the krasue. At night, her head detaches from her body and flies out in search of blood and flesh. Only her childhood sweetheart Noi (Oabnithi Wiwattanawarang) knows of her ghastly secret, while the rest of the village hunts for the evil spirit. Noi tries to support Sai and give her a sense of normalcy, but nothing can stop Sai from turning into the krasue.