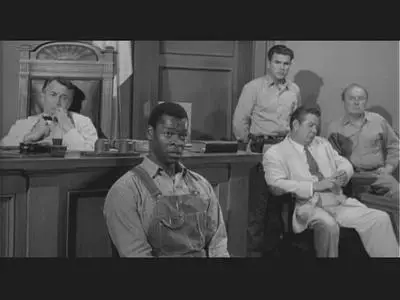 Release date: 25 December 1962 (USA)
Genre: Drama
Tagline: The most beloved and widely read Pulitzer Prize Winner now comes vividly alive on the screen!
Plot Outline: Atticus Finch (Peck), a lawyer in the Depression-era South, defends a black man against an undeserved rape charge, and his kids against prejudice.
Plot Keywords: Left Handedness / Handicap / Based On Novel / Neighbor / Pulitzer Prize Source
User Comments: Wonderful Social Classic That Echoes Issues of Its Day..
Gregory Peck … Atticus Finch
John Megna … Charles Baker 'Dill' Harris
Frank Overton … Sheriff Heck Tate
Rosemary Murphy … Maudie Atkinson
Ruth White … Mrs. Dubose
Brock Peters … Tom Robinson
Estelle Evans … Calpurnia
Paul Fix … Judge Taylor
Collin Wilcox Paxton … Mayella Violet Ewell (as Collin Wilcox)
James Anderson … Robert E. Lee 'Bob' Ewell
Alice Ghostley … Aunt Stephanie Crawford
Robert Duvall … Arthur 'Boo' Radley
William Windom … Mr. Gilmer, Prosecutor
Crahan Denton … Walter Cunningham Sr.
Richard Hale … Nathan Radley
http://rapidshare.com/files/18471567/kil.mokin.brd.part7.rar
http://rapidshare.com/files/18467371/kil.mokin.brd.part6.rar
http://rapidshare.com/files/18466030/kil.mokin.brd.part5.rar
http://rapidshare.com/files/18464675/kil.mokin.brd.part4.rar
http://rapidshare.com/files/18462829/kil.mokin.brd.part3.rar
http://rapidshare.com/files/18461745/kil.mokin.brd.part2.rar
http://rapidshare.com/files/18460196/kil.mokin.brd.part1.rar