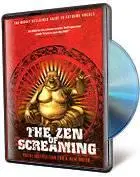 the Zen of Screaming (DVD): Vocal iNstruction for a New Breed | 425MB
The first DVD screaming lesson of its kind, The Zen of Screaming by vocal coach, and "Queen of Scream" Melissa Cross offers comprehensive, yet easy-to-follow extreme vocal instruction with step-by step-vocal screaming techniques (both melodic vocal screaming & unmelodic hardcore screaming) , extreme vocal exercises, tips to save your singing voice from damage, and more–all in a convenient DVD/CD combo package.
The Zen of Screaming also includes invaluable tips on vocal maintenance, actual vocal cord footage, and explicit and helpful animations which illustrate and illuminate the specific vocal exercises. Interspersed is exclusive backstage and performance footage of today's most exciting artists, with candid offstage interviews and opportunities to see these artists actually working in-studio with Melissa Cross.
Featured vocalists include Andrew W.K., Lamb of God's D. Randall Blythe, Shadows Fall's Brian Fair, Every Time I Die's Keith Buckley, God Forbid's Byron Davis, Smashing Pumpkins' Melissa Auf der Maur and more!
The Zen of Screaming is as entertaining as it is informative and a must-have tool for rock & metal vocalists of today. Finally, a singing lesson that meets the unique demands of a new breed of rock vocalist!
"…the Bible for any extreme music vocalist."
-Tom Beaujour, Editor In Chief, Revolver Magazine
About the Author
:
In the early '90s, a passionate and unrestrained movement of singers emerged from the underground that would test the extreme limits of the human voice. Heeding the call of the warriors of rock and metal for over 15 years, Melissa Cross developed a vocal training method that has since been embraced by these artists who value raw power and passion above everything in their performance. Her groundbreaking vocal technique can enhance range and increase endurance without sacrificing intensity and individuality.
Creator of the acclaimed "The Zen Of Screaming" instructional DVD, Melissa's clients include:
SliPKnoT (Roadrunner)
Andrew W.K. (Island)
Lamb of God (Sony/Epic)
Melissa Auf der Maur (Capitol)
Shadows Fall (Century Media)
Thursday (Island)
Killswitch Engage (Roadrunner)
–and dozens and dozens more…
<a href="http://cutt.red/iemieJiw6eeJ?search=the%20Zen%20of%20Screaming%20%28DVD%29%3A%20Vocal%20iNstruction%20for%20a%20New%20Breed" rel="nofollow noopener" onclick="log_click('the%20Zen%20of%20Screaming%20%28DVD%29%3A%20Vocal%20iNstruction%20for%20a%20New%20Breed', 'cutt.red'); return true;" target="_blank" rel="nofollow noopener noreferrer">Warmups Part 1</a><br /><a href="http://cutt.red/iemieJiw6eeJ?search=the%20Zen%20of%20Screaming%20%28DVD%29%3A%20Vocal%20iNstruction%20for%20a%20New%20Breed" rel="nofollow noopener" onclick="log_click('the%20Zen%20of%20Screaming%20%28DVD%29%3A%20Vocal%20iNstruction%20for%20a%20New%20Breed', 'cutt.red'); return true;" target="_blank" rel="nofollow noopener noreferrer">Warmups Part 2</a><br /><a href="http://cutt.red/iemieJiw6eeJ?search=the%20Zen%20of%20Screaming%20%28DVD%29%3A%20Vocal%20iNstruction%20for%20a%20New%20Breed" rel="nofollow noopener" onclick="log_click('the%20Zen%20of%20Screaming%20%28DVD%29%3A%20Vocal%20iNstruction%20for%20a%20New%20Breed', 'cutt.red'); return true;" target="_blank" rel="nofollow noopener noreferrer">Opening &amp; Heat and Fire</a><br /><a href="http://cutt.red/iemieJiw6eeJ?search=the%20Zen%20of%20Screaming%20%28DVD%29%3A%20Vocal%20iNstruction%20for%20a%20New%20Breed" rel="nofollow noopener" onclick="log_click('the%20Zen%20of%20Screaming%20%28DVD%29%3A%20Vocal%20iNstruction%20for%20a%20New%20Breed', 'cutt.red'); return true;" target="_blank" rel="nofollow noopener noreferrer">Screaming</a><br /><a href="http://cutt.red/iemieJiw6eeJ?search=the%20Zen%20of%20Screaming%20%28DVD%29%3A%20Vocal%20iNstruction%20for%20a%20New%20Breed" rel="nofollow noopener" onclick="log_click('the%20Zen%20of%20Screaming%20%28DVD%29%3A%20Vocal%20iNstruction%20for%20a%20New%20Breed', 'cutt.red'); return true;" target="_blank" rel="nofollow noopener noreferrer">Tips from Singers &amp; Speak</a><br /><a href="http://cutt.red/iemieJiw6eeJ?search=the%20Zen%20of%20Screaming%20%28DVD%29%3A%20Vocal%20iNstruction%20for%20a%20New%20Breed" rel="nofollow noopener" onclick="log_click('the%20Zen%20of%20Screaming%20%28DVD%29%3A%20Vocal%20iNstruction%20for%20a%20New%20Breed', 'cutt.red'); return true;" target="_blank" rel="nofollow noopener noreferrer">Note and Timbre &amp; Final Words</a>
password:
www.AudioZ.info