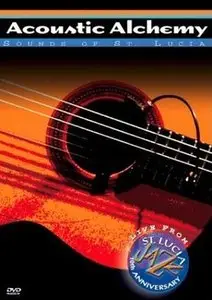 Acoustic Alchemy - Sounds of St. Lucia
Instrumental, Guitar | 2003 | 97min |
video:
MPEG2 29fps, 720x480 |
audio:
AC3 6ch, 2ch - 448 Kbps. DTS 6ch - 768 Kbps | 5.9GB
Studio: Image Entertainment | ASIN: B00008974P |
iMDB
British smooth jazz group Acoustic Alchemy climbed to the top of the charts with lively grooves and infectious melodies, capturing three Grammy nominations. Beginning as an acoustic guitar duo, these longtime radio favorites have welcomed additional instrumentalists into their line-up. Their intricate, mesmerizing sound has continued to grow and evolve through the years, absorbing many different musical influences and continuing to surprise and delight fans and critics around the world.