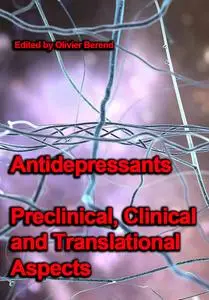 "Antidepressants: Preclinical, Clinical and Translational Aspects" ed. by Olivier Berend
ITExLi | 2019 | ISBN: 1789852773 9781789852776 1789852668 9781789852660 1789852781 9781789852783 | 105 pages | PDF | 6 MB
This book presents current research on depression and antidepressants, including use of antidepressants in alcohol use disorders and pregnancy, treatment-resistant depression, and development of potential new medications.
Major depression is a severe and prevalent brain disorder with a high disability burden, hence the push for effective treatments. Antidepressants have been around since the 1950s, and although current medications are much more effective than early ones, there is still much room for improvement. "Real" antidepressants, defined as those that "repair" or "improve" the depression-causing mechanism in the brains of depressed patients, have yet to be identified.
Contents
1.Introductory Chapter: Antidepressants - Preclinical, Clinical and Translational Aspects
2.Rethinking the Use of Antidepressants to Treat Alcohol Use Disorders and Depression Comorbidity: The Role of Neurogenesis
3.Resistant Depression
4.Influences of Maternal Vulnerability and Antidepressant Treatment during Pregnancy on the Developing Offspring
5.Orexin 2 Receptor Antagonists from Prefrontal Cortical Circuitry to Rodent Behavioral Screens
6.The BDNF Loop 4 Dipeptide Mimetic Bis(N-monosuccinyl-L-seryl-L-lysine)hexamethylenediamide Is Active in a Depression Model in Mice after Acute Oral Administration
1st true PDF with TOC BookMarkLinks