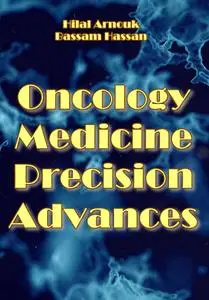 "Oncology Medicine Precision Advances" ed. by Hilal Arnouk, Bassam Hassan
ITexLi | 2021 | ISBN: 1839688688 9781839688683 183968867X 9781839688676 1839688696 9781839688690 | 237 pages | PDF | 11 MB
This book provides an up-to-date overview of advances in the field of immuno-oncology. The book includes a comprehensive review of the powerful FDA-approved therapeutic agent doxorubicin, highlighting the molecular mechanisms behind doxorubicin's drug resistance and critical side effects.
Recent advances in precision medicine and immuno-oncology have led to highly specific and efficacious cancer therapies such as monoclonal antibodies and immune checkpoint inhibitors (ICIs). Chapters cover such topics as ICIs and how they mount a robust immune response against cancer cells as well as the response of ICIs to treatment predictive biomarkers and their potential immune-related adverse events (irAEs).
Contents
1. Immune and Cell Cycle Checkpoint Inhibitors for Cancer Immunotherapy
2. Evolving Dynamic Biomarkers for Prediction of Immune Responses to Checkpoint Inhibitors in Cancer
3. The Endocrinological Side Effects of Immunotherapies
4. Immunotherapy in Malignant Pleural Mesothelioma
5. Targeted Cancer Therapy Using Nanoparticles and Antibody Fragments
6. Antibody Therapy Targeting Cancer-Specific Cell Surface Antigen AGR2
7. Advances in Adoptive Cellular Therapy (ACT)
8. Mathematical Modeling and Dynamics of Oncolytic Virotherapy
9. Molecular-Level Understanding of the Anticancer Action Mechanism of Anthracyclines
10. Overview on the Side Effects of Doxorubicin
11. Overcoming P-Glycoprotein-Mediated Doxorubicin Resistance
12. Improving the Antitumor Effect of Doxorubicin in the Treatment of Eyeball and Orbital Tumors
13. The Paradigm of Targeting an Oncogenic Tyrosine Kinase: Lesson from BCR-ABL
1st true PDF with TOC BookMarkLinks
More :
You find here