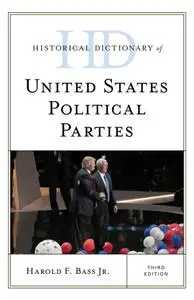 Historical Dictionary of United States Political Parties (Historical Dictionaries of U.S. Politics and Political Eras), 3rd Edition by Harold F. Bass Jr.
English | December 15th, 2019 | ISBN: 1538122995 | 490 pages | EPUB | 1.14 MB
For over two centuries, political parties have competed in encouraging, organizing, and directing political activity in the United States. This volume compiles the key concepts, terms, labels, and individuals central to identifying and comprehending these key roles political parties have played in American political life. The dictionary contains brief biographies of party leaders: major party presidential tickets; noteworthy minor party presidential nominees; congressional party leaders, including Speakers of the House of Representatives presidents pro tempore of the Senate, and floor leaders for both the majority and minority parties in each chamber; and chairs of the national party committees of the Democratic and Republican Parties. In addition to party leaders it also address the institutional offices they occupy and represent.