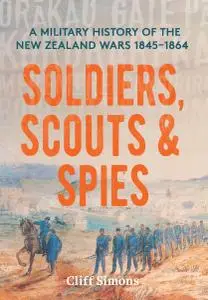 Soldiers, Scouts and Spies: A military history of the New Zealand Wars 1845–1864 by Cliff Simons
English | October 10th, 2019 | ISBN: 0995109575 | 432 pages | EPUB | 9.21 MB
A fascinating and detailed study of the major campaigns on the New Zealand Wars.As interest in the New Zealand Wars grows, Soldiers, Scouts andSpies offers a unique insight into the major campaigns fought between 1845 and 1864 by Britishtroops, their militia and Maori allies, and Maori iwi and coalitions. It was a time of rapid technological change. Maori were quick to adopt westernweaponry and evolve their tactics — and even political structures — as theylooked for ways to confront the might of the Imperial war machine. And Britain,despite being a military and economic super power, was challenged by a capableenemy in a difficult environment.