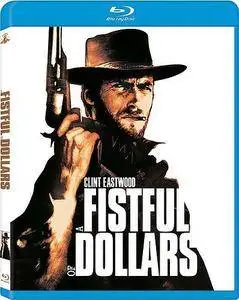 A Fistful Of Dollars (1964)
BRRip 720p | MKV | 1280 x 544 | x264 @ 1975 Kbps | 1h 39mn | 2,02 Gb
Audio: English AC3 1.0 @ 192 Kbps + Italian AC3 5.1 @ 640 Kbps | Subs: English
Genre: Action, Western | Director: Sergio Leone
An anonymous, but deadly man rides into a town torn by war between two factions, the Baxters and the Rojo's. Instead of fleeing or dying, as most other would do, the man schemes to play the two sides off each other, getting rich in the bargain.
IMDB
- Top Rated Movies #237
A classic. The first, or one of the first, films to introduce the concept of the Western antihero. Sergio Leone pioneered a lot of things here. The brightness, the oppressive sunlight. The ugly brutality of Western gunfights, that had always been cleaned up in Hollywood. I understand that Leone's occasional framing of the shooter and his victims in the same shot was not allowed at the time in American films. I thought, upon seeing this film years ago, that some characters (Eastwood) spoke in English, and other characters in Italian. Who knows, maybe some spoke Spanish or German. Must make for an interesting acting job. I rarely notice a movie's music, but the original score by Ennio Morricone was so fitting. Probably the best match of film and music up to that time, and only bested by Hugh Montenegro(?) in "The Good, the Bad, and the Ugly".
(Enlargeable)