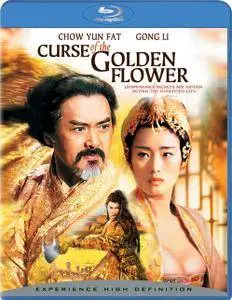 Curse of the Golden Flower (2006)
BDRip 1080p | MKV | 1920x1080 | x264 @ 14,0 Mbps | 1h 54mn | 13,04 Gb
Audio: Mandarin (官话) DTS-HD MA 5.1 @ 2268 Kbps | Subs: English (+SDH), Français, Chinese (中文)
Genre: Action, Drama, Fantasy | Director: Yimou Zhang
'Curse of the Golden Flower' fuses high drama and romantic intrigue with the best of contemporary martial arts. Set in the lavish and breathtakingly colorful world hidden from the eyes of mere mortals behind the walls of the Forbidden City, a tale of a royal family divided against itself builds to a mythic climax as lines are crossed, trust is betrayed, and family blood is spilled in the quest for redemption and revenge.
IMDB
- 19 wins + Nominated for 1 Oscar
I had the pleasure of seeing this film with special personal appearances by Zhang Yimou and Gong Li… I have to say I was blown away by it! I was not expecting a story with such depth…The cinematography, the art direction, and the sheer enormity of the visuals were staggering. Great sword work… exquisite wire sequences… and HUGE battles - but all done with an intensity that's stunning. And even more, the acting was superb - Chow Yung Fat is a master, and his scenes together with Gong Li are beautifully emotional. Gong Li is more beautiful than ever in a role that demands huge range from the first scene and never lets up… She does her best work ever! I have nothing but praise for this film. I can't wait to see it again.
(Enlargeable)