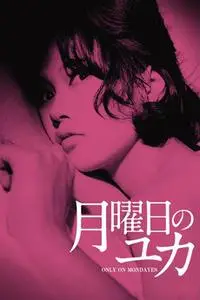 Only on Mondays (1964)
WEB-Dl 1080p | MKV | 1896x748 | x264 @ 3993 Kbps | 93 min | 2,69 Gb
Audio: 日本語 AAC 2.0 @ 122 Kbps | Subs: English (srt)
Genre: Drama
Director
: Kô Nakahira
Writers
: Sô Kuramoto, Kôichi Saitô
Stars
: Mariko Kaga, Akira Nakao, Yasukiyo Umeno
Yuka is a "good-time girl" from Yokohama who is persuaded by her papa to sleep with a foreign business executive so that he can close an important deal.
Ko Nakahira's Yuka on Mondays (alternatively Only on Mondays) is one of those films best described as time capsules. What this is is an interesting little peek into 1960s Yokohama, the mood of the time, the people of the time.

Mariko Kaga is cute as the main character, a ditsy prostitute in a rocky relationship with her pimp, lovers and family. The language mix is cute. The dance sequences are cute. The magic act scene is cute. Really, it's surprising how endearing this film is for essentially being a downer of a story, a feminist tragedy whose final 15 or so minutes were kinda unsettling. The film is very slow-paced at times, but somehow this approach works just fine here, mixed with cool music, certain New Wave tricks and techniques and a mildly comical atmosphere.

Quite interesting, worth checking out!
(click to enlarge)

More in My Blog