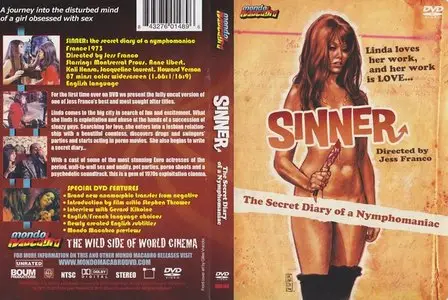 Sinner (1973)
DVD9 | VIDEO_TS | NTSC 16:9 | Cover + DVD Scan | 01:26:39 | 7,18 Gb
Audio: #1 English, #2 Français - each AC3 2.0 @ 192 Kbps | Subs: English
Genre: Thriller, Sexploitation | Mondo Macabro
Director:
Jesus Franco
Writers:
Jesús Franco (scenario) (as Jesus Franco Manera), Elisabeth Ledu de Nesle (adaptation)
Stars:
Howard Vernon, Doris Thomas, Anne Libert
For the first time ever on DVD we present the fully uncut version of one of Jess Franco's best and most sought after titles.
Linda comes to the big city in search of fun and excitement. What she finds is exploitation and abuse at the hands of a succession of sleazy guys. Searching for love, she enters into a lesbian relationship with a beautiful countess, discovers drugs and swingers' parties and starts acting in porno movies. She also begins to write a secret diary..
With a cast of some of the most stunning Euro actresses of the period, wall-to-wall sex and nudity, pot parties, porno shoots and a psychedelic soundtrack, this is a gem of 1970s exploitation cinema.
A naive country girl is consumed by her sexual desires that where inflamed after a sexual assault shortly after her arrival in the big city. After a series of failed relationships including the betrayal of a doctor who was trying help cure her of nymphomania. She fails deeper into a state of depression brought on by excessive drug use. Feeling hopelessly alone she concocts a plan that with end her misery and exact revenge against the man who originally violated her the day she arrived in the big city.




Sinner like so many Franco films features a nightclub scene. The film opens with a night club scene that is reminiscent to the one from Vampiros Lesbos with the way it uses reds and the way the two women performers' interact. The plot for Sinner revolves around a young girl from the country named Linda Vargas who innocence is shattered by the perversity she encounters shortly after her arrival in the big bad city. The plot is told via a flashback by those who came in contact with Linda.




The first half is told from the point of view of a character named Countess Anna de Monterey. While the second half of the film is told via Linda's own personal dairy that is being read by one of her former lovers. Overall Sinner's plot is one the Franco's most coherent and reality based out of all of his erotica films. The story is fascinating from start to finish. There is no fat that needs to be trimmed her as there is never a dull moment.




The cast for Sinner is exceptional and it features many Franco regulars like Howard Vernon, Montserrat Prous and Anne Libert. Howard Vernon steals every scene he is in despite only having a secondary role. Vernon plays a doctor who tries to cure Linda's sexual appetite. Howard Vernon doesn't look like any doctor that I have ever seen. He wears white pastel suits and sunglasses making him look like a detective straight out of Miami Vice. In the lead role of Linda is an actress named Montserrat Prous who worked with Jess Franco a half dozen times. Montserrat Prous's solid performance is what totally sells this film. Through her performance she actually makes Linda a character who one can sympathize with despite her lack of morals.




Montserrat Prous is one of the more beautiful women to ever work with Jess Franco and it is a shame that she is not held in as higher regard among Francophiles. Another standout role is Anne Libert as Countess Anna de Monterey. Most Franco fans while recognize Anne Libert from films The Demons, The Erotic Rites of Frankenstein, Dracula Prisoner of Frankenstein, Dracula's Daughter, A Virgin Among the Living Dead and Devil's Island Lovers. My favorite moment with Anne Libert is her first scene where she is sitting in a law chair on the patio in the sun with oval shaped sunglasses on.




Visually Jess Franco is in top form and one of his more prominent techniques zooming is mysteriously missing in this film. Franco even has a brief appearance as a detective in Sinner. 1973 would prove to be one of Jess Franco's most prolific years as a director. The identity of Linda's killer may not be a secret since it is revealed early on. What makes Sinner so enjoyable is the journey of why Linda died and not who killed her. The plot while focusing mostly on Linda as a nymphomaniac is actually a revenge film in disguise. Even in Linda's fragile state of mind she still has the fortitude to devise a devious and poetic revenge against the person who helped shape the sinner she became.




The film features a progressive rock sounding score that also features more rhythmic and percussive musical motifs. The films of Jess Franco are most known for their Jazz infused musical scores and I liked how Franco embraced a more Rock oriented score for Sinner. Ultimately Sinner is a De Sade like morality tale about loss of innocence and the aftermath that follows.




Mondo Macabro presents Sinner: The Secret Diary of a Nymphomaniac in an anamorphic widescreen that retains the film's original aspect ratio. This progressive flagged transfer looks great as colors are vibrant, flesh tones look healthy, black levels look strong, details look crisp and the image remains stable throughout. Print debris is very minimal and there are no problems with compression or edge enhancement.

This release comes with two audio options, a Dolby Digital mix in English and a Dolby Digital Mono mix in French. Both audio mixes sound clear, clean and balanced throughout. Also included with this release are removable English subtitles that are easy to follow and error free.




Extras for this release include two interviews with author Stephen Thrower. The first interview is titled 'Fear & Desire – Stephen Thrower on Jess Franco' (17 minutes 22 seconds – anamorphic widescreen). This interview is an insightful overview of Jess Franco's cinematic style. The second interview is titled 'Stephen Thrower on Sinner' (10 minutes 15 seconds – anamorphic widescreen). The third interview is with French filmmaker Gerard Kikoine (14 minutes 44 seconds – 4:3 full frame, in French with English subtitles), who discusses working with Jess Franco and producer Robert De Nesle. Also include with this release are text bios for Anne Libert, Howard Vernon, Montserrat Prous, Kali Hansa, Jacqueline Laurent and text pieces about the film and its soundtrack. Rounding out the extras is the Mondo Macabro preview trailer which includes clips from titles they have currently released or about to release. Overall Sinner: The Secret Diary of a Nymphomaniac gets an exceptional release from Mondo Macabro that presents the film fully uncut for the first time ever on DVD, highly recommended.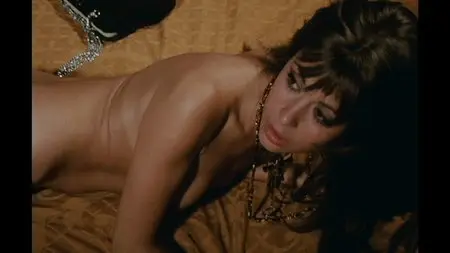 Special Features:
- Brand new anamorphic 1.66:1 scope HD transfer taken from the negative
- Introduction by critic & author Stephen Thrower
- Fear & Desire: Thrower on Franco
- Extensive notes & text essays
- Mondo Macabro preview trailer
All Credits goes to Original uploader.
–––––––––––––––––––––––––––––––––––––––