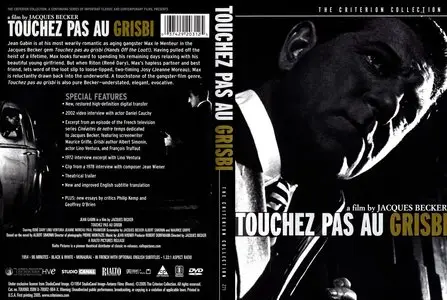 Touchez Pas au Grisbi (1954)
DVD9 | VIDEO_TS | NTSC 4:3 | Cover+Booklet | 01:36:42 | 7,30 Gb
Audio: Français AC3 1.0 @ 192 Kbps | Subtitles: English
Genre: Action, Crime, Film-Noir | The Criterion Collection #271
Director:
Jacques Becker
Writers:
Albert Simonin (novel), Jacques Becker (adaptation)
Stars:
Jean Gabin, René Dary, Dora Doll
Jean Gabin is at his most wearily romantic as aging gangster Max le Menteur in the Jacques Becker gem Touchez pas au grisbi (Hands Off the Loot!). Having pulled off the heist of a lifetime, Max looks forward to spending his remaining days relaxing with his beautiful young girlfriend. But when Riton (René Dary), Max's hapless partner and best friend, lets word of the loot slip to loose-lipped, two-timing Josy (Jeanne Moreau), Max is reluctantly drawn back into the underworld. A touchstone of the gangster-film genre, Touchez pas au grisbi is also pure Becker - understated, elegant, evocative.
This model French gangster picture set the rules for the great sequence of underworld movies from Jean-Pierre Melville that followed. An ageing and weary Gabin attempts to retire after one last robbery. Instead he finds himself in a world of moody double-crosses. Becker's film, full of neat angles and delightful little bits of business, is laconic and admirably methodical. If its code of honour and its world of safe houses (and the absence of any police) make it seem like a wartime resistance film, it does also show what other gangster movies often ignore: that the reason for earning money dishonestly is to be able to live in style. And this film takes as much pleasure in watching Gabin open a bottle of wine as it does observing him in action. A fine supporting cast includes a young Lino Ventura and an even younger Jeanne Moreau.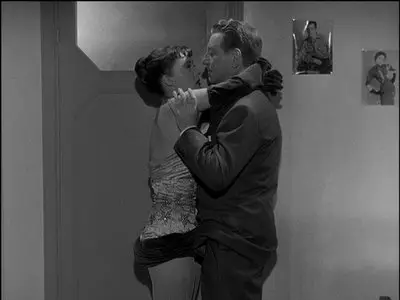 Jacques Becker made crime films that stressed the ordinary lives of extraordinary criminals; every note I've read about Touchez pas au grisbi includes the revelation that it dutifully includes a scene where the tough-guy heroes brush their teeth. Many American movie gangsters derived their style from the costume department but here in the Paris of Simonin and Auguste le Breton the crooks seem to exude style from their pores. The nightlife in Michel Jourdan's club and their favorite diner is kept separate from that of square civilians. We even see some tourist types being directed to another restaurant.




The cozy clannishness of the crooks is entirely deceptive, as everybody watches everybody else for a way to throw a wedge into a good thing. Lino Ventura's Angelo is a quiet drug dealer but has no qualms about using kidnapping and extortion to cheat Max and Riton out of their ill-gotten gold. The normal women that our heroes run with are disloyal bitches (that's what Max decides, anyway) that snort cocaine (on camera, in detail, 1954!) and sell themselves to the highest bidder.




The characterizations are deep and mellow. Max is easing out of the high life to avoid becoming one of the geezers on the dance floor who has to buy the company of women. He tries to point this out to his still-vain partner ("look at the bags under your eyes!") to no avail; Riton's urge for Moreau's Rosy is the undoing of all their plans.




While Hollywood films were stressing the ruthless impersonality of modern American crime, Touchez pas au grisbi involves us in a deep meditation on loyalty. Max's entire life is invested in some gold bars hidden in the trunk of a parked car, but he willingly forfeits them to redeem Riton from their enemies. Nightclub owner Marco is a tough customer who uses tactics obviously learned during the German occupation, and is ready to torture punk gunsel Fifi (Daniel Cauchy of Bob le flambeur) in a special room that might have seen use against collaborators (or the resistance, perhaps). When push comes to shove, Max's true friends come to his aid. War-era machine guns are distributed from secret caches, and the hunt is on.




We side with Max from the start when he pays a young crook's lunch tab and sets him up for a job with Angelo. Although the irony is acute, Max never grouses that the fellow's first assignment is to extort money from his benefactor. Such things are taken as natural occurences.




The other big star of Touchez pas au grisbi is Paris itself. Starting with a pan to the Moulin Rouge over gray rooftops, every scene is a visual treat. This is the city that once existed, before modern glass buildings took over. We enjoy every cobblestoned street and decorated foyer. Max holds up two would-be kidnappers in an open-frame elevator, and even his parking garage has interesting accordion grates to protect the cars. Many films noir took place in generic city street sets, but this French film gives us a look at a real past.




Touchez pas au grisbi works itself out in a familiar pattern of violence and killings sobered by real-life frustrations. It doesn't matter how badly one wants the loot if it's in a burning car too hot to touch. Max promises Marco's wife that her man will come back in one piece, but when the opposition uses hand grenades nobody can predict what will happen. And all of one's good planning can easily go up in smoke. In the end, we see Max taking a renewed interest in his wealthy American girlfriend Betty (Marilyn Buferd). Always controlled and composed, he shows none of the wear and tear of his ordeal. Frankly, his only future now might be at her side. Things could be a lot worse.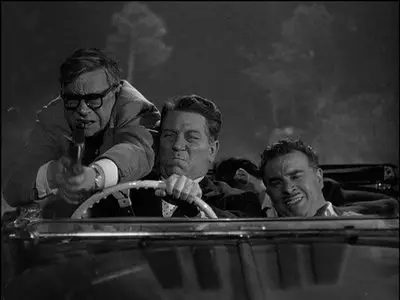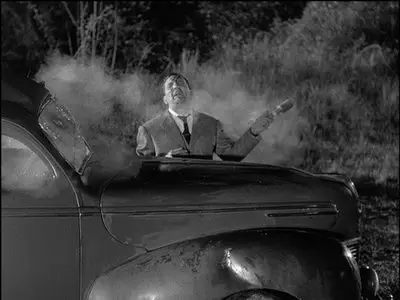 Special Feature:
- New, restored high definition digital transfer
- 2002 video interview with actor Daniel Cauchy
- Excerpt from an episode of the French television series
- 1972 interview excerpt with Lino Ventura
- Theatrical traier
- New and improved English subtitle translation
- Plus: New essays by critics Phillip Kemp and Geoffrey O'Brien
Many Thanks to epheles.
–––––––––––––––––––––––––––––––––––––––