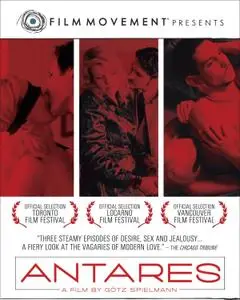 Antares (2004)
DVD5 | VIDEO_TS | NTSC 16:9 | 01:54:44 | 4,14 Gb
Audio: Deutsch AC3 2.0 @ 192 Kbps | Subs: English
Genre: Drama, Romance, Erotic
Director:
Götz Spielmann
Writer:
Götz Spielmann
Stars:
Petra Morzé, Andreas Patton, Hary Prinz
Austria's Oscar selection for Best Foreign Film, Antares cunningly interweaves the erotic stories of 3 couples at crossroads in their relationships. Over 3 momentous days in an apartment complex, each couple searches for love, intimacy & passionate romance. Antares features explicit sexual content and mature themes in portraying these modern relationships.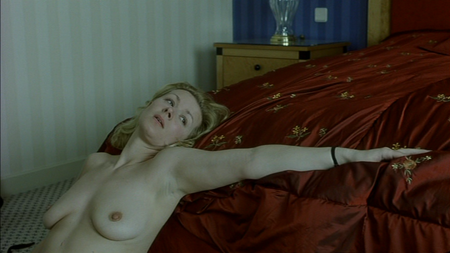 Antares gets its name from the ancient Greeks and means Anti-Ares. Ares is, of course, the God of War, also called Mars by the Romans. Antares is linked to the planet Mars because they are both about the same colour and brightness, so it is easy to get them confused. The official site tells us, "The film comprises three interconnected stories that are in a sense three 'Scorpio stories' with intense emotions, both positive and negative: sex, jealousy, violence, crisis and death." If you bear that in mind, it will give you a clue to the substance of this finely observed film, but the movie hooked me before I knew that, making fine comparisons that easily confound moral judgement.




Antares begins with a car crash (one that takes us quite unawares) and continues an intense pace for the first third of the movie, including explicit sex scenes. But the first story is that of Eva, a nurse, wife and mother. She becomes involved in an intensely passionate affair. The second story concerns a check-out girl, obsessively jealous of her partner who pastes billboards for a living, and lying to him to ensure his 'love'. The final story concerns a divorced couple where the man will not let go and the wife has started seeing someone else. The three stories fully intertwine only at the end.




Each story involves a couple and a third party, none are 'whiter than white'. But there are important differences, not least in how we view and judge them. Using 'truth' as a yardstick gets us nowhere as none of them are particularly honest – although the most violent person (the abusive husband of the last story) is probably the least dishonest. In the first couple (a white collar family, listening to Schubert, raising a teenage daughter with love and care), we somehow feel that the infidelity is less 'wrong' than in the later example. It might even be the safety valve, without which the couple (who communicate politely but not very effectively) would have reached breaking point, hurting everyone but especially the child. In the second example, both partners are trying to control the other and we instinctively feel they are more selfish and less sympathetic. A yardstick becomes, who is hurt? What was the intention to hurt or nurture? Their motives to each other seem shallower, their methods more devious, they are less likable. They are also less interesting – given that this film will appeal to a highbrow audience, do we judge them worse because they are poor and less intelligent? But then we see the third scenario – a brutal, dangerous husband. Can the wife be blamed that she has 'moved on'? the husband is externally convincing, but we learn he has raped and beaten her and she is in fear of him. His 'reality' is a different one to hers. Compared to the billboard-poster, who seemed such a reprobate a minute ago, he is a monster.




Notice how our perceptions and judgements of the characters are altered as well by the use of nudity in different ways, by the use of humour (a person seems less 'bad' when they are funny, irrespective of the facts), and by our comparisons with 'better' and 'worse' individuals. Trying to make moral judgements becomes a very confusing affair, but most people will be able to distinguish between the non-violent and almost loving deception of the first couple compared to the violent triangle of the last story. The effective attempt to 'do the right thing' in spite of overriding passions manifests itself differently.




If you found movies like Closer intriguing as a moral primer, take Antares on for a more difficult conundrum. It takes someone of considerable skill to weave such a tapestry effectively, and Götz Spielmann distinguishes himself in Antares as a director of profound insight, considerable talent and great artistic integrity.


IMDB Reviewer,
44 out of 50 people found this review useful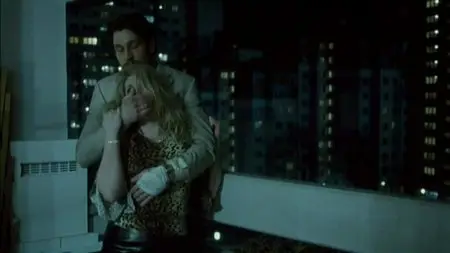 Special Features:
- Biographies
- Sort Film The Holland Tunnel (Directed by Van and Casey Neistat, 02:28)
All Credits goes to Original uploader.