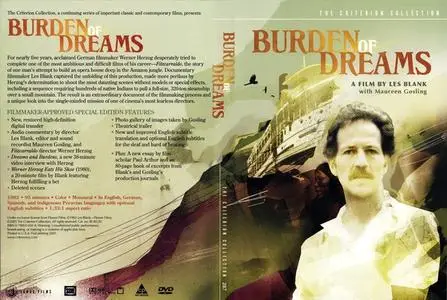 Burden of Dreams (1982)
DVD9 | VIDEO_TS | NTSC 4:3 | Cover+Booklet+Book | 01:34:59 | 7,91 Gb
Audio: English AC3 1.0 @ 192 Kbps | Subs: English SDH
Genre: Documentary | The Criterion Collection #287
Director
: Les Blank
Writer
: Michael Goodwin (narration)
Stars
: Werner Herzog, Klaus Kinski, Claudia Cardinale
For nearly five years, acclaimed German filmmaker Werner Herzog desperately tried to complete one of the most ambitious and difficult films of his career, Fitzcarraldo, the story of one man's attempt to build an opera house deep in the Amazon jungle. Documentary filmmaker Les Blank captured the unfolding of this production, made more perilous by Herzog's determination to shoot the most daunting scenes without models or special effects, including a sequence requiring hundreds of indigenous Peruvians to pull a full-size, 320-ton steamship over a small mountain. The result is an extraordinary document of the filmmaking process and a unique look into the single-minded mission of one of cinema's most fearless directors.
Les Blank's "Burden of Dreams" is one of the most remarkable documentaries ever made about the making of a movie. There are at least two reasons for that. One is that the movie being made, Werner Herzog's "Fitzcarraldo," involved some of the most torturous and dangerous on-location shooting experiences in film history. The other is that the documentary is by Les Blank, himself a brilliant filmmaker, who is unafraid to ask difficult questions and portray Herzog, warts and all.




The story of Herzog's "Fitzcarraldo" is already the stuff of movie legend. The movie was shot on location deep within the rain forests of South America, one thousand miles from civilization. When the first version of the film was half-finished, its star, Jason Robards, was rushed back to New York with amoebic dysentery and forbidden by his doctors to return to the location. Herzog replaced Robards with Klaus Kinski (star of his "Aguirre, the Wrath of God"), but meanwhile, co-star Mick Jagger left the production because of a commitment to a concert tour. Then the Kinski version of "Fitzcarraldo" was caught in the middle of a border war between tribes of Indians. The whole production was moved twelve hundred miles, to a new location where the mishaps included plane crashes, disease, and attacks by unfriendly Indians. And all of those hardships were on top of the incredible task Herzog set himself to film: He wanted to show his obsessed hero using teams of Indians to pull an entire steamship up a hillside using only block and tackle!




Blank and his associate, Maureen Gosling, visited both locations of Herzog's film. Their documentary includes the only available record of some of the earlier scenes with Robards and Jagger. It also includes scenes in which Herzog seems to be going slowly mad, blaming the evil of the jungle and the depth of his own compulsions. In "Fitzcarraldo," you can see the incredible strain as men try to pull a steamship up a sharp incline, using only muscle power and a few elementary principles of mechanics. In "Burden of Dreams," Blank's camera moves back one more step, to show the actual mechanisms by which Herzog hoped to move his ship. A giant bulldozer is used to augment the block-and-pulley, but it proves barely equal to the task, and at one point the Brazilian engineer in charge of the project walks off, warning that lives will be lost.




What drives Herzog to make films that test his sanity and risk his life and those of his associates? Stanley Kauffmann, in the New Republic, argued that, for Herzog, the purpose of film is to risk death, and each of his films is in some way a challenge hurled at the odds. Herzog has made films on the slopes of active volcanoes, has filmed in the jungle and in the middle of the Sahara, and has made films about characters who live at the edges of human achievement. "Burden of Dreams" gives us an extraordinary portrait of Herzog trapped in the middle of one of his wildest dreams.


Roger Ebert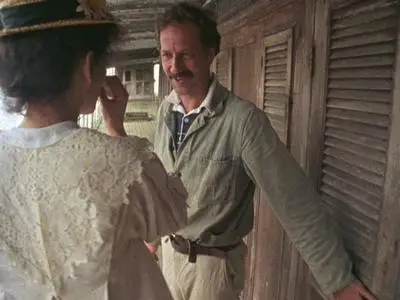 For enigmatic German filmmaker Werner Herzog, his 1982 film Fitzcarraldo wasn't so much a film project, as it was a personal obsession (ironic, considering that the film itself is actually about obsession when you really get down to the core of it all). Herzog made it his personal mission in life at that period in time to recreate, with as much legitimate accuracy as humanly possible, the story of one man's unusual quest to build a full sized European style opera house smack dab in the middle of the Amazon jungles of South America.




Herzog didn't want to use special effects to make this happen, he wanted to recreate Fitzcarraldo's efforts down to the smallest detail by hauling a life sized steamship up and over a mud covered mountain using only the strength of a group of natives and some primitive ropes and pulleys. While it sounds crazy on the surface (and I'm still not entirely convinced that it wasn't complete lunacy on Herzog's part), it makes for a truly fascinating documentary subject, which is exactly where Les Blank's Burden Of Dreams comes into play.




Les Blank basically tagged along with Herzog when he finally got the project underway and was there to document that making of the film from the very beginning. While a false start or two prevented the film from happening as quickly as the director had hoped, his determination eventually triumphed and after casting Jason Robards and then later Mick Jagger in the lead role, Herzog finally settled on Klaus Kinski. Herzog had had worked with Kinski before on such notable films as Woyczek, Nosferatu, and Aguirre – The Wrath Of God. Anyone who knows anything about Herzog knows that he and Kinski had a rather tumultuous relationship at the best of times (was there anyone with whom Kinski didn't have a strange relationship with?) but he fit the role perfectly and there was no denying the fact that the pair had had made some great films together in the past.




As filming proceeded deep in the heart of the jungle, things quickly deteriorated into a big ugly mess. Kinski was difficult as was to be expected but he would prove to be the least of the director's problems as his crew started getting ill, people were running out of food, they were living in their own filth, and things just generally started to turn very, very sour for the cast and crew involved.




Blank documents this rather rapid downward spiral and sets it beside some completely amazing footage of the team of natives hard at work on lugging the boat up the mountain. In addition to the struggles that the cast and crew have to deal with, the natives have their own problems that also serve to get in the way of hindering progress on the shoot. Domestic problems and health and safety issues relating to the very act of hauling a giant boat up a mountain do come into play and the natives are as much characters in this story as Herzog or Kinski are and in fact, watching the natives in their spare time, making booze and playing games to pass the time, is as interesting as anything else in the film.




Also scattered throughout the film are interviews with a few of the other cast and crew members involved in making the film, and plenty of clips from the finished version of Fitzcarraldo that make for an interesting comparison when watched back to back with the raw footage captured on camera for this documentary. Also worth noting is that some of the test footage with Mick Jagger and with Jason Robards can be seen here as well – and again, it makes for an interesting comparison when contrasted with Klaus Kinski's performance.




Aside from the interaction between Herzog and his cast and crew, the film also provides plenty of beautiful footage of the Amazon and the surrounding area in which they shot the bulk of the movie. The jungle proves to be incredibly inhospitable during their stay but that doesn't mean that it isn't pretty to look at and Burden Of Dreams provides ample opportunity for us to do just that.




Part of the reason that this documentary turns out to be so interesting is that, aside from the utterly bizarre scenario taking place in front of the camera, Herzog himself is a fascinating man. He has an obvious passion for filmmaking and the ego to go along with it. Of course, as the film progresses, it's interesting to see it have an effect on him – sometimes it humbles him, other times it pumps up his bravura just a little bit more – either way, as a character study this type of fly on the wall footage is fascinating. Les Blank's camera captures the man honestly and he doesn't edit out the ugly parts that might paint his subject in a less than flattering light. Warts and all, Blanc's character study shows the man during some obvious high points and some even more obvious lows. Herzog rambles on about various ways of justifying what he's doing and makes some interesting philosophical comparisons to life and death in regards to how the jungle envelops everything around him, but even in these scenes, his stress level is obvious.




The film also does a spectacular job of pointing out the parallels between Herzog and Fitzcarraldo himself. By imitating Fitzcarraldo's story so intricately and in such a detailed and realistic fashion, he is in a sense becoming the subject of his own film. The egotism and struggles for control over the workers that each of the two men had to deal with while setting out to accomplish their lofty goals is also well detailed. Both men had their issues to deal with and both men, to different extents at least, left the ordeal with some sense of accomplishment.




Criterion has provided a fantastic selection of extra features to compliment on of the best 'making of' documentaries ever made. The picture and sound on the DVD is excellent considering the source material the subject matter is truly interesting. Herzog makes for a remarkable documentary subject, and Burden Of Dreams does an excellent job of showing why that is. Highly Recommended!


DVDtalk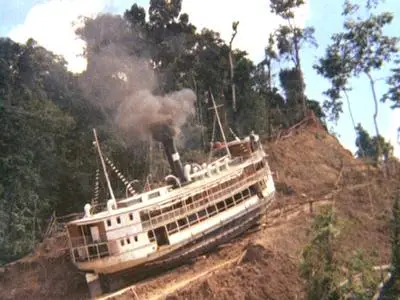 Special Features:
– New, restored high-definition digital transfer
– Audio commentary by director Les Blank, editor and sound recordist Maureen Gosling, and Fitzcarraldo director Werner Herzog
– Dreams and Burdens, a new thirty-eight-minute interview with Herzog
– Werner Herzog Eats His Shoe (1980), a twenty-minute film by Blank featuring Herzog fulfilling a bet
– Deleted scenes (05:53)
– Photo gallery of images taken by Gosling
– Trailer
– New English subtitle translation
– Plus: Cover, an essay by film scholar Paul Arthur (booklet) and full book "Burden of Dreams"
All Credits goes to Original uploader.