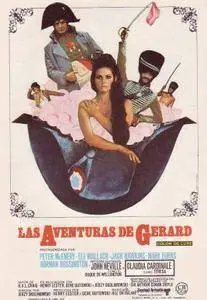 The Adventures of Gerard (1970)
DVDRip | AVI | 704x304 | XviD @ 2066 Kbps | English AC3 2.0 @ 192 Kbps | 87 min | 1,39 Gb
Genre: Adventure, Comedy
During the Napoleonic Wars of 18th century Europe a French Hussars Colonel is entrusted by Napoleon to be his special messenger. The colonel is sent to meet French Marshal Massena who is besieging a Spanish fortress occupied by British forces and give Massena a secret dispatch from the Emperor. The beautiful Spanish seductress Countess Theresa Morales is the leader of the local Spanish guerrilla forces fighting alongside the British against Napoleon.Her secret task is to seduce Colonel Gerard in order to steal the secret dispatches he carries for Marshal Massena.Not only French Colonel Gerard but also British Colonel Russell falls for her Spanish charms. The two rivals are ready to duel each other to death for Countess Theresa Morales' love and for their respective countries,of course.