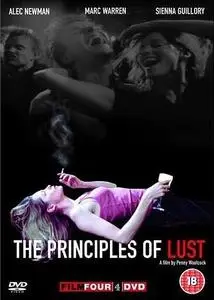 The Principles of Lust (2003)
DVDRip | MKV | 704x400 | DivX @ 1336 Kbps | English AC3 5.1 @ 448 Kbps | 104 min | 1,30 Gb
Genre: Drama, Erotic
A man must choose between a settled domestic life and wilder nights in The Principles of Lust from director Penny Woolcock. Paul (Alec Newman) is a struggling artist who starts a relationship with Juliette (Sienna Guillory). The same day they meet, Paul makes the acquaintance of Billy (Marc Warren) and Hole (Lara Clifton) whose lives are a long string of drugs, sex, and violence. Paul veers between life with Juliette and her son, and the debauched excesses of Billy and Hole. The Principles of Lust is adapted from a novel by Tim Cooke, and was screened at the Rotterdam Film Festival.