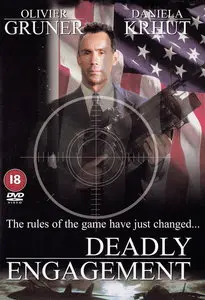 Deadly Engagement (2003)
DVDRip | AVI | 720x448 | DivX @ 1649 Kbps | English MP3 @ 128 Kbps | 96 min | 1,20 Gb
Genre: Action, Adventure
This is, in a way, two films in one. It's basically another one of Simandl's "Bound Heat"-films, with a lot of young women being captured and whipped and all kinds of other fun stuff like that happening. But this time there's also something about a stolen nuclear weapon thrown in. The bad guys kidnap a woman who's the only one who can make the weapon usable. But they didn't count on her husband being Olivier Gruner, who comes to the rescue.