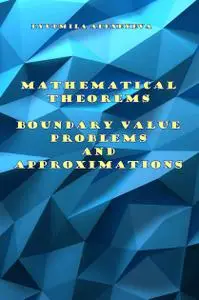 "Mathematical Theorems: Boundary Value Problems and Approximations" ed. by Lyudmila Alexeyeva
ITexLi | 2020 | ISBN: 1838800727 9781838800727 1838800719 9781838800710 1838803416 9781838803414 | 130 pages | PDF | 14 MB
The main content of this book is related to construction of analytical solutions of differential equations and systems of mathematical physics, to development of analytical methods for solving boundary value problems for such equations and the study of properties of their solutions. The book is intended for specialists in the field of mathematical and theoretical physics, mechanics and biophysics, students of mechanics, mathematics, physics and biology departments of higher educational institutions.