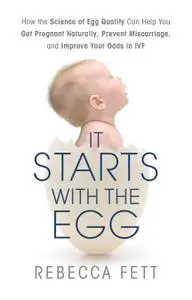 It Starts with the Egg: How the Science of Egg Quality Can Help You Get Pregnant Naturally, Prevent Miscarriage, and Improve Your Odds in IVF by Rebecca Fett
English | November 24th, 2016 | ISBN: 0991126904 | 304 pages | EPUB | 1.06 MB
Whether you are trying to conceive naturally or through IVF, the quality of your eggs will have a powerful impact on how long it takes you to get pregnant and whether you face an increased risk of miscarriage. Poor egg quality is emerging as the single most important cause of age-related infertility, recurrent miscarriage, and failed IVF cycles. It is also a major contributor to infertility in PCOS.