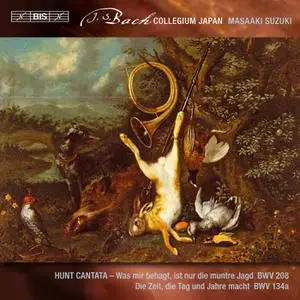 Bach Collegium Japan, Masaaki Suzuki - J.S. Bach: Secular Cantatas, Vol. 2 (2012)
FLAC (Tracks) 24-bit/44.1 kHz | Official Digital Download | Time: 01:14:28
Orchestral/Choral/Vocal | BIS | ~ 774 Mb

~ J.S. Bach: Secular Cantatas, Vol. 2
Sophie Junker; Damien Guillon, Bach Collegium Japan, Masaaki Suzuki ~
This release is part of Japanese conductor Masaaki Suzuki's fine complete cycle of Bach's cantatas with his Bach Collegium Japan, but it stands somewhat apart from the others, both in content and style. The two Bach secular cantatas featured both date from early in the composer's career; the Cantata No. 208, "Was mir behagt, is nur die muntre Jagd" (What makes me happy is only the lively hunt), BWV 208, comes from 1713, during Bach's years of service to the Duke of Sachsen-Weissenfels, while the "serenata" Die Zeit, die Tag und Jahre macht, BWV 134 (Time, maker of days and years), dates from 1719, during the Köthen period. The former piece was apparently written to adorn one of the Duke's hunting outings and is a sort of pastoral paean; the latter is a New Year's ceremonial work proclaiming the desirability of long life and power for the "Saxon hero." It would be unlikely to find these works among anybody's top Bach picks, and it's interesting to reflect on the ways in which Bach's vocal idiom was bound up with Lutheran devotion. But they make a satisfying effect here in the hands of Suzuki and his group. Partly this is due to the terrific work of soprano Sophie Junker, the standout among the group of soloists; her voice has a startling range of colors within the small dimensions Suzuki lays down here. Also notable is the way Suzuki avoids the utter precision that usually characterizes his style, letting the orchestra's natural horns define a looser, more festive sound. Listenable for anyone, with the usual BIS engineering values, and a worthwhile choice for Bach completists as well as those sampling Suzuki's series or acquiring it in full.
Bach Collegium Japan, Masaaki Suzuki - J.S. Bach: Secular Cantatas, Vol. 2 (2012):
Tracklist:
01. Sinfonia in F major, BWV1046a/1 4'00
Was mir behagt, ist nur die muntre Jagd, BWV208 34'31
02. 1. Recitativo (Soprano I). Was mir behagt, ist nur die muntre Jagd!… 0'42
03. 2. Aria (Soprano I). Jagen ist die Lust der Götter… 2'13
04. 3. Recitativo (Tenore). Wie? schönste Göttin? wie?… 1'09
05. 4. Aria (Tenore). Willst du dich nicht mehr ergötzen… 5'47
06. 5. Recitativo (Soprano I, Tenore). Ich liebe dich zwar noch!… 2'11
07. 6. Recitativo (Basso). Ich, der ich sonst ein Gott… 0'39
08. 7. Aria (Basso). Ein Fürst ist seines Landes Pan!… 2'56
09. 8. Recitativo (Soprano II). Soll denn der Pales Opfer hier das letzte sein?… 0'38
10. 9. Aria (Soprano II). Schafe können sicher weiden… 4'27
11. 10. Recitativo (Soprano I). So stimmt mit ein… 0'11
12. 11. Chorus. Lebe, Sonne dieser Erden… 2'39
13. 12. Duetto (Soprano I, Tenore). Entzücket uns beide… 1'57
14. 13. Aria (Soprano II). Weil die wollenreichen Herden… 2'22
15. 14. Aria (Basso). Ihr Felder und Auen… 2'44
16. 15. Chorus. Ihr lieblichste Blicke, ihr freudige Stunden… 3'56
Die Zeit, die Tag und Jahre macht, BWV134a 34'46
17. 1. Recitativo (Tenore, Alto). Die Zeit, die Tag und Jahre macht… 0'34
18. 2. Aria (Tenore). Auf, Sterbliche, lasset ein Jauchzen ertönen… 5'54
19. 3. Recitativo (Tenore, Alto). So bald, als dir die Sternen hold… 2'24
20. 4. Aria (Alto, Tenore). Es streiten, es siegen die künftigen Zeiten… 8'16
21. 5. Recitativo (Alto, Tenore). Bedenke nur, beglücktes Land… 2'57
22. 6. Aria (Alto). Der Zeiten Herr hat viel vergnügte Stunden… 5'26
23. 7. Recitativo (Tenore, Alto). Hilf, Höchster, hilf… 1'53
24. 8. Chorus. Ergetzet auf Erden… 7'22
Performers:
Damien Guillon
Joanne Lunn
Makoto Sakurada
Roderick Williams
Bach Collegium Japan
Masaaki Suzuki, conductor
foobar2000 1.3.13 / Замер динамического диапазона (DR) 1.1.1
Дата отчёта: 2022-05-05 21:47:58

––––––––––––––––––––––––––––––––––––––––
Анализ: Bach Collegium Japan / Bach: Secular Cantatas, Vol. 2 (1)
Damien Guillon / Bach: Secular Cantatas, Vol. 2 (2-9)
Sophie Junker / Bach: Secular Cantatas, Vol. 2 (10-24)
––––––––––––––––––––––––––––––––––––––––

DR Пики RMS Продолжительность трека
––––––––––––––––––––––––––––––––––––––––
DR12 -5.04 дБ -21.61 дБ 4:03 01-I. —
DR12 -11.57 дБ -29.37 дБ 0:36 17-Recitative. Die Zeit, die Tag und Jahre macht (Alto, Tenor)
DR16 -5.69 дБ -25.23 дБ 5:56 18-Aria. Auf, Sterbliche, lasset ein Jauchzen ertonen (Tenor)
DR15 -9.32 дБ -30.29 дБ 2:25 19-Recitative. So bald, als dir die Sternen hold (Alto, Tenor)
DR14 -8.17 дБ -26.22 дБ 8:17 20-Aria. Es streiten, es siegen die kunftigen Zeiten (Alto, Tenor)
DR16 -9.27 дБ -29.85 дБ 3:00 21-Recitative. Bedenke nur, beglucktes Land (Alto, Tenor)
DR17 -7.96 дБ -28.54 дБ 5:28 22-Aria. Der Zeiten Herr hat viel vergnugte Stunden (Alto)
DR14 -9.29 дБ -31.61 дБ 1:54 23-Recitative. Hilf, Hochster, hilf, dass mich die Menschen preisen (Alto, Tenor)
DR16 -0.01 дБ -22.64 дБ 7:50 24-Ergetzet auf Erden, erfreuet von oben (Chorus)
DR13 -6.56 дБ -25.48 дБ 0:42 02-Recitative. Was mir behagt, ist nur die muntre Jagd! (Soprano 1)
DR15 -3.72 дБ -23.80 дБ 2:14 03-Aria. Jagen ist die Lust der Gotter (Soprano 1)
DR13 -9.89 дБ -31.81 дБ 1:10 04-Recitative. Wie? Schonste Gottin! Wie? (Tenor)
DR18 -9.20 дБ -32.78 дБ 5:50 05-Aria. Willst du dich nicht mehr ergotzen (Tenor)
DR15 -5.76 дБ -27.23 дБ 2:12 06-Recitative. Ich liebe dich zwar noch! (Soprano 1, Tenor)
DR15 -9.53 дБ -31.23 дБ 0:39 07-Recitative. Ich, der ich sonst ein Gott in diesen Feldern bin (Bass)
DR15 -7.93 дБ -26.07 дБ 2:56 08-Aria. Ein Furst ist seines Landes Pan! (Bass)
DR15 -8.22 дБ -28.11 дБ 0:39 09-Recitative. Soll denn der Pales Opfer hier das letzte sein? (Soprano 2)
DR13 -1.04 дБ -23.67 дБ 4:30 10-Aria. Schafe konnen sicher weiden (Soprano 2)
DR3 -9.32 дБ -28.42 дБ 0:13 11-Recitative. So stimmt mit ein (Soprano 1)
DR13 -0.44 дБ -20.52 дБ 2:42 12-Lebe, Sonne dieser Erden (Chorus)
DR15 -8.97 дБ -28.47 дБ 2:00 13-Duet. Entzucket uns beide (Soprano 1, Tenor)
DR14 -3.20 дБ -26.44 дБ 2:24 14-Aria. Weil die wollenreichen Herden (Soprano 2)
DR16 -8.23 дБ -28.08 дБ 2:44 15-Aria. Ihr Felder und Auen, lasst grunend euch schauen (Bass)
DR13 -2.52 дБ -20.77 дБ 4:16 16-Ihr lieblichste Blicke! Ihr freudige Stunden! (Chorus)
––––––––––––––––––––––––––––––––––––––––

Количество треков: 24
Реальные значения DR: DR14

Частота: 44100 Гц
Каналов: 2
Разрядность: 24
Битрейт: 1369 кбит/с
Кодек: FLAC

All thanks go to the original releaser
Download Bach Collegium Japan, Masaaki Suzuki - J.S. Bach: Secular Cantatas, Vol. 2 (2012):