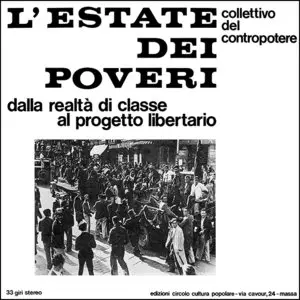 Collettivo Del Contropotere – L'Estate Dei Poveri (1976)
XLD Flac 24Bit/96kHz = 773 MB | Mp3 VBR0 16Bit/48kHz = 80 MB | Scans 400 dpi jpg | rar
Vinyl LP | Edizioni Circolo Cultura Popolare | AgitProp | Italy
Never released on CD
Il 33 giri "L'Estate Dei Poveri – Dalla Realtà Di Classe Al Progetto Libertario" del Collettivo Del Contropotere, edito dal Circolo Di Cultura Popolare di Massa nel 1976, fu il primo LP prodotto e realizzato da gruppi del movimento anarchico. In origine fu diffuso per finanziare Radio Popolare Massa, l'emittente radiofonica del movimento comunista libertario massese.
The first record produced by a group of the Italian anarchy movement. It was sold to finance Radio Popolare Massa, the radio station of the Italian libertarian communist movement in Massa, Tuscany.
Tracks
01. Il nostro Maggio … 03:27
02. Vi canteremo la favola … 02:56
03. Anche lo stato … 02:30
04. Andare avanti sempre … 02:38
05. Ma non riusciranno … 02:40
06. Coi comunisti nel governo … 02:01
07. Rondinella pellegrina … 02:44
08. E allora canta ghitarra … 05:34
09. Nella fotografia grande … 04:03
10. Se da diecimila anni … 04:35
11. Avanza senza sosta … 02:23
12. Dove nel Maggio splendono … 02:44
Total time: 38:08
Musicians
Angelo: voce, percussioni, kurù
Mauro: voce, chitarra, flauti, triangolo
Michele: voce, chitarra, flaluti, percussioni
Riccardo: voce, chitarra, percussioni