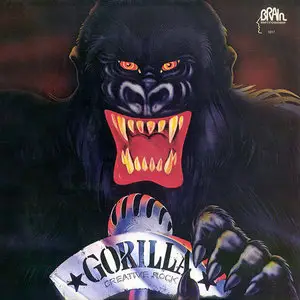 Creative Rock – Gorilla (1972)
XLD Flac 24Bit/96kHz = 998 MB | Mp3 VBR0 16Bit/48kHz = 116 MB | Scans 400 dpi jpg | rar
Vinyl LP | Brain 1017 | Krautrock · Jazz Rock | Bielefeld · Germany
The only re-release was a bootleg-CD from Germanophon, ripped from Vinyl in 1995. Apart from the fact that it's only in 16Bit/44kHz, it had less noise than this rip from a record used for over 40 years now.
The brass section makes you think of Blood, Sweat & Tears or Chicago, track 2 reminds me of Jane. Most lyrics are harsh criticism of the socio-political situation in the early 70s. What astonishes me a lot is the fact that, with one exception, these excellent musicians have never played in any other band. First I thought these names might be pseudonyms, but with their photo on the fold-out back cover that would have made little sense.
Tracks
01. Natron 06:18
02. A Horseman's Morningsong 05:02
03. Tapeworm 05:29
04. Hear What I'm Talking 05:16
05. Blind People 09:09
06. This World Between 6 And 8 A.M. 04:48
07. Wunderbar 06:40
08. Preußens Gorilla 02:13
Total time: 44:49
Musicians
Rainer Erbel: Vocals
Klaus Weber: Guitar, Percussion
Günter Schmeide: Guitar, Bass Guitar
Michael Maaß: Bass Guitar, Guitar
Benny Stremmel: Tenor Saxophone, Alto Saxophone, Flute
Hubertus Kreutner: Trumpet, Bass Trumpet, Flügelhorn
Heiko Steinsiek: Drums
Conny Plank: Producer, Engineer