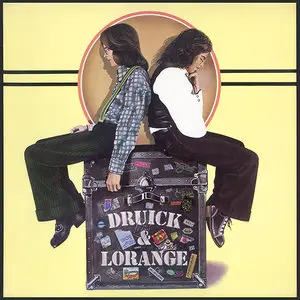 Dave Druick & Kirk Lorange – Druick & Lorange (1974)
XLD Flac 24Bit/96kHz = 769 MB | Mp3 VBR0 16Bit/48kHz = 112 MB | Scans 400 dpi jpg | rar
Vinyl LP | Bellaphon EAR 5001 | Folk Rock | Canada
Never released on CD
Biography from Allmusic:
A world of musical influences were fused into the late-1960s and early-70s music of Montreal-based Druick & Lorange. Combining the talents of guitarist/vocalist Kirk Lorange and Dave Druick, the duo released one self-titled album, produced by Marty Lewis, in 1974, before the E.A.R. label declared bankruptcy and went out of business. Although it was reissued, in 1975, by the Goodear label, Lorange was so frustrated by the experience that he moved to Australia, where he's continued to awe audiences with his soulful slide guitar playing as a soloist and a member of the Marc Hunter Band and Glenn Sharrock Band.
Born to Canadian parents in Mexico, in 1949, Lorange grew up in Venezuela, Cuba and Belgium. He completed high school in Montreal. Inspired by the Shadows' 1960 instrumental hit, "Apache", he began playing guitar at the age of twelve. Although he began making annual backpacking trips to Europe, in 1967, he made his presence felt on Montreal's music scene as a session guitarist and his solo shows at the Sir Winston Churchill Pub.
Soon after they met, Lorange & Druick spent a winter on the Greek island of Mykonos, writing and arranging songs for their debut album.
Another cheap but rare fleamarket find, sadly it had been mistreated considerably, especially the first 2 minutes. I've repaired most noise and scratches for you to decide whether you like it or not and if you want to watch out for an affordable copy in better condition. Good luck!
Tracks
01. Third City Blue 02:58
02. Dark End Of The Rainbow 03:42
03. Sunday Shouldn't Make No Difference 02:43
04. Cain And Abel 04:45
05. Dancing For The Captain's Pleasure 05:40
06. Joshua 03:41
07. I'd Be Lying 02:51
08. Lady Marielle 03:52
09. Take Me In 02:56
10. If You're Leaving 03:16
Total time: 36:17
Musicians
Dave Druick: vocals, electric & acoustic guitar, mouth harp, percussion, moog
Kirk Lorange: vocals, acoustic & electric guitar, banjo, slide guitar, percussion
Neil Hubbard, Bob Cohen: electric guitar
Nick Judd, Chris Stainton: keyboards
Mel Collins: tenor sax & horn arrangements
Del Newman: string arrangements
Marty Lewis: bass guitar
Bruce Rowland, Mike Driscoll: drums