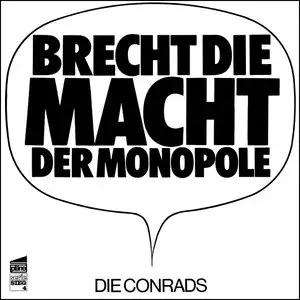 Die Conrads – Brecht die Macht der Monopole (1971)
XLD Flac 24Bit/96kHz = 957 MB | Mp3 VBR0 16Bit/48kHz = 110 MB | Scans 400 dpi jpg | rar
Vinyl LP | Pläne S 88102 | Agitprop | Germany
Never released on CD
For me the most underrated and unknown LP since years. "Break the power of the monopolies": propaganda against capitalism, imperialism and fascism, for socialism, communism and the peace movement, served with folk rock and acid kraut on the Pläne label. Of course the German lyrics are the other half of the game, often not sung but spoken. If you fancy Lokomotive Kreuzberg, Floh de Cologne or 3 Tornados, don't miss it.
Tracks
01. Holzhammerlied 1 03:28
02. Ein Schwein bleibt ein Schwein 04:48
03. Lied vom Aufmucken 03:39
04. Mieter-Song 05:02
05. Lied vom roten Punkt 04:27
06. Familienballade 05:32
07. Giftgas 06:25
08. Als die Nazis frech geworden 04:08
09. Wem soll getraut werden 03:54
10. Holzhammerlied 2 02:49
Total time: 44:07
Musicians
Reinhold Conrads: guitar, harmonica, vocals
Herrmann Conrads: banjo, bass, vocals
Heinz Conrads: guitar, bass, vocals
Josef Schmitz: drums, percussion