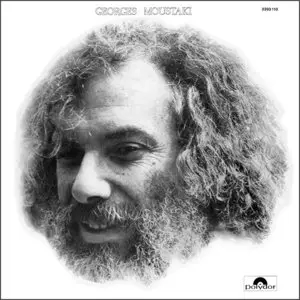 Georges Moustaki – Les Amis De Georges (1974)
XLD Flac 24Bit/96kHz = 873 MB | Mp3 VBR0 16Bit/48kHz = 101 MB | Scans 400 dpi jpg | RAR
Vinyl LP | Polydor 2393110 | Chanson | France
This is an original release and not one of the many hits compilations. He always creates a very special atmosphere on his records that gets lost on the compilations. Les Amis de Georges was a tribute project devoted to the songs and musical admirers of Georges Brassens.
French lyrics are printed in the fold-out cover, and also some philosophical notes:
"A bird does not sing because he has an answer. He sings because he has a song". – Joan Walsh Anglund
"Une étrange folie possède les classes ouvrières des nations oú règne la civilisation capitaliste cette folie est l'amour du travail la pasion moribonde du travail poussé jusq'а l'épuisement des forces vitales de l'individu et de sa progéniture"…. – Paul Lafargue (Le droit de la paresse).
If you have some minutes to spent, you should read this very interesting biography by Steve Huey from Allmusic:
Although he achieved his greatest fame in France, singing French-language songs in a distinctly French style, singer/songwriter Georges Moustaki was more a citizen of the world – or, as he often put it, a "citizen of the French language." Christening himself a cultural "mongrel" in his signature hit "Le Métèque," Moustaki's first love was the classic-style French chanson, but he often appropriated bits of world folk musics from Greece, Turkey, the Middle East, Brazil (bossa nova and MPB), Argentina (tango), and other parts of Latin America, the United States (blues and jazz), Holland, and anywhere else his travels took him. Simplicity was a hallmark of many of his own recordings; possessed of a soft, warm voice, he often sang with only his own guitar for accompaniment, creating an intimacy that translated to his live gigs as well. A successful artist in his own right, Moustaki initially made his name as a songwriter of some renown, composing material for many of the top French singers of the late '50s and '60s (including Edith Piaf's classic "Milord"). He moonlighted as a poet, actor, novelist, and journalist at various points in his career, and remained one of France's more ambitious artists as his trademark beard and long, flowing hair turned white.
Moustaki was born in Alexandria, Egypt, on May 3, 1934; his original last name was Mustacchi, and his first name Joseph, Giuseppe, or Yussuf, depending on the language. His parents were Greek and lived on the ethnic melting-pot island of Corfu, where he grew up speaking Italian, Greek, Arabic, and French. Sent to a French-speaking school, he developed a taste for French music and literature from an early age, teaching himself the classic chansons of singers like Edith Piaf and Charles Trenet on piano. In 1951, he finished school and moved to Paris, where his sister had already settled, and worked in her husband's bookstore. In the meantime, he took up the guitar and started writing his own songs, attending musical performances around the city whenever he could; he also began covering Parisian culture for an Egyptian newspaper. A chance meeting with the legendary Georges Brassens at the bookstore gave him the encouragement he needed to continue, and he adopted the pen name Georges Moustaki in tribute to his idol. He began performing as a pianist in a small cabaret, and found more and more work around the Paris nightclub scene. He met Henri Salvador in 1954, co-writing "Il N'y a Plus d'Amandes" with him, and had other songs covered by Jacques Doyen, Catherine Sauvage, and Irène Lecarte. As the '50s wore on, his lyrics grew more personal, resulting in "Les Orteils de Soleil" (one of his earliest paeans to the Mediterranean area), "Donne du Rhum à Ton Homme" (adapted from a Caribbean folk song and recorded by Maria Candido), and "Gardez Vos Rêves."
During this period, Moustaki also befriended guitarist Henri Criolla, who introduced him to the legendary Edith Piaf. Piaf wound up recording several of Moustaki's songs in 1958, including "Eden Blues," "Les Orgues de Barbarie," and "Le Gitan et la Fille," and requested more material. Teaming with longtime Piaf composer Marguerite Monnot, Moustaki penned the lyrics to "Milord," which became one of Piaf's all-time classics, as well a major international hit in 1959. Moustaki accompanied Piaf on her American tour, the two having struck up an intense love affair that lasted the better part of a year. He continued to compose songs for Piaf, including "T'es Beau, Tu Sais," "Faut Pas Qu'il Se Figure," and "Un Étranger," but their ultimate split was quick and permanent.
Moustaki spent the first half of the '60s furthering his musical studies, particularly in the realm of classical guitar. He continued to write, and with Piaf's stamp of approval gracing his work, his songs were recorded by numerous French stars of the era: Yves Montand ("De Shangaï à Bangkok"), Juliette Gréco, Colette Renard, Pia Colombo, Dalida, Tino Rossi, and Barbara ("Vous Entendrez Parler de Lui"), among others. Moustaki also made his first recordings in 1960, and released a few singles on the Pathé-Marconi label over the next few years, none of which attracted much attention; at this point, he didn't really consider himself a singer worthy of note, and the label let him go in 1966. Moustaki took a trip to Greece to reconnect with his roots, and also met actor Serge Reggiani, who was keen to start a singing career and convinced Moustaki to write material for him. Hits like "Sarah," "Ma Liberté," "Madame," "Votre Fille a Vingt Ans," and "Ma Solitude," among others, made Reggiani a star and helped Moustaki regain some of his standing. He also continued to write for Barbara, and toured with her in 1968 to perform the highly successful "La Longue Dame Brune" as a duet. One night, when Barbara was too ill to take the stage, Moustaki was forced to give a solo concert, an event that marked the beginning of his emergence as a singer in his own right.
Securing a new record deal with Polydor, Moustaki issued a couple of 45 sides ("Joseph," "Il Est Trop Tard") in 1969, but didn't break through until the release of "Le Métèque" ("The Mongrel") later that year. A wry celebration of his multicultural roots, "Le Métèque" had been rejected by his old record company, but exploded into a major hit when Moustaki got the chance to perform it on national television. The accompanying album, also titled Le Métèque, was quite popular as well, and Moustaki suddenly found himself a singing star. Over the next few years, he released several more albums (including the live Bobino in 1970) that consolidated his success, often covering Greek songwriters (Manos Hadjidakis, Mikis Theodorakis) and already dabbling in Near East exoticism and other international flavors. To his admirers, his persona suggested a borderless utopia of freedom, brotherhood, and harmony (as on his 1971 smash "En Mediterranée"), with a gentle, wistful sense of romance mixed in.
In 1971, Moustaki acted in the film Mendiants et Orgueilleux, and also recorded its title song. He mounted several international tours during the early '70s, one of which took him to Brazil; fascinated by Brazilian popular music, he delved heavily into bossa nova and tropicalia on his next album, 1973's Déclaration. It featured "Eaux de Mars," a French version of Antonio Carlos Jobim's "Aguas de Março," which proved to be the first of a number of Brazilian adaptations Moustaki would record over the years. 1974's Les Amis de Georges was a tribute project devoted to the songs and musical admirers of Georges Brassens. Moustaki continued to tour the world and record strong LPs through the remainder of the decade: 1975's Humblement Il Est Venu; 1976's Prélude, a collaborative effort with Argentine tango genius Astor Piazzolla, which featured an ode to "Alexandrie"; 1977's Espérance, which contained the popular, Brazilian-flavored "Bahia"; and 1979's Si Je Pouvais T'aider, among others. (Many of Moustaki's albums bore only his name, and fans differentiated between them by referring to the first tracks.)
In 1980, Moustaki took up the accordion, and debuted it on the 1981 album C'est Là. The following year, he teamed up with the Dutch band Flairck for a fully equal collaboration, Moustaki & Flairck. His 1984 solo album featured "Pornographie," the latest of many Manos Hadjidakis adaptations. Moustaki focused mainly on touring during the '80s, fueling his image as a globetrotting cosmopolitan, though he did consign himself entirely to Paris for a series of concerts in 1986; he also published several books, both fiction and non-fiction, starting with 1989's Les Filles de la Memoire. He finally made a high-profile return to recording with 1992's guest-laden Mediterranéen, and took home the Prix National de la Chanson that year. He followed it in 1996 with Tout Reste à Dire and continued to tour steadily, both in France and around the world. Reportedly suffering from emphysema, Georges Moustaki died in Nice, France on May 23, 2013; he was 79 years old.
Tracks
01. Les amis de Georges 02:29
02. Sarah 03:29
03. Portugal 04:02
04. L'habitude 01:53
05. Κάπου υπάρχει η αγάπη μου 03:55
06. Dans la maison trop grande et trop vide 01:08
07. Ce soir mon amour 03:10
08. Le droit a la paresse 02:46
09. Les amours finissent un jour 02:34
10. Lettre a Marianne 01:51
11. Je suis une guitare 02:10
12. Chanson pour elle 04:20
13. Sans la nommer 03:03
14. Aphorismes 03:45
Total Time: 40:26
Musicians
No info given about the musicians.